The Article
Jim Ed Brown
12th June 2016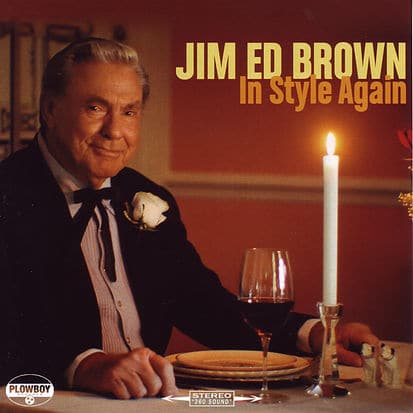 Title: In Style Again
A distinguished country singer, Brown has had a fruitful career, initially as a member and lead male vocalist of the 50s outfit, The Browns. Come 1965 and Brown had already had a career. He could have retired there and then but he decided to go it alone. That new career would enable Brown to reach even greater heights that would exceed the achievements that he'd found as part of a group beginning with the Roy Hamilton song, You Can Have Her.  Brown then took a long hard look at beer and had another hit with Pop a Top and then Bottle, Bottle.
By 1969 he was on TV, hosting the syndicated television show The Country Place. After that, he had a No 4 hit, Morning. More hits followed during the 70s. In fact, as that decade progressed, Brown's success grew, especially when he duetted with Helen Cornelius. After he broke the duet up, Brown basically retired as a recording artist but he did appear on stage in august locations such as the Grand Ole Opry and he sometimes reunited with Cornelius. TV viewers could even see Brown appear on TV game shows and talent contests throughout the 80s, then at the Jim Ed Brown Theater near Opryland in Nashville.
This CD is his first recorded LP for around 30 years and is his debut for Plowboy. Such an important album has attracted interest from the industry, as these things tend to do. Hence, we shouldn't be surprised to see guest appearances from the likes of Vince Gill and The Whites along with Helen Cornelius and Carl and Pearl Butler.
This is a traditional country album from the old school. It feels solid, weighted by tradition and with a gently supported production. Songs like You Again are attractively confessional, while Brown knows exactly how to tackle cuts like Don't Let Me Cross Over, showing younger whipper-snappers exactly how it's done.
Brown has a rich tone to his strong voice. He is confident and sings with an infectious yet casual manner that tells of zero effort and an ease that is almost Bing Crosby-like in its effect on the ear. Listening to Brown is like inviting a beloved grandfather into your living room.