The Article
Jethro Tull: Minstrel In The Gallery: 40th Anniversary La Grandé Edition
11th January 2016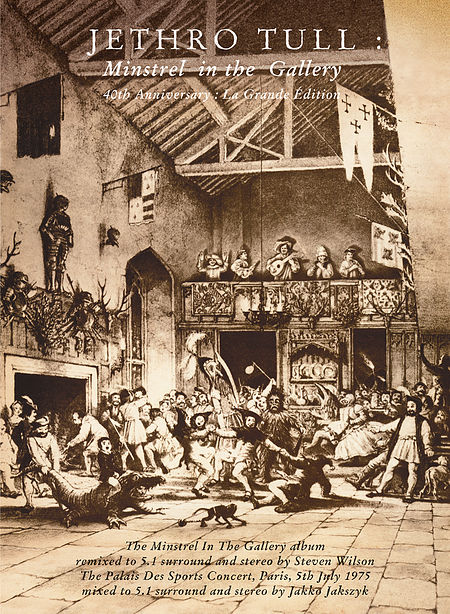 Title: Minstrel In The Gallery: 40th Anniversary La Grandé Edition
After Thick as a Brick in 1972, Tull had a bit of an artistic lull with a couple of albums and then Minstrel… was released in 1975 and the world was alright again. The guys hit form once more. In fact, the 17-minute extended piece Baker Street Muse had flavours of Thick… Minstrel was more than that, though. It was a chance for the band to really rock out. This album had an edge that could be quite startling to fans with Martin Barre offering a range of meaty guitar attacks and John Evans offering similar on the organ. Anderson was on top form too, displaying a sense of real drama and, at times, creating sublime beauty with outings such as Nothing At All.
So it's no really surprise that the band has revisited the album again. And it's done so in a similar format to its other recent release, as part of a book-like cover container that features a host of goodies.
In this particular set you get two CDs and two DVDs containing the original album, seven bonus tracks (six of those are previously unreleased), two mixed to 5.1 surround and all to stereo by Steven Wilson (lead singer for prog outfit, Porcupine Tree).
In addition to that, you get flat transfers of the original LP mix at 24bit/96kHz plus B-side, Summerday Sands, a flat transfer of the original quad mix of the LP plus Summerday Sands plus (are you still with me?) an eight and a half minute film of the band performing Minstrel In The Gallery in Paris from July 1975.
But we ain't finished yet! There's also a case-bound book that includes 80 pages featuring an extensive history of the album, track-by-track annotations by Ian Anderson, recollections by roadie Kenny Wylie, Maison Rouge maintenance engineer Pete Smith and string section member Liz Edwards plus lyrics, tour itinerary and rare and unseen photographs.
In amongst the extras list is session material done for a BBC broadcast of the album's title track, Cold Wind To Valhalla and Aqualung. There's also a live recording of the band performing at the Olympia in Paris on 5 July 1975, a few months prior to the release of Minstrel In The Gallery. During the show, the band played songs from several of its albums, including War Child (1974) and Aqualung (1971), as well as an early performance of Minstrel In The Gallery. It was mixed to 5.1 & stereo by by King Crimson guitarist Jakko Jakszyk.
As for sound quality? Hats off to Wilson for his stereo mix (I didnt test the surround). Wilson has been sympathetic in his treatment but has given the sound room for dynamics, there's more space for reverb tails on this version than the original mix, for example. There are no peak limiting issues in terms of loudness. On the contrary, there soundstage is multi-layered and deep, giving a sense of richness to the music while there is enough instrumental seperation and clarity to allow each band member to be heard easily.
Phew! A cracking set that I've seen on sale for pennies over £20. Great value, excellent content and a top quality album at the root of the whole thing.