The Article
Jethro Tull: A Passion Play
11th August 2015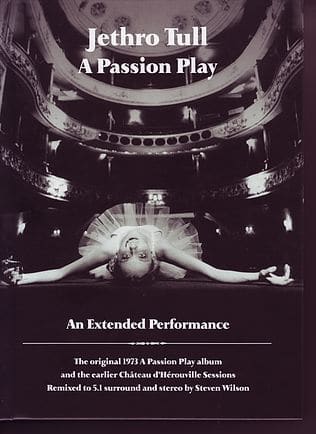 Record Title: A Passion Play
Label: Chrysalis
Jethro Tull managed to pull off a unique blend of music grounded in the prog genre, combining both rock and folk with blues plus an intriguing narrative lyric style. This was inextricably linked to the band's own wild man of rock, Ian Anderson, as lead singer and, unusually for any rock band, flautist. That said, his animated and robust playing style immediately integrated this usually delicate instrument into the armoury with some aplomb. 
A Passion Play, originally released as an album in 1973, relies on pseudo-religious references within a densely planned suite of lyrics that are ladled with complexity and deep meanings, "All of this and some of that's the only way to skin the cat/And now you've lost a skin or two, you're for us and we for you."
The tale of a newly deceased man called to review his life at the portals of heaven, who realizes that life on Earth is preferable to eternity in paradise, the album is notable for its innovation and 'out there' ideas. To such an extent, this release has and still divides many Tull and prog fans. Some believe that it is pretentious tosh, others see it as overly ambitious: but that, while Tull tried to do too much in a short time, there is still plenty of admire. Then there are fans that see A Passion Play as the ultimate in progressive music. I have to agree, it is undoubtedly a dazzling production but Tull should have had more vinyl sides to explore the inherent themes.
This hardback book edition features four discs and an 80-page book. The discs include a Steve Wilson remix of the original album on Disc 1 plus Wilson remixes of The Chateau D'Herouville Sessions on a second disc. The latter features Tull's 'Lost Album' recorded at the studios of the same name, some of which morphed into A Passion Play later. Three sides of the prospective 'lost' album have been rescued. A shortened version was released on the Nightcap rarities CD release. This extended release will be of great interest to fans. Discs 3 and 4 of this box set are DVDs featuring the latter sessions and A Passion Play in 5.1 Surround Sound at 24bit/96kHz along with video clips of The Story Of The Hare Who Lost His Spectacles and the intro and outro film footage as used by Tull during their A Passion Play tour in 1973.