The Article
Jay And the Americans' She Cried, The Early Years: vocal group harmonies
15th April 2016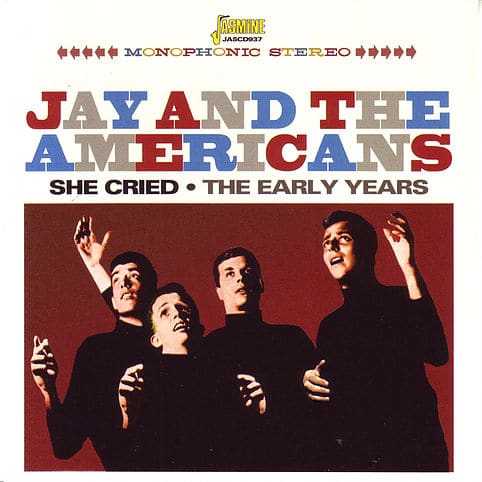 Title: She Cried – The Early Years
Not too many people remember that this outfit actually took on The Beach Boys and The Four Seasons at their own game and more than held their own. Not only that, they managed to keep their heads above water when the onslaught that was The British Invasion hit the American shores.
They had plenty of hits in the 60s, but they always had a nostalgic air to their presentation. Well presentated, well dressed, tidy 'nice boys', with a doo-wop flavour with the high voiced acrobatics of David Blatt aka Jay Black to keep them interesting. They used third party song-writers and covers to populate their songbook.
The CD begins with a demo (Wisdom of a Fool) and the sound quality confirms it. The full production values have not been applied which results in a track that is poorly recorded, noisy and slightly distorted. Which is fine and, to repeat, this is just a demo and very welcome as an addition to the disc but it just shows how much the sound quality improves when the studio applies itself to properly fettling a song. That sort of quality can be found in the single, Tonight, that was the A-side from the 1961 single from the LP, She Cried. The B-side is here too, of course. The Other Girls retains the smooth, warming sound quality of the time.
On the Leiber & Stoller song, Yes, from 1962 the sound quality rises a notch from the 1961 recordings. Percussion has a more characterful response while the accompanying guitar has quite imposing presence, lurking as it does in the background while the harmonies from the group are richer and fuller than their 1961 renditions, giving a beautifully abundant delivery that can only be produced by a finely interlocking series of compatible voices.
Anyone who loves harmony-inspired pop should check out this CD.