The Article
Jackie Lomax's Rare, Unreleased and Live 1965-2012
12th April 2015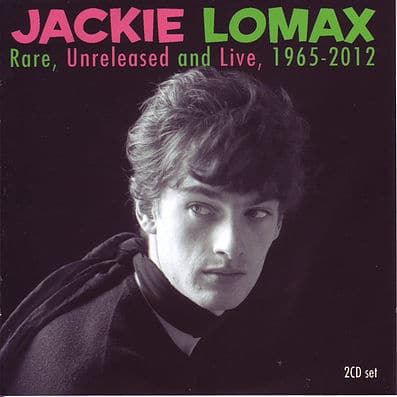 Title: Rare, Unreleased and Live 1965-2012
Well, he's always been a mystery and no mistake. A mystery as to why he wasn't a superstar or, at the very least, a mid-level singing star with several hits and a few solid albums to his name. Both Paul McCartney and George Harrison thought so. In fact, they not only wrote songs for him but sat in the producer's chair or controlled his recording career for a time, on his behalf. Such was their faith in the future of the ex-vocalist and guitarist for the Undertakers (one of the big bands of Liverpool, at the time, who were right up there with The Beatles). That band evolved into the Lomax Alliance and were signed by none other than Beatles' manager, Brian Epstein, in 1967.
Lomax went solo and was the first singer to cover the Bee Gees songs, Genuine Imitation Life/One Minute Woman, produced by Robert Stigwood but the single never charted.
When the Beatles' label, Apple, was created, Lomax was signed. George Harrison wrote Sour Milk Sea and presented the song to Lomax for a single followed by an album, Is This What You Want? in 1969 but no chart action followed it. Another single, produced by McCartney off a Coasters cover, Thumbin' A Ride, also didn't chart. A further Harrison-penned single, How The Web Was Woven also died a death. As did his contract with Apple.
After that were stints with Heavy Jelly and Balls who created two LPs in the USA under Warner Bros. He even joined the Yes off-shoot, Badger, fronted by Tony Kaye and then a Allen Toussaint-produced album featuring Jeff Beck. Despite attention every step of the way, Lomax's chances never fell his way. He seemingly never had the breaks.
Nevertheless, he remains interesting as a recording artist. This CD retains such interest but is aimed at Lomax fans as it contains a host of rarities, largely from 1965-1970 including solo work, from Heavy Jelly, that Bee Gees cover, a German version of How The Web Was Woven and The Lomax Alliance plus a 1976 live concert from San Francisco. For the Lomax fan, this collection is a 'must buy'.