The Article
The Jack Nitzsche Story Volume 3: Night Walker
11th May 2015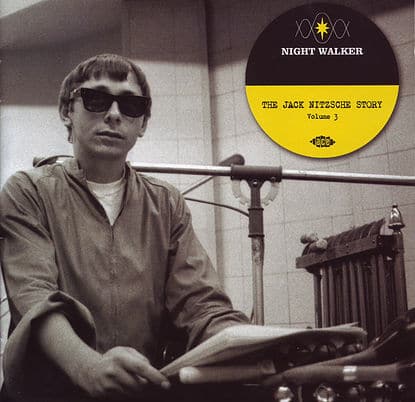 Record Title: The Jack Nitzsche Story Volume 3: Night Walker
Label: Ace
Despite his role as a cult figure in the world of music, Nitzsche has not received the acclaim he deserved in the broader sense of musical history. You probably know his work without realising that he was either responsible for it or that he was an important guiding hand. For example, he created the soundtrack for the award winning film, One Flew Over The Cuckoo's Nest, he worked on The Exorcistand the cult (that word again) film soundtrack, Mick Jagger's Performance. He produced, arranged and recorded with the likes of Neil Young, the Monkees, Doris Day and Tim Buckley.
Actually, he was essential in the early career of Neil Young on such classics as After The Gold Rush and Harvest while he actually played on the Rolling Stones album, The Rolling Stones, Now! He wrote the hit song, Needles And Pins for The Searchers in 1964 and arranged for a host of singles for various girl groups such as the Crystals' He's a Rebel and the Ronettes' Be My Baby.
It's no surprise, therefore, that Ace has decided to issue this welcome series on the man. It begins with a track from the Performance soundtrack, Merry Clayton's Poor White Hound Dog, from 1970, a dirty rock track with blues inflections and early synthesiser and a delayed vocal from Clayton that's made more effective for that. Darlene 'The Crystals' Love's sumptuous 1965 recording, A Long Way To Be Happy, utilised the Phil Spector Wall Of Sound production, giving a romantic, swaying, emotional performance. Then there is beautifully catchy, mesmeric and meditative Come Softly To Me from The Fleetwoods. Nitzsche created an otherworldly production for this version of the 1959 hit.
Other tracks are included from the likes of The Rip Chords, Michelle Philips, Jackie DeShannon and The Righteous Brothers.
The tracklisting is varied and interesting and provides further evidence that Nitzsche was both innovative and hard working. I look forward to further volumes in this series.