The Article
Icicle Works: 5 Albums Box Set
11th August 2015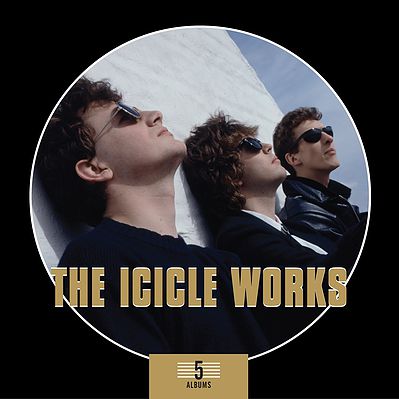 Title: 5 Albums Box Set
One of my musical highlights was seeing Icicle Works play live at Liverpool's Royal Court Theatre in, what, 1985? 1986? Somewhere around that date. Original drummer, Chris Sharrock, performed a fine vocal of The Clash song, Should I Stay Or Should I Go, I recall.
This five album set, contained within a clamshell box, brought back a heap of memories of that occasion. The set features some cracking albums including: Icicle Works (1984), The Small Price Of A Bicycle (1985), If You Want To Defeat Your Enemy Sing His Song (1987), Blind (1988) and Live At the Town And Country Club, 1986 (2001).
Icicle Works helped to define a number of genres and scenes. Firstly, they epitomised that classic, first flush of the 'indie band' when such a tag signified invention, fresh ideas and a sense of hope that rock could be something more than blues rock drudgery. They also found themselves sitting within a very active Liverpool scene which was populated by a variety of outfits such as large as Echo And The Bunnymen or as cult-ish as the Flying Swans. Icicle Works produced a big sound, a symphonic, sometimes uplifting, but always fascinating suite of perfectly formed songs.
Sound wise, Beggars should be congratulated, they've done a fine job, exceeding the quality of the Cherry Red issues, released of a few years ago.
Four other box sets, also containing five albums in each clamshell box have also been released by the label. They include Love And Rockets! (Seventh Dream Of Teenage Heaven', Express, Earth.Sun.Moon, Love And Rockets and Assorted!); Buffalo Tom (Birdbrain, Let Me Come Over, (Big Red Letter Day), Sleepy Eyed and Smitten); Gary Numan (Living Ornaments '81 Part One and Two; Dance, I, Assasin, and Warriors) and The Fall (The Frenz Experiment, I Am Kurious Oranj, Hit The North, Singles 1987-1989 and Seminal Live plus Natasha Atlas (Disapora, Halim, Gedia, Ayeshteni and Something Dangerous).