The Article
Henry Gross
12th April 2016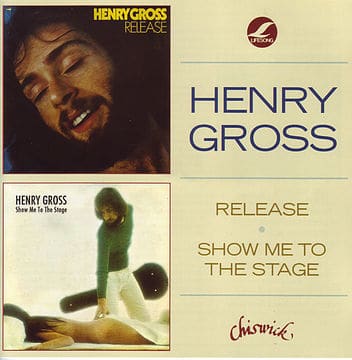 Title: Release/Show Me To The Stage
Gross was an intriguing artist who was best known for his work in the soft rock genre but made his name as a founder member of the doo wop/rock revival outfit Sha Na Na. He appeared with the band at the Fillmore and can be seen on screen at Woodstock but Gross was soon to leave. In fact, the following year saw him signed up to A&M.
Come 1973 and he released his first, self-titled, album while Plug Me Into Something increased the momentum. He then moved to Lifesong, the label run by his A&M producers, Cashman & West. The first fruit of that association is the first album on this new two-fer.
Release (1976) included a gold single, Shannon. The song was actually based upon a tragedy, although you might be a little deflated when you learn that it was the death of a dog – an Irish Setter – that triggered the song. If I tell you that the dog belonged to Beach Boy, Carl Wilson, maybe that will add a measure of frisson.
After hearing how the dog had been hit by a car, "We spent the rest of the day jamming and driving around Carl's world which, as a friend and a Beach Boy Fanatic, was quire a thrill," revealed Gross.
Shannon reached No 6 on the Billboard charts and No 32 in the UK. The Beach Boys are a big influence on Release although there is plenty of variety on this LP including the bluesy Pokey which its funky beat and the rocking Juke Box Song.
Show Me To The Stage (1977) offers a selection of strong pop songs including a listenable version The Beatles' Help while Painting My Love Songs has a distinct Bellamy Brothers' Let You Love Flow aspect. The longer this album runs the better it becomes with tracks such as What A Sound, where Gross plugs into his Beach Boys fandom and his considered ballad, Hideaway.