The Article
Hard To Explain: More Shattered Dreams, Funky Blues 1968-1984
11th May 2016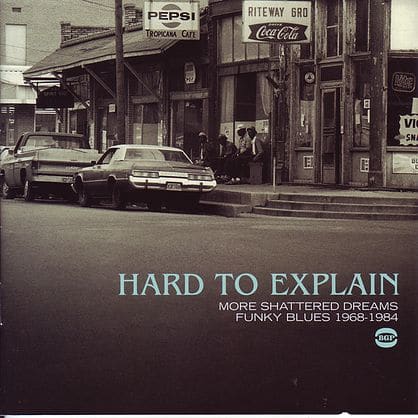 Title: More Shattered Dreams, Funky Blues 1968-1984
Label: BGP
During the 30s and 40s, when black musicians migrated from the South in numbers, the simplicity of their country blues did its best to adapt to the new urban experience producing a range of blues stars and their associated record labels. By the mid-50s, this blues output had become very much more sophisticated, transforming into rhythm and blues and being adopted by white teenagers as variations within rock'n'roll. The genre then fell in popularity as doo wop took hold.
Young white rockers of the later 60s rescued many failing blues artists, placing their idols back into the spotlight. Blues then evolved into something else with flavours of soul and funk being added to the mix.
It's this evolving style of blues music that is featured here on this single CD of tracks that feature artists such as Lowell Fulsom (singing the oh so funky Lovemaker), Earl Wright (offering a soul-infused Them Love Blues), Memphis Soul (providing a James Brown emotion and delivery to Don't Down Me People (Pt.1)) and Freddy Robinson (whose The Creeper is sordidly sexy and erotically underhanded…nasty.)
Many of these artists retained a life of inspiration well after their own careers had ended. For example, blues artists remember Larry Davis (who appears here with the track You Upset Me Baby) for the song, Texas Flood which was covered by Stevie Ray Vaughan. Meanwhile, Albert King was a great favourite of the likes of Cream, who would record his Born Under A Bad Sign. He appears here with a cover of his own, James Brown's Cold Sweat that is rather more frantic in style. The five minutes span of the song just flies.
This period of blues history is one that is often ignored but this era of the genre can surprise as it informs. This CD is well worth investigating.