The Article
Had Brooks' Queen Of The Boogie and more
11th March 2016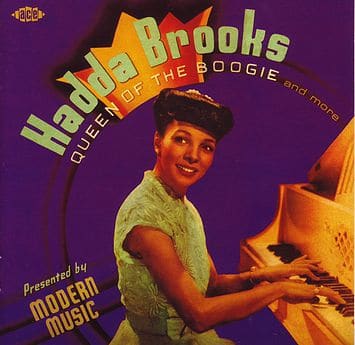 Title: Queen Of The Boogie and more
Label: Ace
Back in the early 40s, it was proving tough for the major labels to supply the market with records due to a shellac shortage and, arguably more importantly, a recording ban. Independent labels did their best to take advantage of this. One new company, Modern, did just that after the owner, Jules Bihari, found Hadda Hopgood, playing classical music on the piano of a Hollywood music shop. Asked if she could tackle boogie woogie, she was to change her name to Hadda Brooks, pumping out a stream of R&B works for the label.
Hopgood created a bunch of excellent vocal tracks but the majority of the tracks on this CD showcase her instrumental talents. In four years (interrupted by 10 months of a further recording ban) she cut around 100 discs for Modern, which is pretty prolific stuff. Some of those cuts were alternative takes, yes, but that's some going some, even so.
Most of the tracks on this CD have never been issued before and most are taken from the original Modern acetates, so sound quality is excellent.
Check out Brooks' boogie take on a range of classic music such as Minuet In G Boogie and Schubert Serenade In Boogie. What takes my ear, though, is Brooks' ability to extract boogie rhythms from pop hits such as Sleepy Time Gal which end up gently swinging via Brooks' excellent technique.
Brooks might be largely forgotten now as an artist but her essential work on developing jazz and boogie woogie helped to mutate it into the sort of R&B that would eventually transform itself into full blown rock'n'roll.
Brooks was a prolific artist, still recording, off an on, though the 80s and 90s. She died in 2002 at the age of 86.