The Article
Guitar Slim Green's "Stone Down Blues" with Johnny Otis and Shuggie Otis
11th May 2016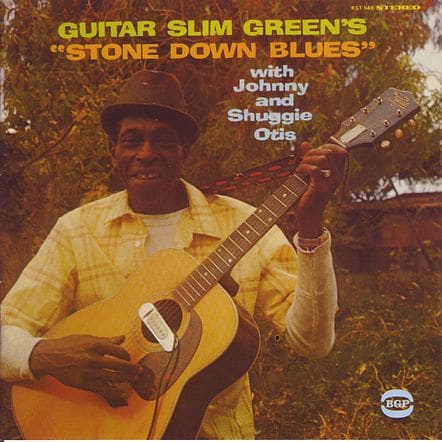 Title: "Stone Down Blues" with Johnny Otis and Shuggie Otis
Label: BGP
Well this is an interesting one. Interesting because we almost lost it. When Kent originally released this LP, as part of a production deal with Johnny Otis (band leader and one of the pioneers of R&B and rock'n'roll), the sales were negligible. More than that, Green, influenced by T-Bone Walker, was hardly a prolific artist. He only released a few LPs during his span as an artist from the 40s to 1970.
In many, ways it was because Johnny Otis' son and the cult guitarist, Shuggie Otis, is resident on this album that it survives at all.
Johnny it was who created his own labels. One of them was Dig and it was here that Green was signed and contact with Otis made. Green had a cross-over style. Initially residing in country blues he balanced on the divide between that and the more urban style.
Johnny Otis produced a range of Shuggie-based LPs for Kent but this Green album was his last for the label which includes three tracks featuring Shuggie on lead guitar. The rest of the track allow Green to blossom via both his guitar and vocals. The album mixes new and old songs including  the older 5th Street Valley Blues and the more contemporary anti-war ditty, This War Ain't Right – pointing squarely at Vietnam. The CD also include two rarities that were found in the vaults: My Marie (a new track) and Rock The Nation (also recorded for Gee Note). The extra tracks have no connection with this album's sessions but are notable Green tracks and worthy of tagging along. This 1970 album represents Green's final recordings. He died in 1975. This almost forgotten blues man deserves your attention.