The Article
Great Hit Movie & TV Themes, more for american ears and yet…
6th July 2016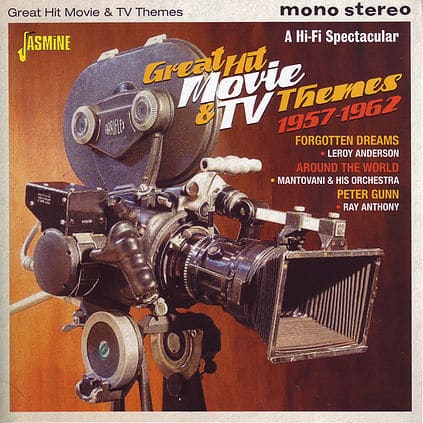 Title: 1956-1962
Although I tend not to actively seek them out, whenever I do hear themes to films and, especially, TV programmes, then I tend to wallow in the pure nostalgia of the things. Probably more so the TV themes which, being a regular weekly excursion, became more of a part of our lives and, indeed, part of that literal soundtrack of our lives that can evoke a time and a place. Of course, film music can do the same but they tend to trigger special one-off memories and moments.
This single CD collection of 32 such themes might not be such a rich source of memories from UK readers amongst you, the titles are much more US-centric with the theme tunes to TV shows such as The Dick Powell Show, 77 Sunset Strip and Match Game. That said, there will be plenty for UK readers to enjoy here too including the theme to Peter Gunn, The Naked City and Bonanza.
Of course, in global terms, themes for film are more wide ranging so everyone will be happy to see/hear themes from films such as The Guns of Navarone, Moon River and The Apartment plus additional music such as Acker Bilk's Stranger on the Shore and Kenny Ball and his Jazzmen with The Green Leaves of Summer.
The variety on this set is obvious and unquestioned as is the quality of the mastering which tends to be patchy but intriguing because the tone of the music often reflects the age of the piece and, no doubt, the available sources. Hence, Leroy Anderson's 1957 piece, Forgotten Dreams, sounds rather veiled in the midrange and lacking in dynamic reach while, on the other hand the theme from The Apartment (1960) sounds quite detailed and incisive with good focus on the central piano.
An interesting collection that TV and film theme fans will enjoy investigating in terms of memories and rarities.