The Article
Grace Slick: Welcome to the Wrecking Ball/Software
11th July 2015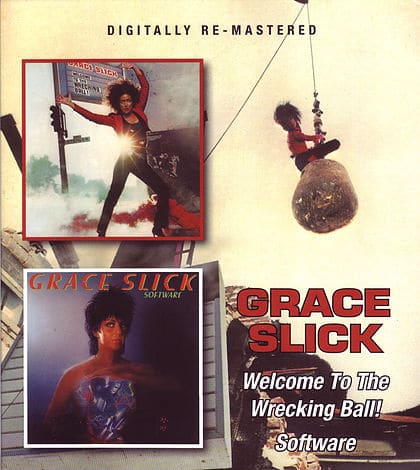 Title: Welcome to the Wrecking Ball/Software
Label: BGO
No disrespect to BGO or these albums but there are some artists that you wish could be preserved in amber. Maybe it's because of her appearance in the Woodstock film plus other TV and film appearances around this period that you expect Slick to sound and above all, look a certain way. To see her adorning these early 80s releases and appearing rather spiky haired and new wave is, not to put too finer point on it, disconcerting.
It's also slightly disconcerting that the 1981 release, Welcome to the Wrecking Ball, is mostly written by someone else. In this case her guitarist on this album, Scott Zito. Slick keeps her end in with two songs but the other eight are Zito affairs which means that Slick is more like a guest artist on her on LP.
The title track is one of the best from this album. A dynamic and charged explosive song as is No More Heroes but, as has already been mentioned elsewhere, is also a dead ringer for the song Bang Bang. Overall, while this album is full of posturing and fine intentions, there is a lack of inspiration. Slick often seems to be singing-by-numbers.
Software (1984), her fourth solo album is weirdly appealing. Here, Slick sounds like a blend of Cyndi Lauper and Toyah but connects with the musical styles and production styles of the time and, it has to be said, Slick does it very well indeed with a tuneful selection of ditties, sung well and attractively consturcted.
Incidentally, there's a cute, period paranoia feel to this album. That 80s technology transition, when computing was not only invading the home but also threatening to take over everyone's life. That tone is resident here in both the comprised drum sounds but also the sampled modem log-on tones! Ah, memories.