The Article
George Jones & Tammy Wynette's Me And The First Lady/We're Gonna Hold On/Golden Ring
12th June 2016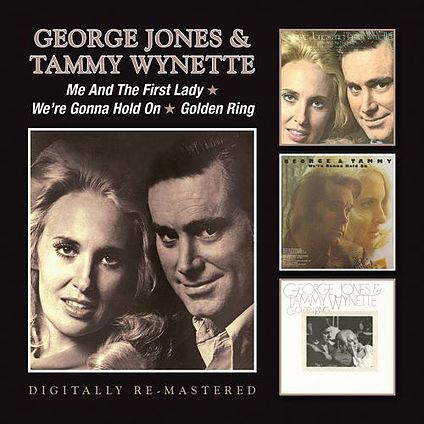 Title: Me And The First Lady/We're Gonna Hold On/Golden Ring
Label: BGO
They were the king and queen of country and were married, to boot, which made it all legal and honest-like.
We Go Together was the couple's first foray into a combined album release but the first title on this three album compilation, that sits easily on a double CD package, was Me And The First Lady (1972). At this time, the couple were firmly in the married bliss mode although the tracks A Lovely Place to Cry and The Great Divide tell another story. As we get to the end of the album, they see the troubles through and we get to The Ceremony, seemingly to reaffirm their vows. Well, that's all right then.
We're Gonna Hold On (1973) talks of trouble from the off while the divided images on the cover tend to confirm the issues. This was the pair's fourth duet album and it told the story of the dissolving marriage. This was an album created around a stage show so was less of a structured album and rather more like a script. An album that is sung 'by numbers', as it where.
It's not until you get to the end of this set which was also, oddly enough, the LP that they both created after their divorce, that we get to the best of the bunch. Golden Ring (1976) is packed full of heartbreak songs which are not only of quality in themselves but are sung with real belief because, well, the pair had been or were experiencing those very emotions. Witness Jones' own self-destructive period, which seemed to go on for many years, in which he almost drank himself to death, never mind almost ruining his career. This track list is real rip-through-the-heart stuff.
Great value for money and a rollercoaster romantic journey with these two country stars.