The Article
Gary Moore: Live At Bush Hall 2007
11th July 2015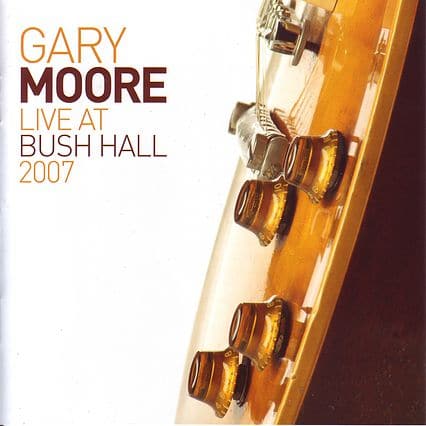 Title: Live At Bush Hall 2007
Read this review before you think about buying the CD because it's possible that you just might have it. In fact, before the planned UK tour of the same year, before the release of that year's album Close As You Get, an 'invited-only' audience streamed to Bush Hall in London on the 17 May 2007. If you were one of those who happened to record the session from the coverage broadcast by Planet Rock radio, then think twice about buying this CD. Then again, to have the audio in CD quality is nice: DAB is pretty pathetic in audiophile terms and the CD is packaged well.
The CD is also good to have because it features two songs that Gary never played again on the tour after this concert.
Sound quality is pretty darned impressive for a live gig (live concerts can be a hit and miss affair, at the best of times) but I've talked to Eagle Rock about their recording of live events and was immensely impressed on exactly how much time and trouble they take to make sure that each live gig (whether its CD or, indeed DVD) is presented at its very best.
Moore himself is on good form, right from the off and performs seven tracks from the Close As You Get LP which is, in itself, a highly regarded, varied and interesting release. Look out for the old Son House track, Sundown and, with the Thin Lizzy drummer, Brian Downey, pounding away behind him, Moore also sings the Phil Lynott penned, Don't Believe A Word.
A great selection from a great guitarist with top quality blues chops. It'll take just a few seconds of Moore's self-penned song, Trouble At Home, to lose yourself in the blues.