The Article
Floyd Dixon's Hey Bartender! Covering his career from 1949-1959
7th July 2016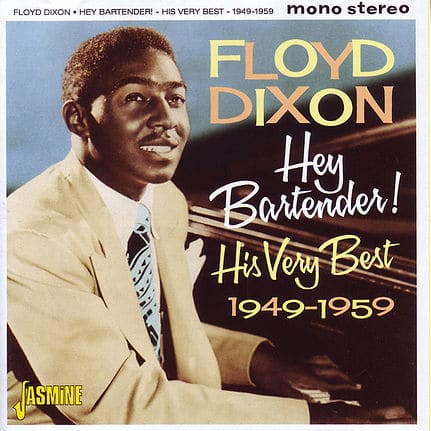 Title: Hey Bartender! His Very Best 1949-1959
He was a blues singer (of the 'jump' style) but also a pianist and was a significant figure in the history of the genre because he reached out and forged a sort of bridge towards R&B and the later soul genre, being a major influence on Ray Charles, for example. He called himself Mr. Magnificent and, well, I suppose he was: if you can point to his energetic, raucous sound as a source for that title.
This CD collection of 28 songs tracks his career as he signed a solo deal with Modern Records, scoring his first local hit with 1949's Dallas Blues while Mississippi Blues followed a year later. Both tracks appear as number one and two on the listing here.
The great thing about this collection is that you can hear Dixon developing his style as the years roll onwards and as he started utilising the gospel and Delta blues influences of his youth, becoming more dynamic and energetic that also provided a test of the future of rock'n'roll. You see? This guy provided the fulcrum of so much music that was to come.
Aladdin Records bought Dixon's contract in late 1950 and paired him with Johnny Moore's Three Blazers for Telephone Blues (track nine on this CD) which was Dixon's first big hit in terms of a national impact. Wine Wine Wine was his next big track as Floyd Dixon and His Band with The River as an effective follow-up. Be sure to check out the Jerry Lieber/Mike Stoller-penned Too Much Jelly Roll too, incidentally.
Dixon then moved to Art Rupe's Specialty label in mid-1953 with Hard Living Alone plus any more. You may remember the 1954 cut on this label, Hey Bartender, from the cover version seen on the film The Blues Brothers, almost 25 years later.
A top notch compilation of stone cold classics from a man who deserves a hell of a lot more attention that he gets.