The Article
The Five Keys And The Nitecaps' The Best Of Doo-Wop Classics Vol.2
11th September 2015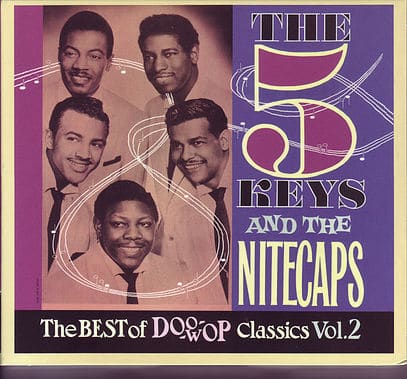 Title: The Best Of Doo-Wop Classics Vol.2
The Five Keys? Anyone into the doo-wop genre will know that this combo were arguably the finest vocal harmony group ever to set their voices onto record. The range of Capitol tracks that they produced, songs like Close Your Eyes, Glory Of Love and Red Sails In The Sunset presented a sublime suite of the true capabilities of the doo-wop format.
Previously know as the Sentimental Four, Rudy and Bernie West were but one set of brothers in the group, Raphael and Ripley Ingram being the other. After winning umpteen amateur contests, they were noticed by the boss of Aladdin Records. Raphael entered the army at this point to be replaced by Maryland Pierce (from the Avalons) and Dickie Smith as another additional, hence the name change. More line-up changes were prompted by the army and then the Aladdin contract ended after 17 releases whereupon the group joined RCA where they recorded four songs, two being unreleased at the time. The RCA recordings were released on Groove. After this brief stint, the group moved onto Capitol.
But let's rewind back to RCA and Groove because that's where this CD comes in. Originally released on vinyl and now on CD for the first time, you can now hear all four of those RCA recordings (along with an unreleased take of When Will My Troubles End, making five tracks in all).
That's not all for this CD, of course, because you also receive 11 tracks (three previously unissued) from the rather obscure outfit, The Nitecaps. Brothers played a big part in this line-up too. Three Hamilton brothers (Eugene, Bob and Al) plus Freddy Price. Sounding like early Drifters, these early Groove session tracks are pure gold for any doo-wop fan.