The Article
The Eve Folk Recordings
11th January 2016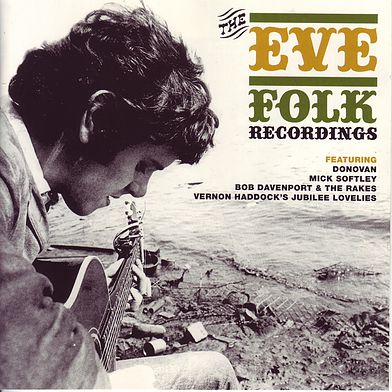 The Eve Folk Recordings
Label: RPM
Back in 1965, when the British folk revival was progressing nicely, the writer/producer/management team of Peter Eden and Geoff Stephens was busy launching Donovan on the scene. During that same year, the pair collaborated on a trio of folk albums. They were all credited with the moniker 'Produced For Eve Folk Recordings'. This title has proven to be a magnet for folk collectors because all three of these original releases are true rarities and valued highly, consequently.
First up is one of the rarest British folks albums out there, Mick Softley's Songs For Swingin' Survivors, one of the first British folk albums to utilise the then contemporary folk style. Softley wrote a number of songs that would eventually be covered by Donovan, The War Drags On being just one on them. It was notable that it actually name-checked the Vietnam War but there's also a surprisingly direct cocaine reference in the song, Jeannie. He may not have had the Donovan pizazz or broad appeal but Softley was a tuneful songwriter and vocalist and still offers a tremendous appeal to folk fans.
Next on this CD is Bob Davenport & The Rakes. Davenport was a leading figure in the British folk revival scene and spent most of his career with the quartet known as the Rakes. The album is full of down-to-earth, traditional  and sometimes raucous ditties including Old Johnny Booker (Booker is often replaced by Bugger with naughty associations soon to follow). Credited 'source' singers included Jack Elliot (a miner from Birtley) and Harry Cox, a fisherman from Norfolk.
Finally, Vernon Haddock's Jubilee Lovelies is the wonderful LP name for this jug band. The original LP is extremely rare with all but one of the included songs being covers and was recorded one night in the summer of 1965, selling just 400 copies.
This tightly formed, compact yet informative 2CD collection also includes bonus cuts. Firstly, you get Donvan's first two singles (Catch the Wind and Colours) including B-sides plus Mick Softley's single, I'm So Confused plus B-side and Bob Davenport & The Rakes' two live cuts, the White Cockade and The Shepherd's Life, recorded at the English Folk Dance & Song Society at London's Festival Hall on 5 June 1965 (not Eve recordings but produced by Roy Guest). A superb collection of folk rarities for folk fans.