The Article
Elvis Presley, All About Elvis: A Tribute To The King
11th June 2015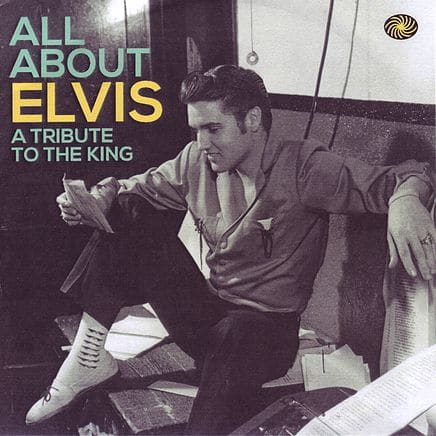 CD Title: All About Elvis: A Tribute To The King
Well, I dont know about you but there was a part of me, when I heard that this album was due for release, which screamed in the high decibel area, 'Oh God, Not another one!" We are hitting The King's 80th birthday, after all and I've been hiding in the trenches, as it where. Hiding from the inevitable reissue tosh. We have been swamped by Elvis releases since the great man's death. Most of them filled with repetitive rubbish or the same old songs dragged out of the Elvis archive ready for yet another airing. The fact that the title here talked about 'tribute' made me even more alarmed. I had visions of ageing artists crawling their way through the likes of Blue Suede Shoes with all of the verve, energy and pizazz of a dead Duracell.
Then this 3CD set arrived and I took a quite gander at the track-list and hope sprung eternal that, just maybe, this pack might not be that at all. The more I looked, the better it appeared.
What we have here, in fact, is a whole host of tracks – 97 in all – that were in themselves originally released between 1954 and 1962 and were recorded by Elvis' contemporaries. See? Sounds better all the time doesn't it? Each of the three CDs are themed in a general way. Hence, the first disc features a host of songs that were sung in the style of Elvis. The variation is impressive. Everything from Phil Gray's Pepper Hot Baby, Jimmy Reagan's Lonely, Lonely Heart and Johnnie Fuller's First Stage of the Blues to Billy Eldridge's Half a Heart and Conway Twitty's Long Black Train. A cracking collection in their own right, in fact.
The second disc includes recognisably Elvis songs that were also hits or on the play lists of other artists. They include Ricky Nelson's Milk Cow Blues, Sleepy LaBeef's Baby, Let's Play House, Johnny Carroll's Tryin' To Get To Know You and Wanda Jackson's Hard Headed Woman. It gets better. Oh yes.
The final disc is entitled Elvis Adored. Songs sung in appreciation of Presley. There's a very interesting selection of names listed here, though, who will be unknown to many music fans but who are worthy of attention for many reasons. People such as Little 'Lambsie' Penn's I Wanna Spend Xmas With Elvis, Viriginia Lowe's I'm In Love With Elvis Presley, Huey Long's Elvis Stole My Gal, Audrey's Dear Elvis (Pages 1 & 2) and The Kids' Elvis And Me.
I should have had more faith in this record label, of course, they always tend to dig a little deeper than the major labels in terms in interest and originality. Definitely one for Presley fans, rock enthusiasts and obscurists out there.