The Article
Eddy Giles' Southern Soul Brother: The Murco Recordings 1967-69
11th November 2015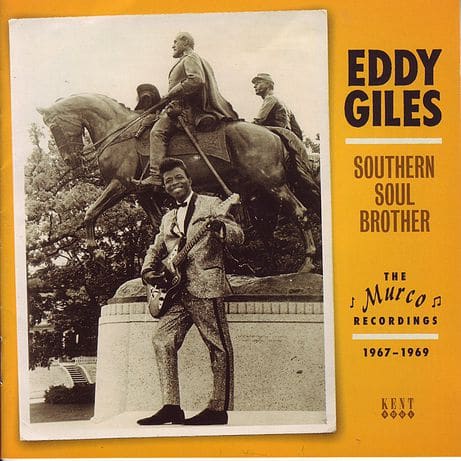 Title: Southern Soul Brother: The Murco Recordings 1967-69
Eddie Giles is now a Reverend but, once upon a time, he was Eddy born near Shreveport, Louisiana where he sang in local gospel groups, retained a fascination with the guitar and idolised both Elvis Presley and Chuck Berry. He even bought himself a pair of blue suede shoes.
He really wasn't supposed to be a secular singer yet he spent two years of his life at the Murco record label recording a range of soul, R&B and pop sides. All became known as superb Southern soul cuts, offering a clean Memphis-like sound but with added funk and all 18 are collected here, on this CD.
The thing about the 18 cuts, a mini-catalogue of supreme quality, is the consistency. There isn't a bad apple amongst them. Every one is a joy to listen to, from his debut, Losin' Boy to the O.V. Wright cover, That's How Strong My Love Is.
Losin' Boy was his own composition, a self-penned situation that was forced upon him because the available material was, to his eyes, substandard. He drew upon his own life for inspiration, "I would take my guitar to work and think about the separation of me and my wife. I got out a pad and a pencil and wrote down the title, Lonely Boy. I said 'That's not strong enough.' then I wrote Losin' Boy. After writing the title, I started asking myself questions. I'd never written a song before but I knew songs had verses and choruses. So I said, 'Why am I a losin' boy?' And the words came out, ' I'm a losin' boy because my baby's gone.'"
Eddy Giles the composer and singer was underway. Gaining national recognition for his debut, his later songs wouldn't become any more than regional hits. A criticism of popular taste rather than any problem with Giles' song-writing skills, methinks. This collection also includes two previously unissued Murco recordings: Pins and Needles is a Floyd Jenkins country number while It Takes More features an excellent Giles vocal.