The Article
Eberhart Weber's Encore on ECM
4th August 2015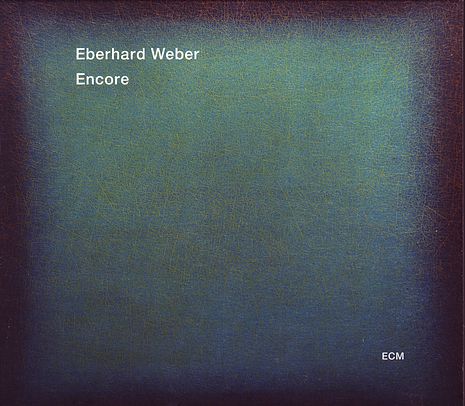 Title: Encore
Label: ECM
If you've heard his 2011 album, Résumé, then see this new release as a companion piece, returning to live recordings of his time with the Jan Garbarek Group, isolating his own bass solos and changing them into new compositions.
Weber is interesting because he's not a sax player or a trumpet man or a guitar player or any of those 'lead' instruments. Flip to the rest of this CD and, just under his name, you will see the words, electric double bass. It sort of hints that there are adventures to be had within, especially when that title is followed by the word keyboards. Weber is not alone on this release. Ack van Rooyen is keeping him company with a flugelhorn but this is largely Weber doing his thing and doing it, on the first track, Frankfurt, decidedly atmospherically. You can sense a sort of ambient wash-like feel to the music. It's warm and rather secure in its aspect. There's a sense of early 70s krautrock about it, in fact.
While we are on a locational track name theme, when you start playing Cambridge, the bass strings are plucked and manipulated like a lead guitar. Weber creates low key, almost Spanish guitar styled constructions.
Langenhagen shows just how introverted and navel gazing this album really is. This is not necessarily a derogatory remark, unless you really want it to be. What I mean is, if you hate guitar string explorations and see them as needless noodling then you may want to move elsewhere. For those who see Weber's string excesses as jazz-inflected mood music then you will have a whale of a time. And mood music it certainly is, made more so by the bass itself which is quite monotone in its presentation, giving the album a one dimensional feel that can be either boring or soothing in its aspect.
Edinburgh is typical of the content and the feel of the album. The track is almost desperate to 'let go' yet is restricted by the opium-fed bass that casts its sleepy spell, sending the accompanying instruments back to hence they came.