The Article
Earl King's Let the Good Times Roll: Singles As & Bs 1955-1962
15th May 2016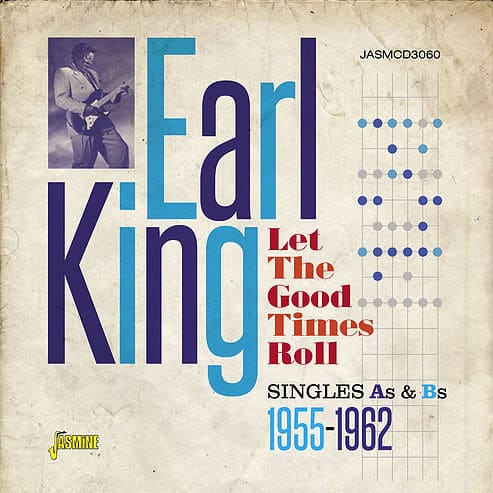 Title: Let the Good Times Roll: Singles As & Bs 1955-1962
Label: Jasmine
A mean guitarist? Sure, but King was also respected performer and songwriter and a principle in the New Orleans R&B scene. Formerly Earl Johnson until he signed up with the Speciality label in 1954 (he should have been called King Earl but an admin mistake reversed the name), this CD features his singles works over a seven year period.
Sonically, this CD offers a varied array of sound quality, as you might expect from tracks of this vintage.
For example, on Those Lonely, Lonely Nights, there is a slightly forwardness in the midrange with touches of distortion at times, evident during crescendos. But that contrasts nicely with the next track, Baby You Can Get Your Gun which improves in terms of clarity and dynamic range, especially in terms of King's vocal delivery while, on Everybody Got To Cry, it sounds as if King is a touch too close to the mic which results in some slight vocal distortion and muffling during crescendos.
Despite a slight series of midrange hardening around the guitar, the instrumentation is perfectly clear and controlled. It gives you an idea of the variety of the recording conditions and the mastering techniques utilised on each as well as the sources for each recording that, to my ears, just makes this CD all the more fascinating to listen to. Each track is a bit of adventure. I list these three tracks in sequence because they comprise the same line-up (and the same sessions in Trumpet Studios, Jackson, Mississippi?) whereas, track four, I Met a Stranger, changes the line-up and the location to Houston Texas.
Despite the fact the both sessions took place in 1955, this new session, which also features Little Girl, My Love is Strong, It Must Have Been Love and I'll Take You Back Home are far better in terms of sound quality. Clear, open and spacious, I expected these sessions to derive from years later, when technology has 'moved on' as it where. But no, you're just looking at a different studio with different staff. Just shows you how a change of location can make or break your music. Let King's lessons be your warning.