The Article
Doo Wop Across America
11th December 2015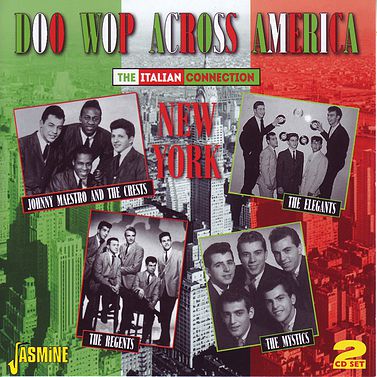 Title: The Italian Connection
Label: Jasmine
A fascinating examination of four lesser known doo wop groups spread over two CDs.
The Regents were originally from The Bronx but the final line-up, created in 1961, didn't see a single release until 1964. Their most famous song was actually recorded by the original incarnation of the group, way back in 1958. Barbara Ann (presented on this CD) was actually noticed when it was covered by the competing vocal outfit, The Consorts but their label, Cousins Records, decided to turn to The Regents for the final single cut. It became a No 1 hit in New York and, after the larger label, Roulette, picked up the worldwide distribution, it soared to No 13 in the pop charts and No 7 in the R&B charts. It was all downhill from there, though.
The Crests were notable for being racially integrated and, as such, they were the most successful of their type, releasing the song 16 Candles (again, on this CD) which later became a smash hit for Johnny Maestro, The Crests lead singer, who would later venture forth as a solo artist.
Next, The Elegants were principally known for their hit single, Little Star, which was released in 1958, becoming No 1 in both pop and R&B charts. A white group of singers who had previous experience in other outfits, they had a long career, still performing well into the 70s.
Finally, the Mystics were also notable for their extended career and for, at one time, featuring a young Paul Simon in their ranks (he can be heard here on All Through The Night). Another white doo wop four-piece, they had a big hit with Hushabye, in 1959. It was and is a beautiful song that perfectly represented the doo wop genre. To such an extent that The Beach Boys would record a later cover. The group became a bit of a cult outfit that helped them to extend their career, leading to their reformation in the 80s.
A perfect slice of the more obscure area of doo wop proving that this genre was awash with ideas and talent.