The Article
Doc Bagby and his smooth organ, groove organ: little known but immensely influential and wholly innovative
24th June 2016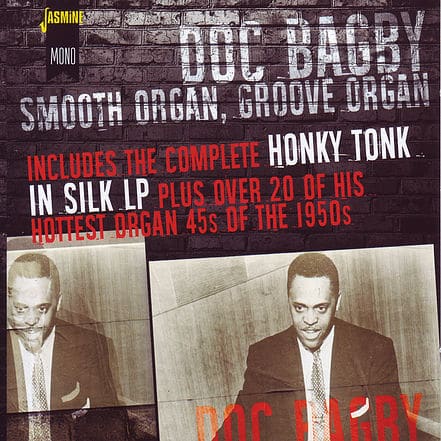 Title: Smooth Organ, Groove Organ
Label: Jasmine
Or, indeed 'Hank' Bagby. A real studio man who was highly respected as a session artist by both studio owners and other sessions veterans. He was a major part of music through the late 40s to the mid to late 60s.
He learned the basics of his trade at numerous house parties in the 30s where he was in demand as a young teenager. He created his own orchestra in the early 40s but that died a death as Babgy was drafted and then demobed in 1945. From there, he ran a record shop and quickly became the music director for Gotham Records where he produced many records ranging from gospel, R&B and blues. He then co-wrote, with guitarist Harry Crafton, Rock the Joint which was a Top 10 R&B hit while also backing numerous other artists with a Gotham orchestra he fronted while later working with Sonny Terry and Brownie McGhee.
Bagby's own records began to appear in 1951 but this CD focuses on 1952 onwards as Babgy became enamoured with the Hammond B-3 organ. In 1954, he joined a combo fronted by Basie man, tenor sax player, Eddie 'Lockjaw" Davis where he can be heard on a number of Birdland live sessions. Next, Babgy moved to Okeh Records and rcreated a LP, scoring a major hit in the same year with Dumplins. From 1959, he worked for a host of small independent labels as he came into contact and worked with the likes of Harold Melvin (getting him a place in The Bluenotes. Bagby produced their early hit, My Hero), Garnett Mimms, Donnie Elbert, Big Al Sears and more.
There's a host of quality material on this well mastered 2CD pack including Babgy's own album Honky Tonk in Silk plus 20 other single tracks including some of most eccentric and, in there own way, advanced tracks out there. Take the jive talking speech track account of Little Red Riding Hood, produced on Gotham on 1953. A wonderful and totally bizarre fairy story that will plaster a smile on your face. A multi-talented man, this collection gives you an intriguing cross section of Bagby's career