The Article
Dee Dee Warwick's Foolish Fool
11th December 2015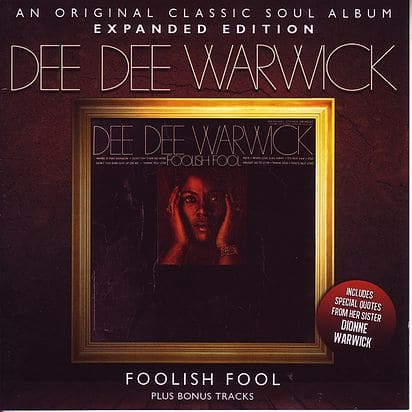 Title: Foolish Fool
Any relation? Yes, indeed. Dee Dee was the younger sister of Dionne. Like her sister, Dee Dee was a talented soul singer but most of her efforts were put into session work and she suffered by trading in the shadow of her illustrious sibling. Dee Dee did have a few minor hits in the 60s and 70s but, frustratingly for her, she never received the support to build a career.
As she said herself, "It took me a while to get into having a solo career. Having it wasn't a big deal to me and frankly, I didn't realise what I was doing. I was still quite young and the idea of having a hit was a fantasy to me."
One of her best recordings was this 1969 release. Dee Dee was capable of an intense delivery. In fact, the title track on this CD, originally released on the Mercury label, is a perfect slice of deep soul that strikes right at the heart.
Other highlights include Thank God, which was co-written by her father, although he never received a credit for it. It's also fascinating to hear Alfie, a hit for her sister Dionne. Dee Dee's version presents the song a slightly lower register but is as smooth as silk with the important additional of added soul. On occasion, she will falter, as if in emotional turmoil while her crescendos are more than that, they become cries of loss. Similarly, Where Is That Rainbow, takes her soul delivery into the red zone of the attendant recording equipment. It's almost Wall Of Sound-like.
This CD has Foolish Fool presented, for the first time, in its original form with the added enhancement of the removal of the rather uneven sound reproduction found within the original mastering. The bonus tracks are a welcome blessing too. Five tracks (three A-sides and two B-sides from 1969 and 1973). Essential for any soul fan.