The Article
Decca's Beat girls: Love Hit Me! from 1962-1970
23rd April 2016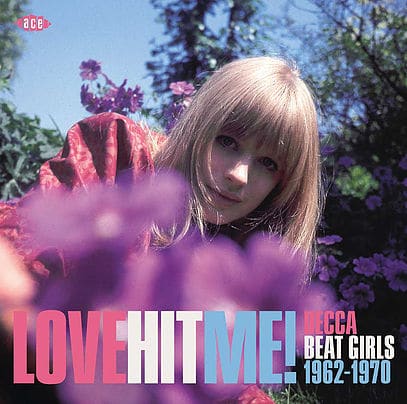 Title: Decca Beat Girls 1962-70
Label: Ace
There's an applying veneer of innocence on this collection of girl-pop. The, as the accompanying booklet to this compilation has it, 'coming of age' of British female pop music, managed by a wealth of production talent including Tony Meehan, Shel Talmy, Andrew Loog Oldham, Charles Blackwell and Mike Leander.
Just looking at the period images in this booklet says it all. Dana Gillespie smiles as if she's on holiday in Skegness, holding an ice cream and standing next to her Auntie Flo, Marianne Faithfull lurches at the camera as if to say, "What do I do? Here? Is here ok?", Lulu stands in the studio but her hand is awkwardly placed behind her back as if she doesn't really believe that she belongs there and the cast of the girl group, The Orchids appear, rather disturbingly, to look exactly like The Beatles in draft form (left to right, McCartney, Lennon and Harrison).
That's in the front of the camera. In front of the microphone, though, well that's a different matter. The talent is there, the singers relax, the arrangements are fresh and all have a stylistic impact that fairly knocks you for six.
Just listen to the vibrato on Faithfull's That's Right Baby who manages to perfect a combination of 'butter wouldn't melt' with the assassin's underlying tone. She might be carrying a daisy in one hand but there's a stiletto in the other while the iconic TV soundtrack-type bass guitar adds a 60s swagger that says, "Don't doubt, Marianne. Don't get the wrong idea. Don't turn your back on her." It's a period classic.
Then there's the wonderful folkie, Beverley, who actually published Where the Good Times Are on Deram. This emotive singer, whose performance was once seen by a young Barbra Streisand and who commented to her, "I see I have competition," positively nails this track, adding a rock-based energy which, considering she was joined by Jimmy Page, John Paul Jones and Nicky Hopkins, is not too much of a surprise. She, herself, never shamed herself though.
This quite superbly mastered, 24-track set is packed full of such gems. A sheer joy.