The Article
Cracking the Cosimo Code: 60s New Orleans R&B Soul
11th December 2015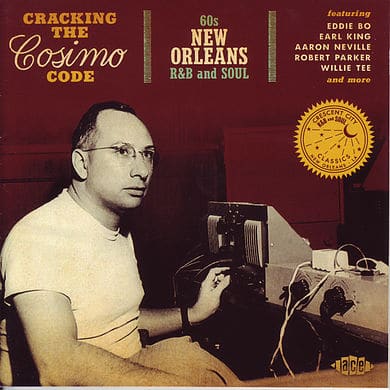 Title: 60s New Orleans R&B Soul
Label: Ace
Well, what do we have here, then? A sort of entry point into a whole new world for geeky, anal and wholly occupied soul enthusiasts who are fascinated by the existence, techniques and remarkable output from the late Cosimo Matassa's recording studios in New Orleans during the 60s.
Touching base with the Cosimo Code website, this CD is the first ever, broad overview of the studio's output. Based on 521-525 Governor Nicolls Street, that operated from 1956-1968, this CD features 24 tracks including the hits of the time including Jessie Hill's Ooh Poo Pah Doo (Minit), Lee Dorsey's Get Out Of My Life, Woman (Amy) and Robert Parker's Barefootin' (Nola). The story of Matassa and his professional life is long and complicated but rich in musical history with a swathe of songs and artist that delight. This CD merely dips a big toe into the heady riches that await the soul fiend but, even on this CD, there is a host of intriguing songs.
The problem with looking deeper into the life, times and works of Cosimo Matassa is that the people he worked with often hold just as much interest in their own terms. Take the track The Monkey Speaks His Mind from Dave Bartholomew & His Orchestra, featuring a notable trumpet solo. Bartholomew sold more records than almost anyone, in the rock'n'roll era, except Presley. He also worked with just about everyone who popped into Cosimo's studios and featured top arrangers and producer such as Allen Toussaint and Wardell Quezergue.
Then there was Aaron Neville. Many people considered 40s Frank Sinatra as The Voice but that title passed onto Neville soon enough, as part of the Neville Brothers. This solo effort, Tell It Like It Is, is arguably the best thing he ever did.
A magnificent introduction it might be but be careful. Once you enter the world of Cosimo, you might never be seen again.