The Article
THE CONTOURS AND DENNIS EDWARDS' Just A Little Misunderstanding: Rare And Unissued Motown 1965-68
11th August 2015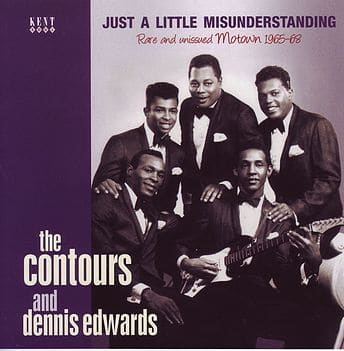 Record Title: Just A Little Misunderstanding: Rare And Unissued Motown 1965-68
Ah, The Contours. Many remember them for the song that put Motown on the map, Do You Love Me? But there was more to this group than this song and, in fact, there was more to this group than you might expect from an outfit attached to the sleek and sometimes overly controlling Motown record label. There were no fancy wardrobe arrangements for The Contours, oh no. You wouldn't have seen any stilted choreography, either. What you should have expected from The Contours was almost uncontrollable energy. 
This was a band that jumped and leapt all over the stage, contorting their bodies and doing the splits. This was a raw outfit. In terms of chart action, though, the group found it tough to keep up the pressure. Not because the quality of their output was low, far from it, the group just didn't get the attention that they deserved.
This CD concentrates upon the second half of the group's Motown career over 26 tracks, many previously unissued. 
The collection features performances by Billy Gordon, Joe Stubbs and Dennis Edwards, as well as a fourth Contour, Jerry Green, who could do a passable impression of Gordon on stage.
Edwards was arguably The Contours principle vocalist, since December 1966, when he joined and cut the band's final US single, Its So Hard Being A Loser. He would also record an overdub for the soon to be UK single, the 1974 release, Baby Hit And Run.
Edwards would leave the group in mid-1968 when he was called over to another guy's party after a gig in Baltimore where he discovered, to his dismay, two of them shooting drugs. Edwards promptly left but someone was later stabbed and Edwards was rounded up with the rest of group by the police. It was probably while he sat in a jail cell that he decided to leave the group.