The Article
Cissy Houston: Presenting Cissy Houston
11th January 2016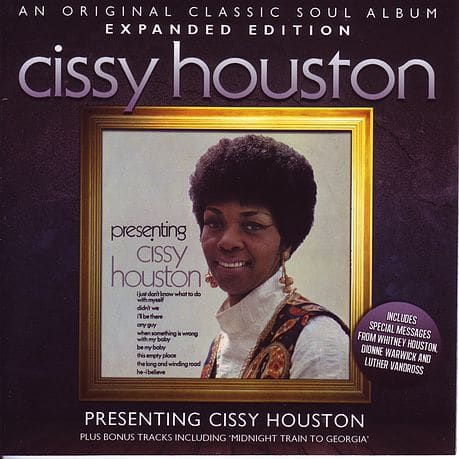 CD Title: Presenting Cissy Houston
The mother of the late Whitney Houston (the junkie who regularly murdered a song by wrapping it up in verbal contortions, simultaneously spawning numerous vocal gymnastic clones), Cissy – or Emily Drinkard, her given name – was a member of the gospel group, The Drinkards, in the early 60s. Later, she would join the Group (who boasted luminaries such as Doris Troy and Dee Dee Warwick during their history), providing backup vocals on numerous studio sessions.
Atlantic signed the group to Atlantic and renamed them Sweet Inspirations. The combo recorded a host of gospel-tinged soul, digging out their own hits as well as backing Aretha Franklin on some of her work.
Houston began her solo career in 1969 and recorded this album in 1970 that includes a couple of minor hits: I'll Be There and Be My Baby. The tone of the album, if you know their work, is in the style of Sweet Inspirations although the variety of the material covered includes everything from soul, rock and pop tunes. What this album has going for it are the top quality arrangements and gospel-ish vocals, giving them a fresh air.
This expanded version of the original album contains no less than 12 extra tracks including a her work for the Janus label who would buy out her contract in 1970. These extra tracks represent a sort of 'could have been' for Houston's career. If she had received the right support for her career, at this time, and if these songs had been nutured and developed then the thought is that she could/would have been a big star. As it was, she fell through the cracks. She even recorded Midnight Train to Georgia before Gladys Knight got her hands on it. Buy the album as listen to the real star in the Houston family.