The Article
CD/VINYL REVIEW ROUND-UP #6
19th June 2020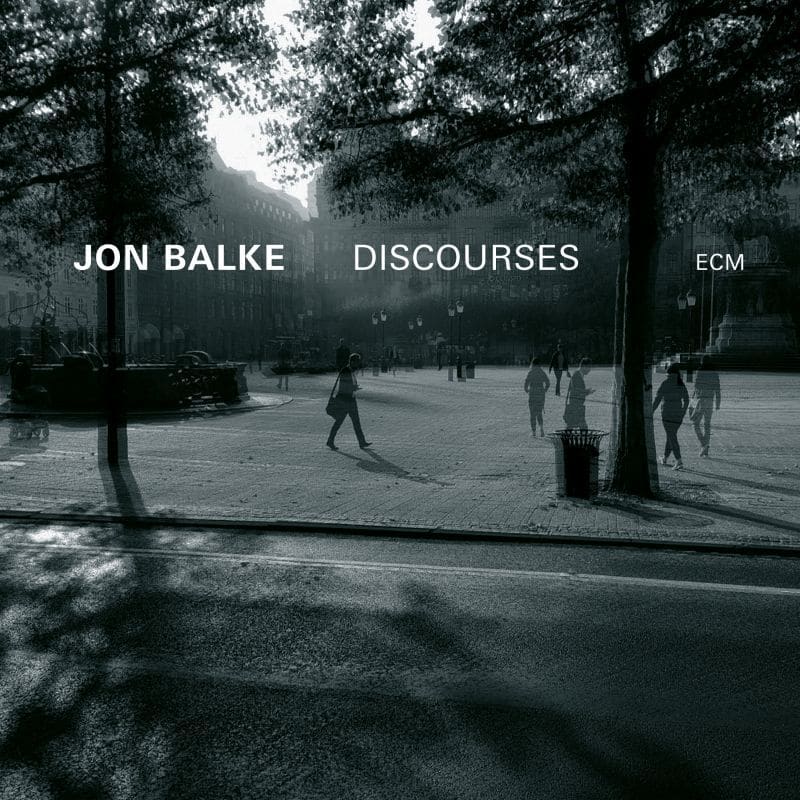 This week, in issue 6, I offer you eight recent releases for review, splitting the content into CD and Vinyl
ON CD
JON BALKE
Title: Discourses
Label: ECM
A bloke and his piano (a Balke and his piano?) is hardly interesting, these days. This trio of man, metal and wood can be found in every performance space, bar, concert hall, train station and bus queue up and down the country. 
What is, really, the big deal?
Well, the big deal with this particular chap is not that he has a piano but what he does with his piano and also, what tangled sonic webs he weaves in and around the thing. 
The first track (Balke's Caps key has obviously broken because all track names are in lower case) is a magnificent piece of cubist expression. I ain't kidding when I say that because for every note he plays on 'the self and the opposition' he adds around 15 other notes that sit like the facets of a diamond. So you get to see all angles of the self same note.
Turning such diamonds into a piece of music is, as diamonds can be, quite dazzling.
'the facilitator' starts in a ho hum fashion but then, once lulled into a sense of security, odd, ghostly, survival horror-like strings haunt the rear of the soundstage. As if they're girding for a quick pounce on the unfortunate Balke. Unsettling and fascinating.
'the container' offers a similar trick but, this time, Blake and piano sits on the undulating sea of synth bubbles that rock and roll the calm expressions of Balke, adding a new and oceanic dimension. 
And on and on we go. The man has obvious creative talent. He's playful, cheeky, funny and adventurous. I hope to see him performing his magic the next time I'm standing in the queue at Debenhams' cafe.
LETTUCE
Title: Resonate
Label: Round Hill
A slice of jazz-funk for you from the band's seventh album, a sequel to the 2019 release, Elevate. That picked up a Grammy nomination but I wouldn't brag about it, guys. Grammy nominated albums are generally awarded by the mundane as an excuse for another booze up. I'd advise putting Tea Towel over it and moving on. 
Back in the real world, this big band jazz outfit apparently work, as individuals, with lots of really big music stars. I can see a list of those stars on my press release here but, hey, who really cares? What I care about is what the band itself sounds like.
How do they gel together? Do they connect? Do they make magic? Let's ask Adam Deitch on drums/percussion, Adam 'Shmeeans' Smirnoff on guitar, bass by Erick 'Jesus' Coomes, Ryan Zoidis on alto, baritone and tenor sax plus Korg X-911, Eric 'Benny' Bloom on horns, Nigel Hall on vocals, Hammond B-3, Rhodes, clavinet and keyboards.
From a slightly compressed master – although nothing too nasty – there's an intriguing sound here. Something slightly…70s. There's a hint of blaxploitation movie here. A slightly sordid Italian soundtrack, perhaps? It's loose, it slides, it grooves and the album gets better as it flows. Hall's occasional vocal definitely adds to the party too because the rest of the band rotates around that gruff delivery. 
I love the retro colours here, served on a bed of funk. I want more though. It's not amazing. It's good but it's too safe. I want more and I'm sure the band can do it too. Maybe if they spent more time together and less time wasting their talent on Kayne West, that magic might just happen. Watch this space. Watch this funk.
JACK ELLISTER
Title: Lichtpyramide
Label: Tonzonen
Let's get the mastering out of the way first because, really, who knows? This one arrived on a typically poor sounding CD-R (all CD-Rs sound poor) and not a preferred, finished CD or vinyl so, as Lennon once said, "nothing is real". Also that CD-R was full of crud on its shiny side. So not shiny at all, then. I assume Ellister, who sent this one over personally, had previously used it as a beer mat at a recent party? 
Not a good start. I'm fortunate this thing played at all and that I didn't catch something from it.
The music itself mixes synths and the organic while infusing calming, meditative, Germanic spoken word over a combination of pastoral guitar and introverted synth noodles. 
When I could penetrate the bright upper mids from the CD-R's sonic terrorism, I enjoyed the actual music which combined simple synth loops and soundscape wallpaper, picked out by acoustic guitar picking. The contrast of the slightly rustic atmosphere from the calm voice and guitar combined with the otherworldly promise from the synths does offer a sense of the mystic, opening up the sky the space above and making you realise that, yes, we are just little people in a very large universe. This is an album that encourages perspective.
Next time, Jack? If you can't do CD, send me some vinyl. Make some extra promo copies for goodness sake.
Bandcamp: jackellister.bandcamp.com
KURT ELLING
Title: Secrets are the Best Stories
Label: Edition
Released in a very presentable multi-gatefold digipack this CD, I'll say it now, offers a suite of quite supreme jazz vocal. Presented by a man who has honed his art, over the years, to a pinnacle of purity. Some might say he's fallen over the edge. 
Who else would create their own lyrics and then lay the upon the music of the likes of Wayne Shorter and Jaco Pastorius?
The main man is accompanied by pianist Danilo Pérez, drummer Johnathan Blake alongside the likes of Clark Somers on bass, Chico Pinheiro on guitar, Miguel Zenón on alto, Rogério Baccato and Román Díaz on percussion.
Elling does an Anita O'Day, using the vocal as a jazz instrument. Bending the lyrics, adding dissonance, mixing tempos sometimes mid line and bending words around corners.
So, more jazz and less vocal, in some respects. One to get to know. An album to listen to, digest and then to return for another bite. It's worth it, though.
ON VINYL
THE SOUNDTRACK OF OUR LIVES
Title: Welcome to the Infant Freebase
Label: Music On Vinyl
Originally released in 1996, this is an alt-rock outfit from Sweden with a 60s/70s vibe and psychedelia-infusions that emerged from the early outfit, Union Carbide. There's a definite Verve-like styling going on here, especially in Ebbot Lundberg's lead vocals.
In fact, quite apart from the 60 influences, there actually is a sense of late-period Britpop here which in itself, of course, was blanketed by psychedelic ingredients.
The general feeling is one of rock symphonia. Oasis with extra chewing gum and swagger? The Verve at their most damaged? 
A wall of guitars forms the Phil Spector-like backdrop to many of these tracks but there's also some Eastern flavours. Indian ethnic constructions enhance the mysticism and soak the music in a heavy, smoky fug.
You could throw cliche darts at this band, accusing them of using every significant 60s psyche trick in the book but, actually, none would hit home. The band are obviously such fans of the period they've become soaked in the period and are now reinterpreting the period through their own, modern filters. Period. The result is a bit of a triumph.  
This is a limited, numbered edition pressed on gold vinyl.
THE EDGAR WINTER GROUP
Title: They Only Come out at Night
Label: Music on Vinyl
Featuring one of the most unsettling examples of sleeve art that I've ever seen and originally released on Epic in 1972, this vinyl  remains a classic exponent of blues-infused rock that featured the magnificent singles: Frankenstein and Free Ride.
The singles are merely highlights to a rhythmic array of a melodic outing that includes hip-swinging tracks like the uptempo first song, Round and Round and the classic 70s production of Hangin' Around.
The band flow very easily through this suite of songs. They're tight as a unit in both instrumental and harmonic terms. They include Edgar Winter himself plus Chuck Ruff, Dan Hartman, Randy Jo Hobbs and Ronnie Montrose plus Rick Derringer who also acted as the producer.
Mastering is both clear and sympathetic to the original. The warming, cosy and comforting sonic presentation is here in its 70s glory. All I need to do now is cover an glue the sleeve in wallpaper, as we were told to do with our exercise books in Infants school.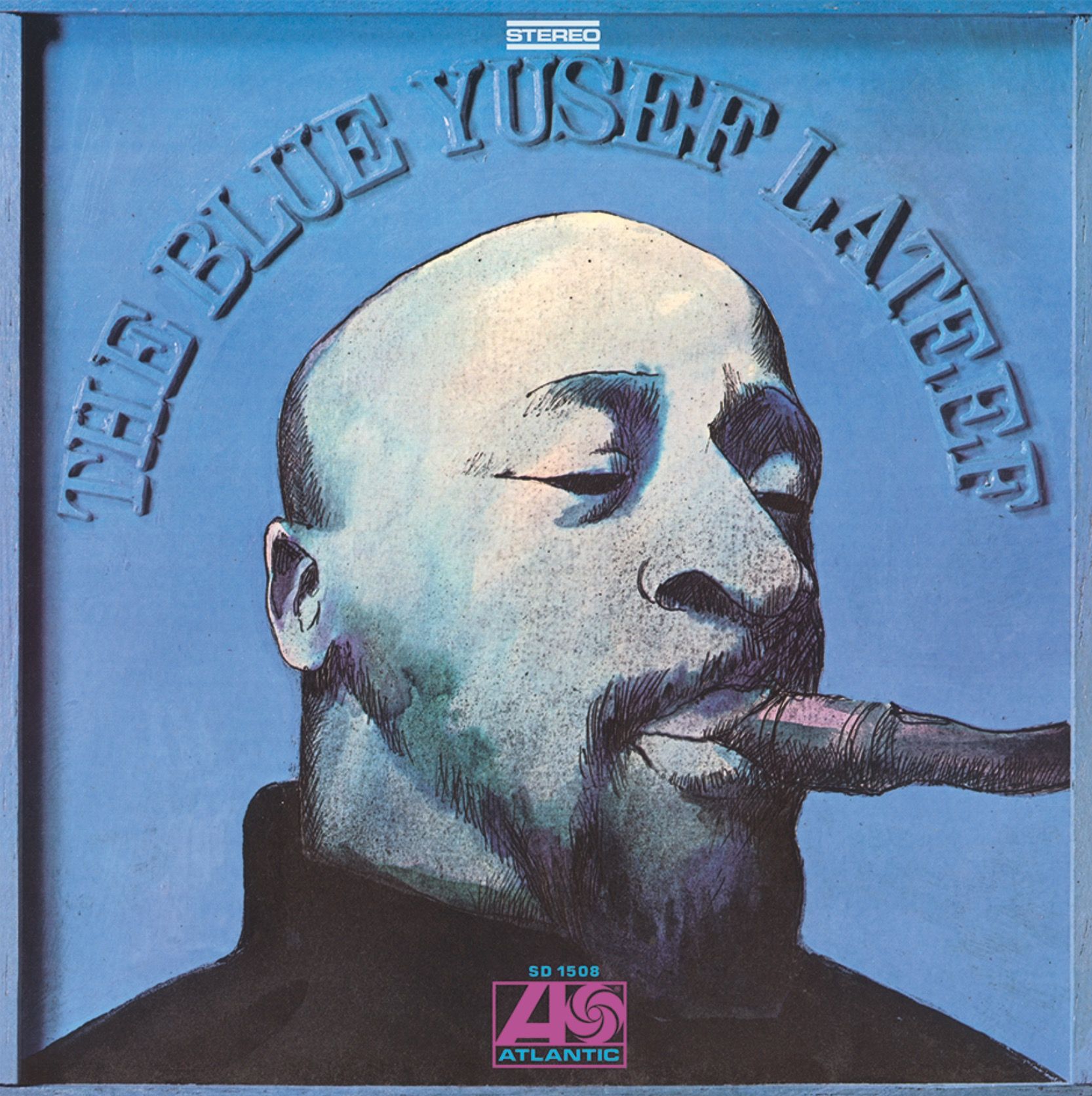 YUSEF LATEEF
Title: The Blue Yusef Lateef 
Label: Speakers Corner
As it says on the tin, initially released in 1969 and now well mastered by the German audiophile outfit, this vinyl LP is a sort of concept piece that looks at the blues from different angles and points of view and, something that might not be as expected, different cultures. The choice of scales used provides unique and intriguing takes on the blues while some tracks combine multiple approaches so you'll sometimes hear oriental scales combined with deep South laments, for example
Helping him in his investigations was an array of useful talent: Sonny Red appeared on alto, Bob Cranshaw on electric bass Cecil McBee on  the stand-up version, the drums were courtesy of Roy Brooks, the legendary Kenny Burrell was on guitar with Blue Mitchell on trumpet and Hugh Lawson on piano. Lateef tootled on a range of wind instruments but others too, like the tamboura.
This record exposes Lateef, the experimenter, Lateef distilling blues into a shared human condition and revealing the commonality of pain.
JONATHAN FIRE*EATER
Title: Wolf Songs for Lambs 
Label: Third Man 
From Washington, D.C., this group were a group before they were a group. That is, they had gown up together before the band was a thing. Hence this bunch of people shared a knowledge of each other, a trust and a closeness that can often prove critical for the success of a band. 
After a shaky 1995 start, that closeness did emerge as a major positive. 
What they produced was a typically primitive blues-rock sound but with the energy and a lead singer that was Rolling Stones in style and presentation. A pre-Strokes band, you might say. A raw, unsophisticated, stripped-back style that was infused through the voice of lead singer, Stewart Lupton.
A Dreamworks contract followed in 1996.
For some reason, the LP didn't sell and the band's pre-match hype fell over and rolled around clutching its knee while brandishing an imaginary red card to the ref.
Was it not melodic enough? Not enough hooks perhaps? Not chart friendly? Who knows? Who cares, really? To me, this isn't a band that should have even gone down that road.
Why were they modelling for Calvin Klein? Why were they opening for Blur and Pulp? Why were they trying to be mainstream? They shouldn't have been anywhere near.
The band split in 1998. 
A waste? You're damn right! Shoot the manager? Hmmm, maybe. Maybe.
[Don't forget to check out my new Patreon Page at www.patreon.com/audiophileman, for exclusive postings, giveaways and more!]