The Article
Hawkweed's This Is Your Captain Speaking…Your Captain Is Dead: The Albums And Singles 1970-1974
11th July 2015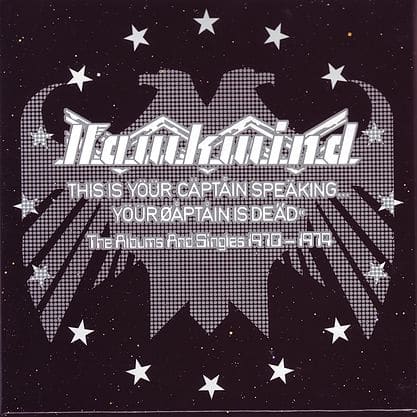 Title: This Is Your Captain Speaking…Your Captain Is Dead: The Albums And Singles 1970-1974
Label: Parlophone
This new box features five studio albums, two live albums and a compilation disc of the band's singles.  Albums included are: Hawkwind, Xin In Search Of Space, Greasy Truckers Party including bonus tracks (Master Of The Universe (Original 1972 LP mix) and Born To Go (Original 1972 LP mix)), Doremi Fasol Latido, The Space Ritual Alive, Hall Of The Mountain Grill, 1999 Party and Of Time & Stars – The Singles.
The addition on the singles disc is very welcome coming, as it does, with a variety of edits and mixes. What does puzzle me a tad is the lack of any other bonus tracks apart from the two attached to Greasy… I would be interested to know why a little bit of extra care and attention couldn't have been added to this box set. As it stands, it seems a little bit unfinished. In many ways, I would have preferred the two Greasy…bonus tracks to have been deleted. At least the set would have looked less messy and haphazard.
Also, why is there no detailed booklet packed with information on each album, interviews, rare images and sleeves and recording information? OK, forget the 'detailed' bit then, why isn't there even a very basic booklet?
OK, this is a box done 'to a price' but what price? This set is £28 on Amazon. For what you get, I would have seriously expected something in the region of £9. Do a quick check now on Amazon and search for a series of jazz discs from Real Gone Jazz. Eight classic albums on four CDs to see what this Hawkwind set should have cost (this is only a random example – there's many more to compare this box set with).
Apart from the nice singles disc, that's what this set feels like, something worth less than a tenner. So, OK, lop on a fiver (I'm feeling generous) for that singles disc. Let's call it, what, £12.99? Not £28 though.
As it stands? This box set is a complete rip off.