The Article
BURNING FRETS: DANCE AROUND YOUR GUITAR
16th April 2018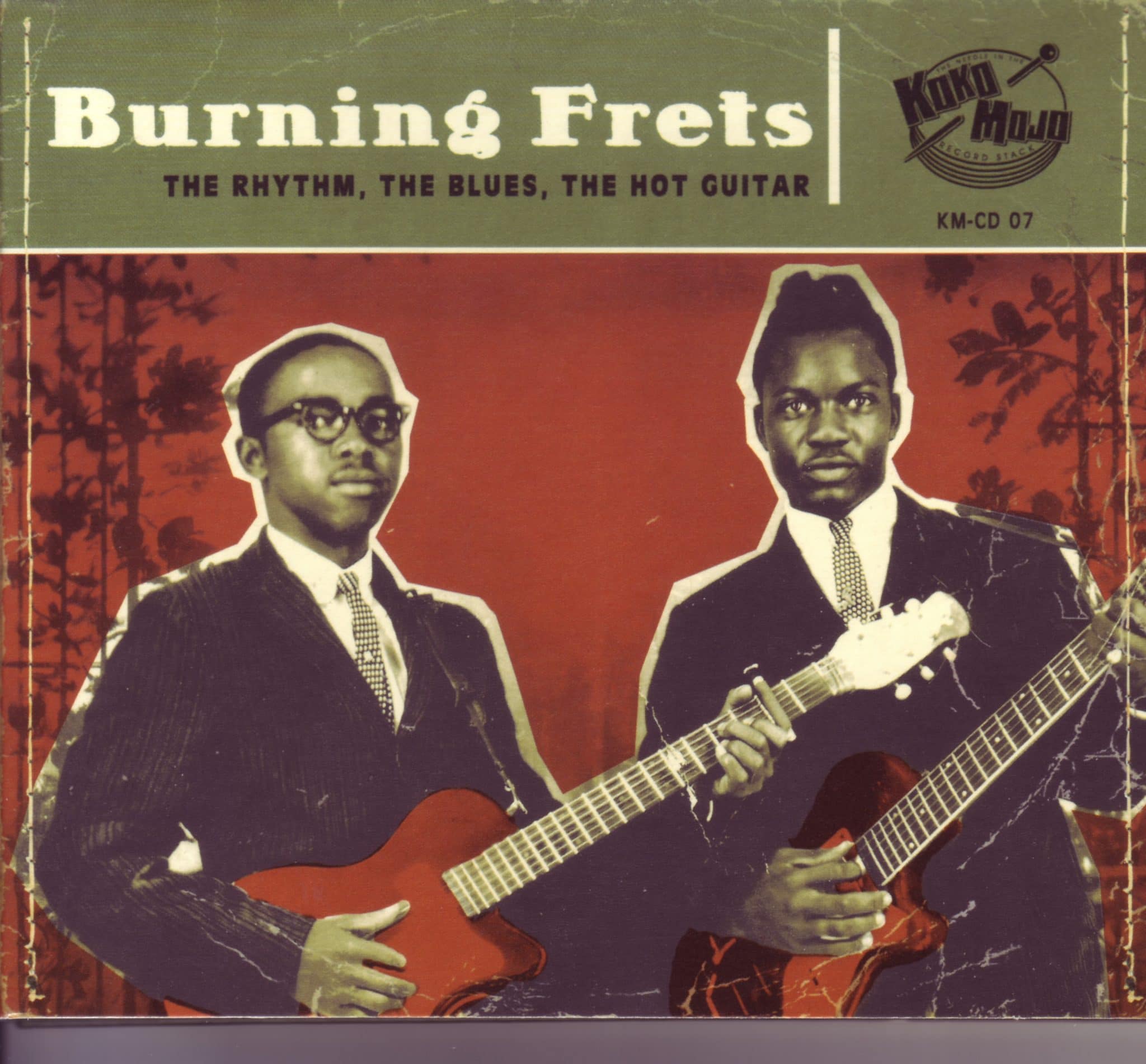 Title: The Rhythm, The Blues, The Hot Guitar
Label: Koko Mojo
Koko what? Koko Mojo is a 'division' of Rockstar Records and Rockstar Records, which was originally founded in 1979, became the home for the labels Rhythm Bomb Records, Richard Weize Archives and Catty Town records and, as you've just seen, is basically Richard Weize keeping his hand in since he became the "former" founder and boss of Bear Family. Hence, Koko Mojo has plenty of pedigree. You also know what to expect in term of quality.
The label exists, apparently to, "…release danceable 1950s Blues/Rhythm & Blues music on vinyl! Its compiled by DJs and our main goal is to make you dance!"
I've got a bit of a dodgy knee at present so I'll resist. The main gripe I have with the Burning Frets CD is the lack of information. Arriving in a very nice fold-out gatefold card sleeve with a selection of attractive photos within, I hunted for the booklet or leaflet or scraggy bit of paper or anything. Zero. Which is a shame because it means that many users will be left in the dark about the majority of the artists featured on these 28 tracks which originally appeared on labels such as Apache, N-Joy, Loma, Excello, Boxer and Airway.
There's no faffing around here, no fluff, no padding, no fat. What you have is lean and the real deal with raw edges all over the place.
ON Burning Frets, you'll find tracks such as Tapping That Thing from the wonderfully monikered Boliver Shagnasty. A nickname for one who is a bit of ladies man <cough>, it was rumoured to actually be Rusty You, doing a bit of 'on the side' business for the Fun label while he was still contracted to the King label (naughty boy). Hence the pseudonym. The track itself is an energy-infused, twangy guitar rocker with enough edge to appeal…reminds me of early Beatles stuff, actually. You can see what John and the boys were listening to.
You'll also find Blue Charlie and I'm Going to Kill That Hen. Blue Charlie – or Blue Charlie Morris offers this hard blues track that sounds incredibly vintage with a terrible suite of production values making it, of course, absolutely perfect. The fast talking, yet clipped Charlie delivery gives the impression that his mind his elsewhere and that he's just trying to get rid of you because he's, well, thinking of the act. 
Despite the dearth of information, the CD is full of this sort of stuff. Very real and very good. This is 24 karat, guitar-based gold. Absolutely pure and top quality. 
[Don't forget to check out my new Facebook Group, The Audiophile Man: Hi-Fi & Music here: www.facebook.com/groups/theaudiophileman for exclusive postings, exclusive editorial and more!]