The Article
Bobby Womack's The Preacher
11th May 2016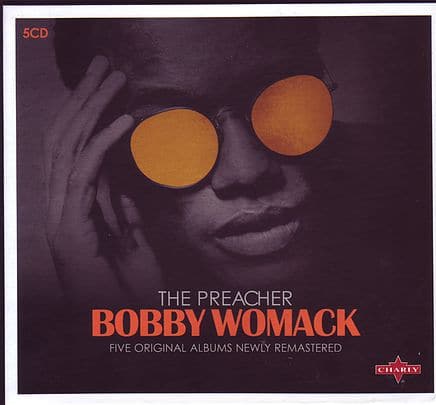 Title: The Preacher
A real soul man known for his lean/stripped productions, Womack worked hard at his craft before earning a shot at a solo career and struggled with personal problems while doing so but his survival seemed to infuse his songs to great effect. In fact, his talents as a singer were matched by those behind the scenes as an instrumentalist and songwriter.
He had great success in the R&B charts with quality cuts and was always an underrated guitarist, we lost Womack in June of 2014, one of the last surviving links to the pre-Soul/R&B era.
This set features 51 tracks, fourteen of which became hit singles and focuses on his early solo career. The albums include: Fly Me To The Moon [1968], produced by Chips Moman and including I'm A Midnight Mover, co-written with Wilson Pickett. It sounds very Stax-like. His stunning version of California Dreamin' is the highlight of the album; My Prescription [1969] includes five hit singles including How I Miss You Baby. There's a few standards on here too but Womack takes them far away from their usual place and turns them into something that belongs to himself; The Womack Live [1970] was Womack's first live album included hits and contemporary material such as George Harrison's Something and Nilsson's Everybody's Talkin'; Communication [1971] was Womack's breakthrough including That's The Way I Feel About 'Cha and (If You Don't Want My Love) Give It Back and a monologue-dressed, nearly 10 minute-long rendition of Bacharach & David's Close to You plus Understanding[1972] a stirring LP and recorded partly in Memphis and at Muscle Shoals, featuring Woman's Gotta Have It.
Arriving in a clam-shell box, each album has been remastered from original mastertapes provided by Womack himself shortly before his death, complete with a booklet of liners and miniaturised versions of the original album artwork on the CD sleeves.