The Article
Bob Dylan's The 30th Anniversary Concert Celebration Deluxe Edition
11th November 2015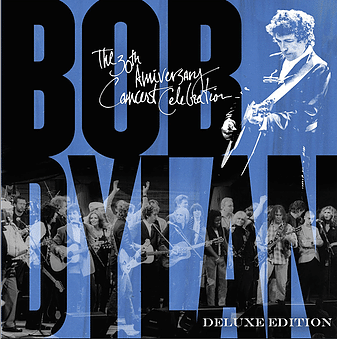 Record Title: The 30th Anniversary Concert Celebration Deluxe Edition
Label: Columbia
In 1992, Columbia, Bob Dylan's record label, decided to throw him an almighty 30th anniversary bash. A stellar array of artists was invited to perform on 16 October at New York's Madison Square Garden featuring Neil Young, George Harrison (his final public performance), Johnny Cash, Lou Reed, The Band, Eric Clapton, Stevie Wonder, Pearl Jam, Willie Nelson, Roger McGuinn and many more.
A fascinating document, it's intriguing to see how they tackle the Dylan oeuvre that can be a tough call at the best of times. It's easy to fail when tackling Dylan numbers. Even Dylan has stumbled once or twice, so asking Stevie Wonder to sing 'Blowin' In The Wind' is just cruel while The O'Jays version of 'Emotionally Yours' fairly drips with syrup and sugar that had me booking a check-up with the dentist. Kris Kristofferson, meanwhile, obviously just surfaced from his bed to sing 'I'll Be Your Baby Tonight', such was the lack emotion, guile and competence in his presentation. There's plenty of top draw performances, though. The Band's 'When I Paint My Masterpiece' and Tom Petty's 'License To Kill' is right on the money while Neil Young brings his usual quality to both 'All Along The Watchtower' and 'Just Like Tom Thumb's Blues'. Dylan himself appears on three tracks: 'Girl From The North Country', 'My Back Pages' and 'It's Alright Me (I'm Only Bleeding)'. And the Deluxe Edition aspect of this 1993 reissue? Two bonus tracks, both from the rehearsals from Eric Clapton and Sinead O'Conner.
Speaking of O'Conner, look out for the two-disc DVD version of this concert that features a feisty and emotional O'Conner. Two weeks previous to the 'Bobfest', she had torn up a picture of the pope on US TV's 'Saturday Night Live'. Oh, the mayhem.