The Article
Bo Street Runners' Never Say Goodbye: The Complete Recordings 1964-1966
11th December 2015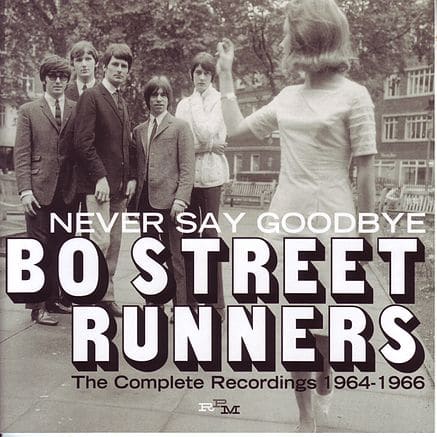 Title: Never Say Goodbye: The Complete Recordings 1964-1966
Label: RPM
An R&B band from London, the group are principally remembered for having one Mick Fleetwood within its ranks for a brief time but there was much more to this outfit than that one, rather dissmissive, fact.
They began in an auspicious venue, the Railway Hotel (as did the early version of The Who) in 1964 and entered a competition arranged by the UK TV music show, Ready Steady Go. The resulting, constructed demo transformed itself into a 4-track EP. Only around 100 copies of these discs were printed, which were sold to fans at gigs. The disc is now a sought-after rarity.
The best track on the record, Bo Street Runner, was very Rolling Stones/Pretty Things in nature. Winning the competition, the band were given a Decca contract as the main prize. One single later, though, the group hot footed it over to Columbia to record three more singles, producing a more jazz-inflected soul presentation.
The radical change in music style was too much for some of the band members and three of them promptly departed. This is when Mick Fleetwood entered the scene to drum on the band's next single, the Georgie Fame-like Baby Never Say Goodbye. Despite being well received by the media, a strike at the band's record pressing plant meant that copies never reached the public in quality and so the single died a death. Fleetwood left and Mike Patto (he of later Spooky Tooth fame) joined as lead singer. Eventually, due to continued lack of success, the band fizzled out and split.
In all, the group released around an album's worth of material plus the singles for both Decca and Columbia. For this welcome RPM release, all of the material is present on this CD plus rarities. Hence, you have the Oak EP version of Bo Street Runner, the single and the Ready Steady 'Win' versions of the same, Can't Stop Talkin' About My Baby and Love by Mike Patto plus the radio versions of I Want To Be Loved and Baby Never Say Goodbye.
You wouldn't call them an innovative or sparklingly original band – especially when you heard what else was going on around the scene at that time – but they produced a worthy array of up-tempo songs that a reflective of the era. A release that will be warmly received by fans.