The Article
Bill Wyman's The Kings of Rhythm Volume 1: Jump, Jive And Wail
16th May 2016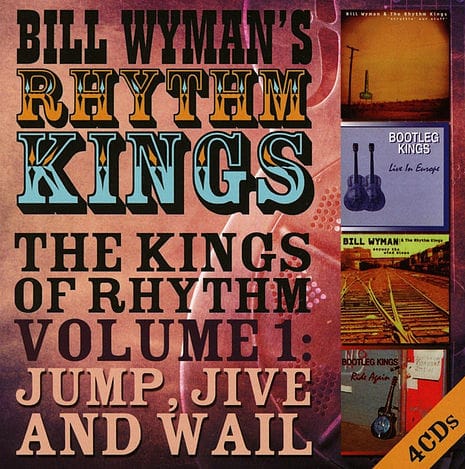 Title: The Kings of Rhythm Volume 1: Jump, Jive And Wail
Label: Edsel
This is a four album compilation on CD, packed into a nicely presented clamshell box with each album offered in a simple card sleeve replete with artwork plus a 31-page booklet.
It includes Struttin' Our Stuff, Bill Wyman's first album in nearly 15 years at the time of its 1997 release with an energetic array of (possibly too polished) blues rock with excellent covers of the likes of Green River and Tobacco Road plus guest appearances from Eric Clapton, Albert Lee, Peter Frampton and Georgie Fame.
Anyway the Wind Blows is another star-studded collection of artists spread all over the album including Georgie Fame and Paul Carrack on voices, Gary Brooker on keys, Albert Lee and Andy Fairweather-Low on guitar, Chris Rea and Mick Taylor on slide and Nicky Hopkins on keyboards plus many more (Frampton, Clapton et al). Now you know what the booklet is for: to keep a track of the musical celebrities. Maybe shoe-horning so many notables into these tracks was not a great idea because there's a lack of pizazz and grit in their performances. Gee Baby Ain't I Good to You is tired as is Clapton's guitar while Spooky is just that, dead.
Also look out for two lively CD albums in the Bootleg Kings series including Live in Europe as part of the 1998 European tour and Ride Again as part of the 2000 tour. To reiterate, both live albums draw upon a range of live shows, they do not feature single concert footage. Wyman's project tends to work better as a live presentation as each band member is energised by the audience.
The mastering is nice. Edsel can always be relied upon not to cock up their CD mastering which is solid and never too bright in the midrange.