The Article
Billy Sherwood & Tony Kaye are Live in Japan sporting both Yes and solo works
31st May 2016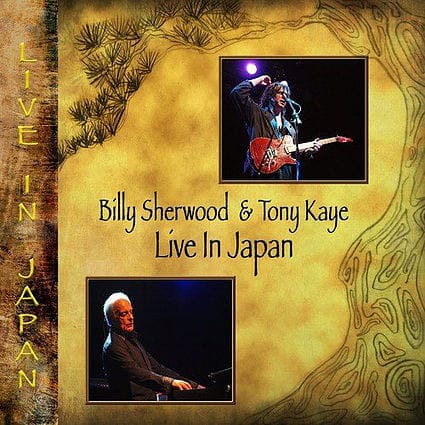 Title: Live In Japan
If you're a Yes fan then you are entering a strange period with a very strange current line-up in action (plus and minus Trevor Horn when Drama songs are sung). The core members or the Premier League version of the band are dwindling. Chris Squire has sadly passed away, Jon Anderson is doing other things as is Rick Wakeman which leaves a strange concoction to plod the prog highways and byways.
And the point is?
Well, the point is that Yes, as a band, is far more fluid in nature and more flexible in its line-up. You're finding that past and current members are more likely to pop up in clusters, within intriguing group collaborations. Both Billy Sherwood (the current bass player for Yes after Squire's demise) and Tony Kaye (original Yes keyboard player who was in-situ during the 90210-era LP) are also part of the Circa prog outfit along with Rick Tierney on bass guitar and Scott Connor on drums.
Now, Kaye and Sherwood have splintered off this splinter group to perform as a duo, live in Japan.
There are 18 tracks to be heard here that derive from a mixture of sources. Hence, you get the Yes staples such as Roundabout, Time and a Word, No Way We Can Lose (an intriguing entry this one) and Wondrous Stories but you also get tracks from Circa including Together We Are and Cut The Ties and solo outings from the Sherwood stable such as Man Over Bored.
I managed to grab the three disc edition (two CD and DVD: my postman was a bit rough with my copy and my DVD failed to play so I'll continue with audio only here) and was impressed by the overall productions values and mastering which was big, bold and confident with a welcome clarity for audiophiles out there.
For a live concert, it has an odd atmosphere, I have to say. It sounds like the audience consists of one man and his dog, the guy who sells the Hot Dogs and the cleaner waiting to clear up afterwards. I wonder at the wisdom of pushing this as a live album: live assumes a contract between the group, the audience and the listener. When one of those parties fails to turn up then you feel a little embarrassed. They should have killed the audience microphone in the studio afterwards and kept quiet about the 'live' bit.
In terms of innovation, edge cutting boundary breaking and unique characteristics regarding this release and attendant music…well, there isn't any. I do feel a mite frustrated that the pair didn't take more chances with the song presentations here. Here was a chance to disassemble the famous Yes numbers and make them their own. To put their own stamp or style on the music, as it where. But no, instead, what you have is Sherwood struggling to 'do a Jon Anderson' on Owner of a Lonely Heart, for example as per the album template.
Bottom line? Yes fans and related need only apply for this one. It's a pleasant outing for the dedicated.