The Article
Billy Preston's Everybody Likes Some Kind of Music
11th February 2016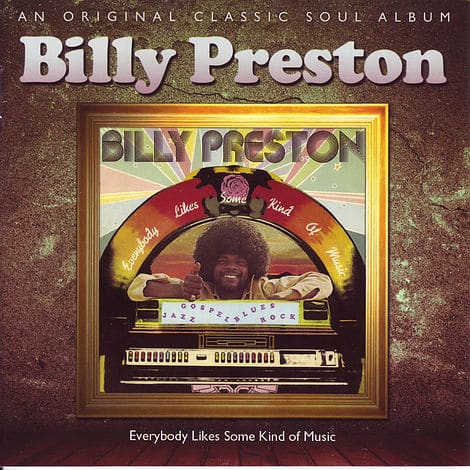 CD Title: Everybody Likes Some Kind of Music
Aged 10, he played keyboard for Mahalia Jackson, appeared in the film biography of A.C. Handy at the age of 12, playing the younger Handy, toured with Little Richard during the early 60s and, yes, even backed the Beatles during the Let It Be sessions. It was no surprise, after Billy Preston had done all of these things, that he would then launch into a solo career.
The direction of this album, originally released on the A&M label in 1973, could be easily fathomed by the title. The direction, well, isn't. The album sprawls over a wide array of genres from the jazz-laden How Long Has This Train Been Gone? with its show tune base to the gospel-infused My Soul Is a Witness. Heck, it even has a choir. There's even a slice of country in there with Sunday Morning and a funky instrumental by the name of Space Race: which would become a Preston classic.
Nevertheless, the album feels rushed. It's almost an LP of notes from a man who was bubbling with ideas but just had to record every single one of them, emphasised by the often very short songs that never really get going before they've ended. Preston can't sit still on this one.
Don't get me wrong, Preston adopts a professional attitude throughout, I'm not suggesting that he didn't care when creating this piece it's just that he cast his creative net too wide. He really could have squeezed two, maybe three albums from the ideas shoe-horned into this one release. The highlights are those that hit both soul and funk notes so maybe that's what this album should have been finally based upon. Yet, we are left with a flawed project that could have been so much more.