The Article
Billy Cobham, A Spectrum of wild jazz fusion
6th July 2016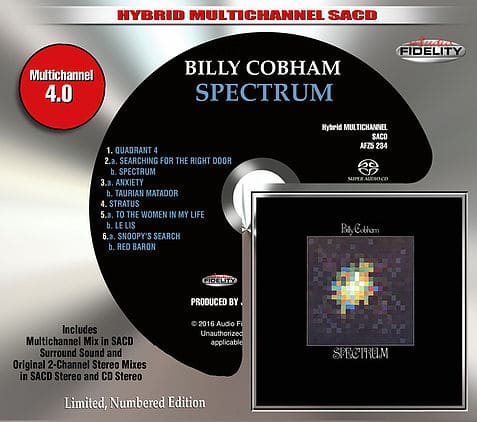 Title: Spectrum
You may remember them yourself. Sometimes reviewers of old would throw the odd cliche at their readers to express a measure of the excitement to be had within the album that they were reviewing. "Hold on to your hats!" they would exclaim and you were supposed to experience a frisson of excitement and even trepidation as your eye ranged downwards over the text.
Well, that time has come to me because I'd like you to do the same with an album from one the the greatest fusion drummers of all time. His style has often been described as explosive because, well, it is. From the first few nano-moments of this superb album, you can understand why he was hired by hard bop legend Horace Silver in the late 60s to appear with his band and why Miles Davis just had to have him in the seat while his magnificent band of that time recorded Bitches Brew (alongside Live-Evil and A Tribute to Jack Johnson) and then Cobham would appear with John McLaughlin in the Mahavishnu Orchestra, displaying his rock-centric talents.
When he left that band, he formed his own outfit and released this album, Spectrum, a real gem of an LP featuring Jan Hammer on keys, Tommy Bolin on guitar, Lee Sklar on bass, Joe Farrell on flute and soprano sax, Jimmy Owens on flugelhorn, John Tropea on guitar, Ron Carter on acoustic bass and Ray Barreto on congas. What a band, eh?
The album was released in 1973 and Cobham was fresh out of the Mahavishnu Orchestra and he was clearly on fire, in creative terms while blending his fusion ratios perfectly, offering finely balanced compositions with top class arrangements and improv work, especially in Red Baron.
This album has been superbly mastered by the respected engineer, Kevin Gray at Cohearent Audio.