The Article
Bill Haley & The Comets' In Mexico Twist Espanol
11th January 2016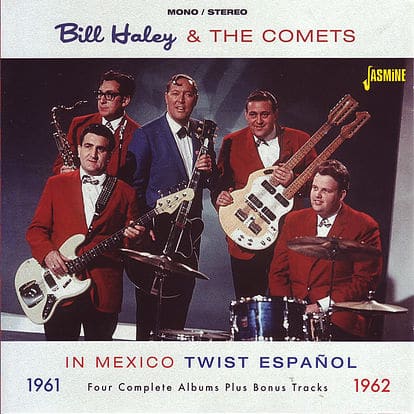 Title: In Mexico Twist Espanol
Here's an interesting one. Everyone knows about Haley, Rock Around The Clock and all that. But that's it, isn't it? Everyone knows about Haley at the time of the dawning of rock'n'roll. We hear the same song, see the same clips on TV but what happened to the group later? This amazing 2CD package fills in some of the gaps.
We know that, in 1958, Haley and his cohorts were in toruble. The hits had dried up  and Elvis Presley was in total control. So Haley went elsewhere, in song and spirit if not bodily because our Bill became incredibly popular in Mexico. He was 'King of the Twist' down Mexico way.
So, come 1960, Warner Bros., his then record label, showed him the door and paid for a taxi out. In 1962, Hayley and co. found a new home, George Goldner's Gone Records, based in New York.
Three titles were recorded there. In fact, three of those titles were also recorded for Orfeon Mexico later that same year. So why Mexico of all places? Possibly, Haley had moved there to live because his marriage was down the pan and the tax men were after him. Orfeon was the local Mexican label. Hayley and his boys had such a fine time with the label that they recorded around 100 titles with the label, mostly instrumentals (even though only two of the original Comets remained, Billy Williamson and Johnny Grande).
This is why you see titles such as Twist Espanol and Florida Twist on vinyl. In Mexiacan terms, these recordings where no small beer, either. Florida Twist, for example, was the biggest selling Mexican single in history. The Orfeon subsidiary, Distra, then began releasing Haley's albums. Four of these are present on this CD along with bonus singles which would appear on later albums in 1962.
Listening to these CDs is fascinating. It's like the early 50s all over again but there's an added naivity and wide-eyed innocence in the few vocals added to the all knowing instrumental professionalism.