The Article
The Best of Herman's Hermits: The 50th Anniversary Anthology
12th April 2015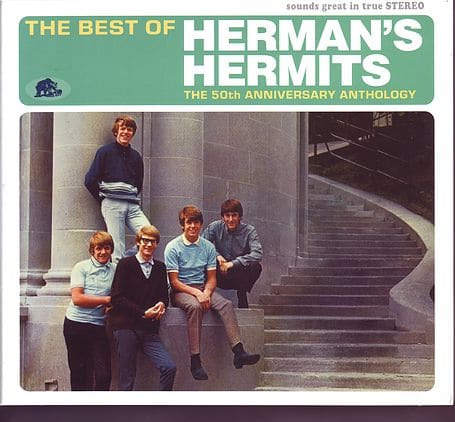 Title: The 50th Anniversary Anthology
Lots of fans – no respect. Sound familiar? It will to Monkees followers who were created to appeal to young teenagers. It took until the mid-70s for The Monkees to obtain the respect that they deserved. Herman's Hermits have had to wait a whole lot longer.
This is a two disc set packed with 66 tracks but most of the content appears in true stereo for the first time while eight of the songs, including Mum & Dad and Busy Line have appeared in stereo before but of a lower quality. Amongst the hits, such as I'm Into Something Good and Mrs. Brown You've Got a Lovely Daughter, are a range of interesting rarities including a demo of Only Last Night which has a wonderfully casual, raw atmosphere, the undubbed mix of Bet Yer Life I Do and an alternate spoken ending to the track, I Can Take Of Leave Your Loving and a demo of Thinkin' of You.
Generally, the mastering on this set is excellent. Detail is easily apparent on this low noise, recording while the generally wide soundstage provides a welcome instrumental separation meaning that the performers have more elbow room giving each track a relaxed vibe.
One of the highlights of this set is the whopping great 140-page booklet that arrives with that package including words from Peter Noone, a band history, track by track analysis, rare band photos and record covers including foreign editions. Fans of the band will be happy to see detailed track information. So, for example, on No Milk Today (which was offered to The Hollies by writer, Graham Gouldman, rejected and give to Herman instead), you are given the studio where it was recorded and date, UK single label, catalogue number and release date with similar information for the USA.