The Article
AUVA 50 SPEAKER ISOLATION FEET FROM STACK
19th October 2023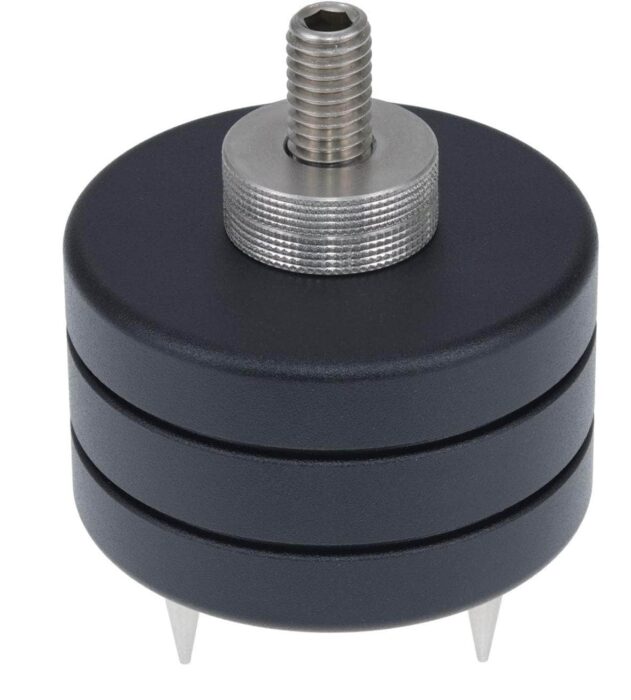 Joining the high-end range of speaker isolation feet from Stack Audio, Paul Rigby reviews the AUVA 50, a new, lower-cost model
This is not the first time I've looked at, used and reviewed a set of high-end AUVA speaker isolation feet from the British HiFi outfit, Stack Audio.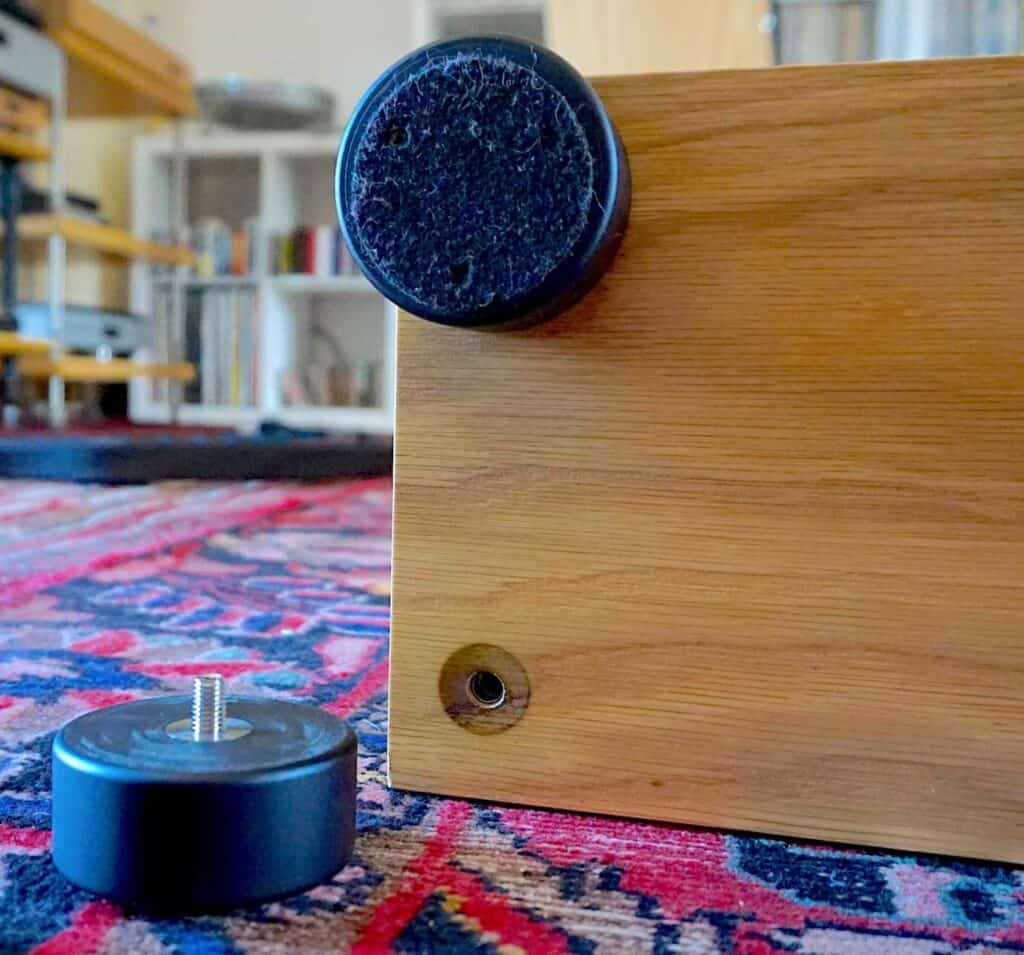 The AUVA 50s are the latest designs in that range. That range now consists of three models. At the very top are the AUVA 100s costing £1,240 for a set of eight feet.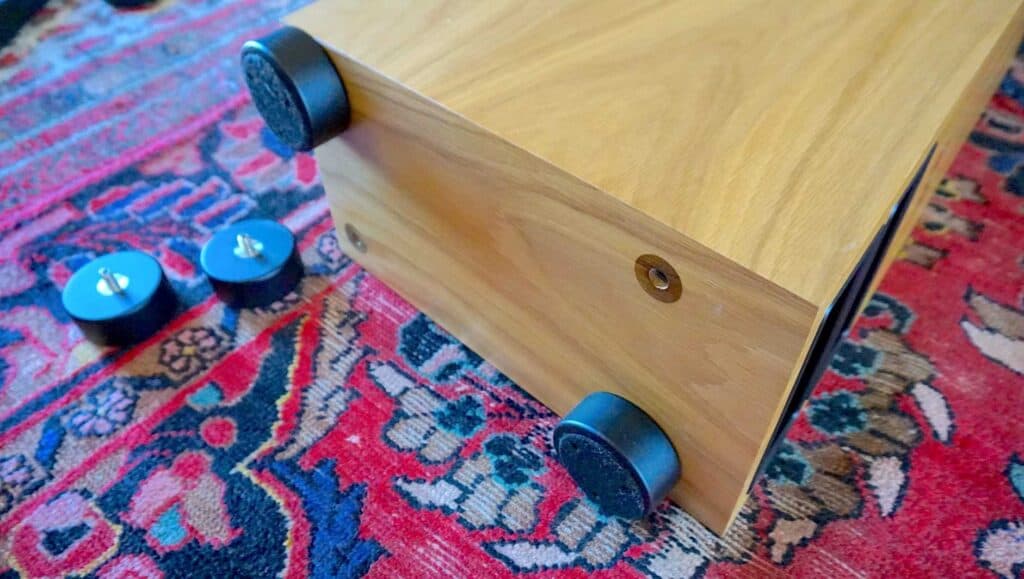 The smaller AUVA 70s cost £840 for a set of eight feet. I have used and reviewed both of those designs.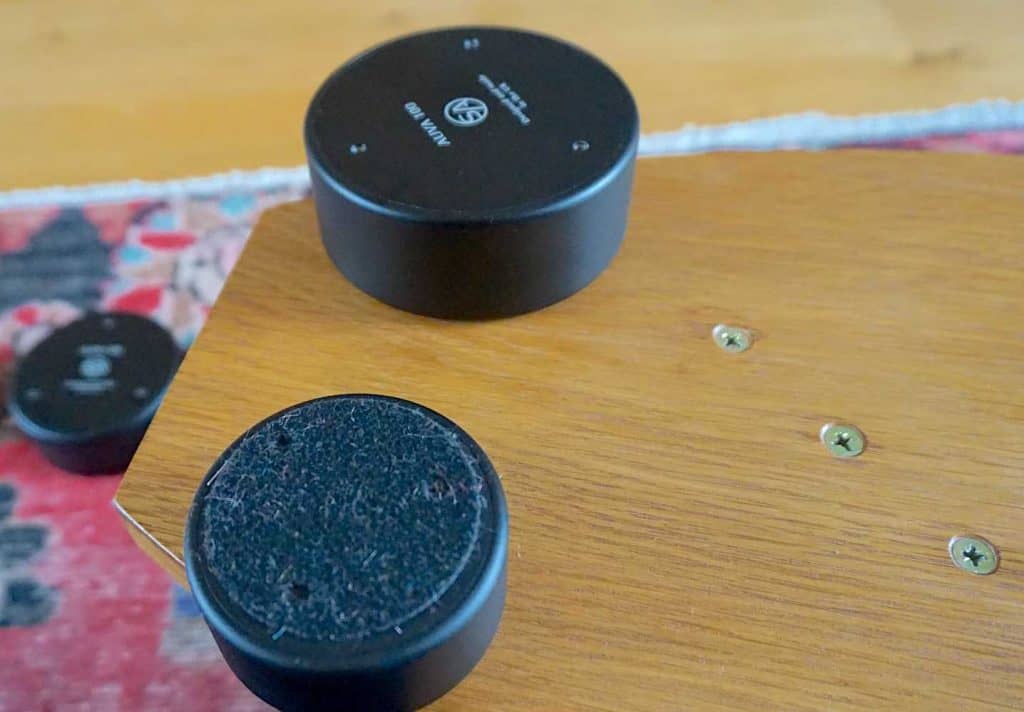 These smaller still feet, the AUVA 50s? They reduce the price still further to £435 for a set of eight feet. You can order fewer feet if required which will, of course, further lower the price. And that price includes a 30-day money-back guarantee. So you can try them out to see if the feet are really for you. There's free shipping in the UK and part-subsidised postage for the rest of the world.
SELECTION OF BOLTS
As with the AUVA 70s and 100s, the AUVA 50s are designed to screw underneath your speakers or speaker stands or connected out-rigger stands or some-such. Stack Audio supply a range of screw-threaded bolt options to suit your hardware. Once you have chosen your bolt size, installation is very easy. Just attach the selected bolt to the speaker or stand and then screw the foot to the bolt – or vice versa – and that's it. Job done.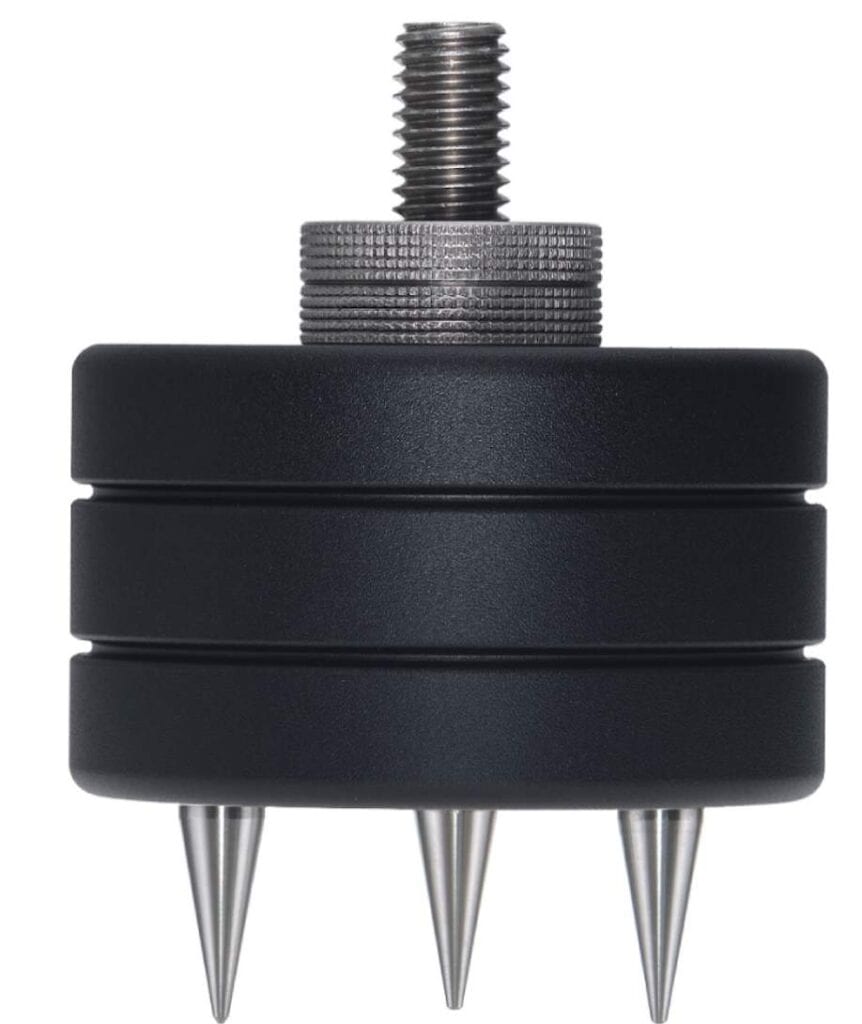 Once connected, the AUVA 50 is not intrusive as it only spans 50mm x 30mm or around and inch by two inches.
As I mentioned in the review of the AUVA 70s and 100s, most speaker feet feature a vibration-absorbing material like cork or rubber, with a promise to lower the noise floor. The technology tends to be compression based with the weight of the speaker and/or stand above working with the damping material below. 
Unusually, the AUVAs don't use that approach. And that change is, in itself, worthy of note and attention.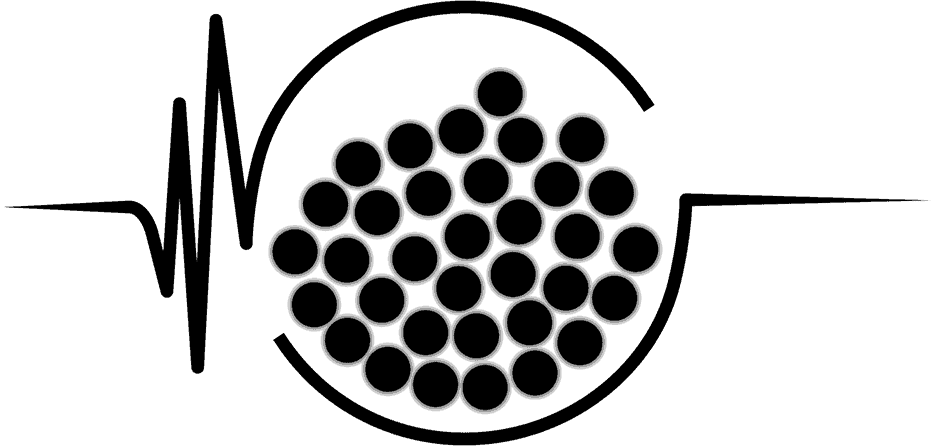 Instead, they feature a strong, hollow pod containing cells. In the cells are loose particles (including elements like tungsten). During use, the vibration from music play forces the particles to collide and any nasty vibration is dispersed via heat. There's not a lot of actual heat involved because we're working on micro levels here. The feet don't become warm, for example, but there's enough dispersion to do the job.
There is actually more going on but the design is patent pending so part of the tech is secret. I've seen this kind of tech approach in other HiFi gear such as cabling and grounding accessories but it's not common in speaker isolation feet, especially at this price point. 
For AUVA feet, the more cells in a foot, the better the performance but the more expensive is that foot. Hence, the AUVA 100s feature five cells in each foot. The AUVA 70s feature three in each foot. The AUVA 50s here include two per foot, hence that reduced price.
Apart from a selection of chosen installation bolts you also receive carpet spikes or felt pads for hard floors to fit to each foot. I used the latter. Besides, I'm not a fan of spikes (no-matter what the accessory) so felt pads would be my choice whatever the floor type.
Once fitted, the feet are solid. Rock solid. They add immediate stability to any speaker or stand. But how do they sound?
SOUND QUALITY
I had a lot of kit hanging around from the recent Schiit Gjallahorn power amplifier review so, as it was already set up, I used most of that. So I placed a pair of Q Acoustic 5020 speakers on my HiFi Racks speaker stands and placed the base of those stands directly on the rug on my listening room floor and got used to the sound from that. Oh and I played Glen Campbell's old hit Country Boy.
To begin? Played 'as is', with no feet or any support on my speaker stands? The sound was pretty dull with rounded off mids and treble, flabby bass, no focus and little precision in the midrange. Overall, the sound was rather flat and sounded like sonic wallpaper. 
SOUNDECK MK.II MINIS
I then tried a set of eight Soundeck Mk.II Mini feet under the stands, which I have reviewed already and recommend. These feet use constrained damping as their inner tech, to drain vibration. That is, two pieces of tough steel feature a gel substance in between so that vibration is lost from this gel as heat. They offer great value. I used a set of eight feet, four per speaker stand, for around £108.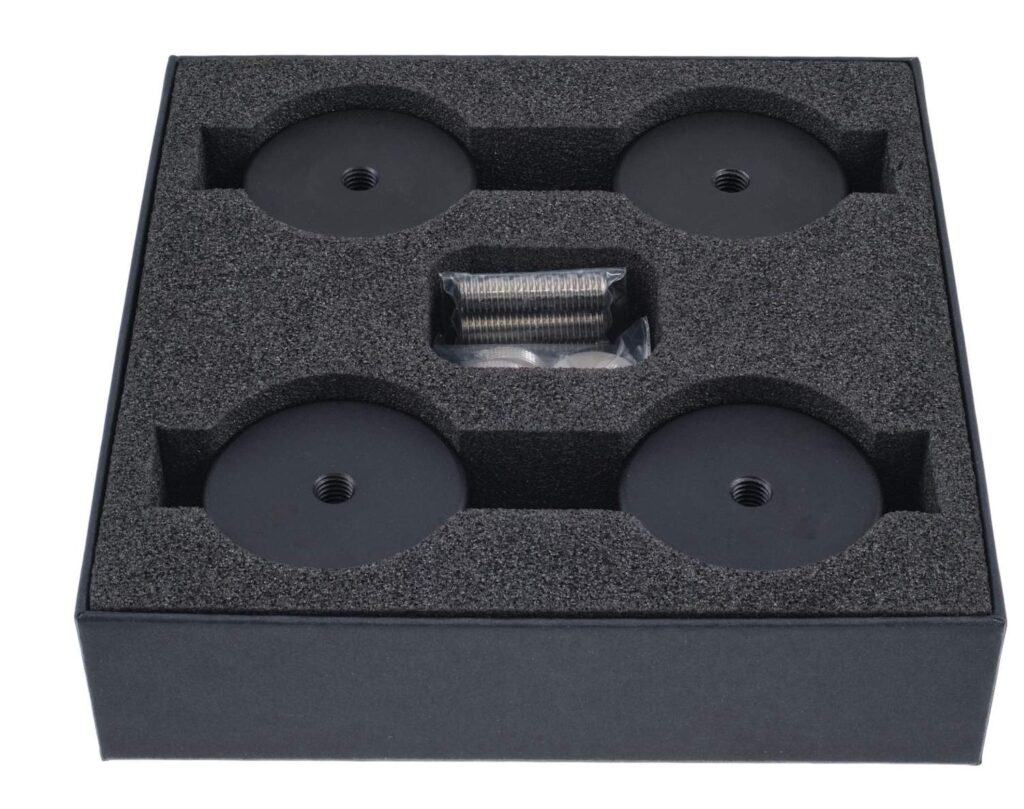 The sonic results, when compared to using nothing at all, were oh so much better with a clearer soundstage that moved away from the earlier muddy sound. This allowed more midrange detail to be heard. Acoustic guitar strums sounded like a group of strings flying in close formation for the first time while bass had a crisper, tighter effect. Strings were smoother too. Oh and I could hear the bass guitar and cymbals for the first time. 
BLUE HORIZON FEET
I then moved up the ladder again and drafted in a set of eight feet from Blue Horizon. I used the Mk.I versions although there are Mk.II feet available. Part of the problem with the Mk.Is was that the upper protective metal tarnishes over time. Again, I have reviewed these feet (not here, I don't think – possibly over at HiFi World magazine) and they are recommended. These feet use compression technology so each foot combines cork and rubber with a metal cover to keep structural integrity. The weight of the speaker stand allows the feet to damp any nasty vibration.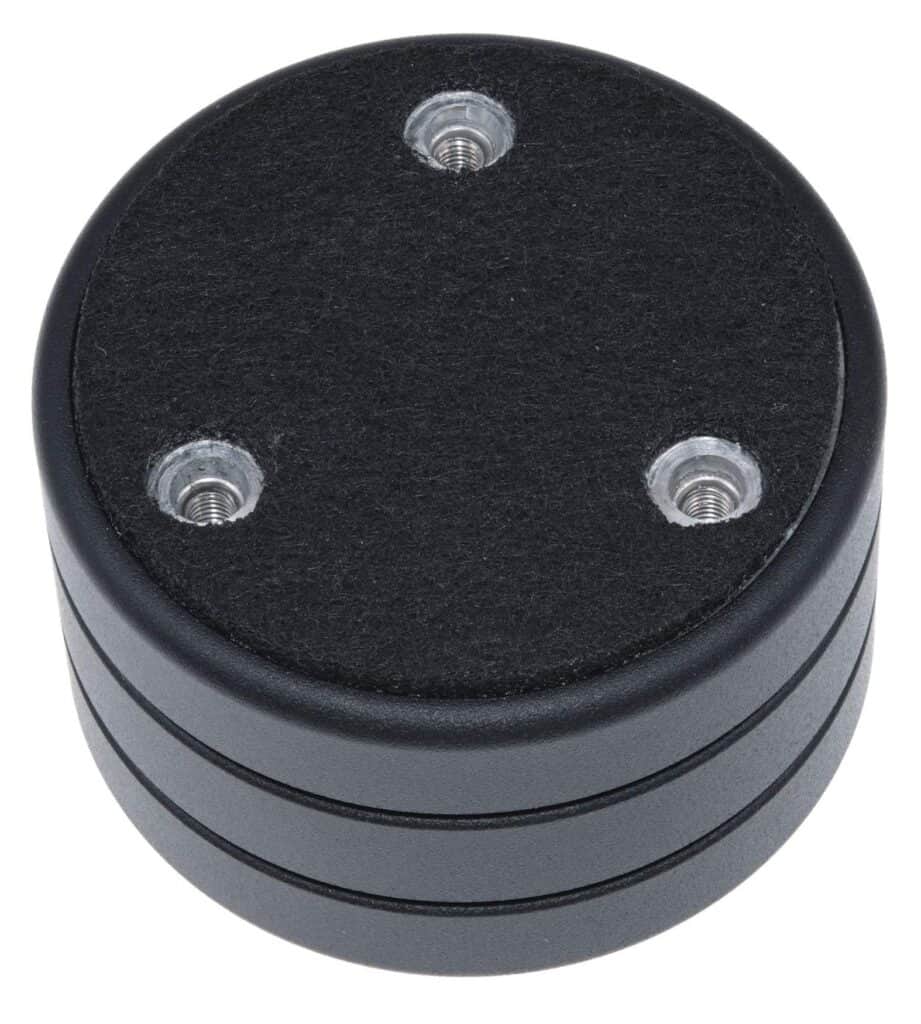 Moving to the Blue Horizons added extra fragility to the upper mids and treble. There was more air and space around this area too. Secondary percussion strikes extended further in time. Bass was good, not quite as solid or as deep as the Soundeck feet but still very respectable. 
ENTER THE AUVAS
From this point, I then changed to the AUVA 50s, priced at more than double the Blue Horizon feet at £435 for a set of eight feet. This was the first design to fix the feet to the stands via a screw thread. More substantial in build, the AUVAs looked solid and massy when in place and when compared to the other feet but they also included that heat dissipation tech, the secret of the whole design. 
During play? There are two factors, two points of interest, when listening to the AUVA 50s. Firstly, there's the sheer rigidity of the feet. In relative terms, these are chunky, they are very strong, they feel massy and then there's the fact that they are attached to the stand via a screw thread. So bass is very firm, it's strong and has a naturalistic, organic realism that sounds expensive. Bass sounds serious, it gets it head down and concentrates. There's no messing around here. 
The upper mids and treble drops the noise floor which mean there's a whole lot more information coming through. Acoustic guitars have a distinctly metallic string response, there's a resonance here. Secondary percussion is fragile, it's delicate with plenty of reverb to hold the notes. Vocals offer emotion and nuance, strings sound smooth but also large. There's a real wall of sound from the string section. 
It's the focus and precision around the mids that really impress here. Each and every note played by each and every instrument is tracked while the soundstage, for the very first time, has real structure. It sounds organised. As if someone placed the instrument here and there for a reason. There's a real frame around the soundstage. A sense of shape.
CONCLUSION
If you have seen my review of the AUVA 70 and 100 speaker isolation feet, you will know how impressed I am with this British design. Are the AUVA 50s better or on par with the performance of the 100s? No. The 100s just go further but so does the price. Same with the 70s. They are also sonically superior to these 50s but the price is again, that much higher. In terms of the AUVA range, you get what you pay for.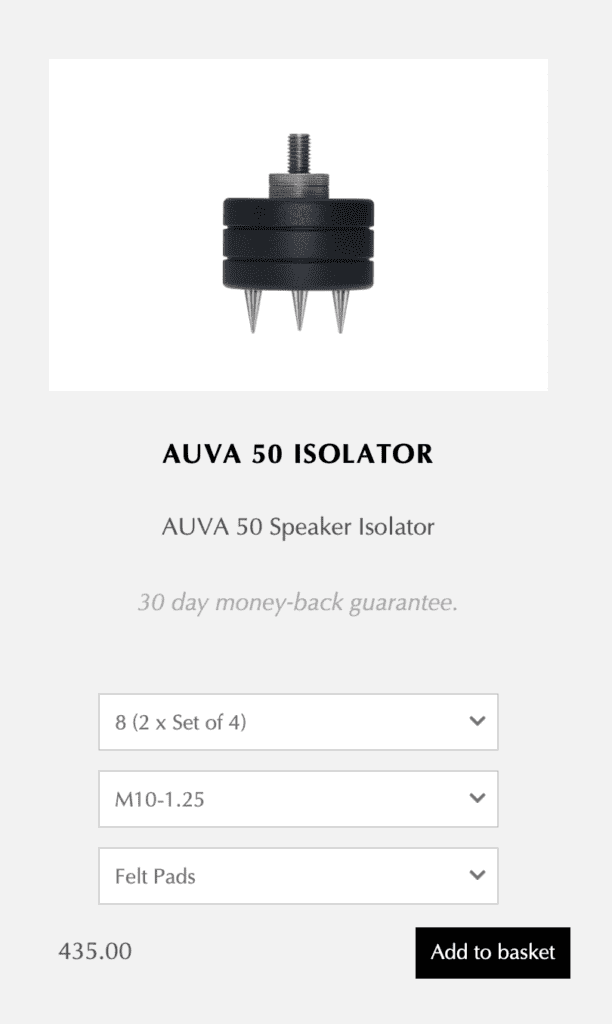 And sure, the AUVA 50s are not in themselves, exactly cheap but really? When compared to other speaker isolation feet on the market? If you are looking for a balance, one that combines a relatively low price – relative to the 70s and 100s at any rate – with high quality performance, then the AUVA 50s are what you need. 
In performance terms? There is nothing – nothing – to compare. The AUVA 50s stand head and shoulders above anything else on the market for a similar or lower price.
---
STACK AUDIO AUVA 50 SPEAKER ISOLATION FEET
Price: £435 for a set of eight
Website: stackaudio.co.uk
---
GOOD: compact size, overall sound quality, easy to install, build & rigidity
BAD: nothing
RATING: 9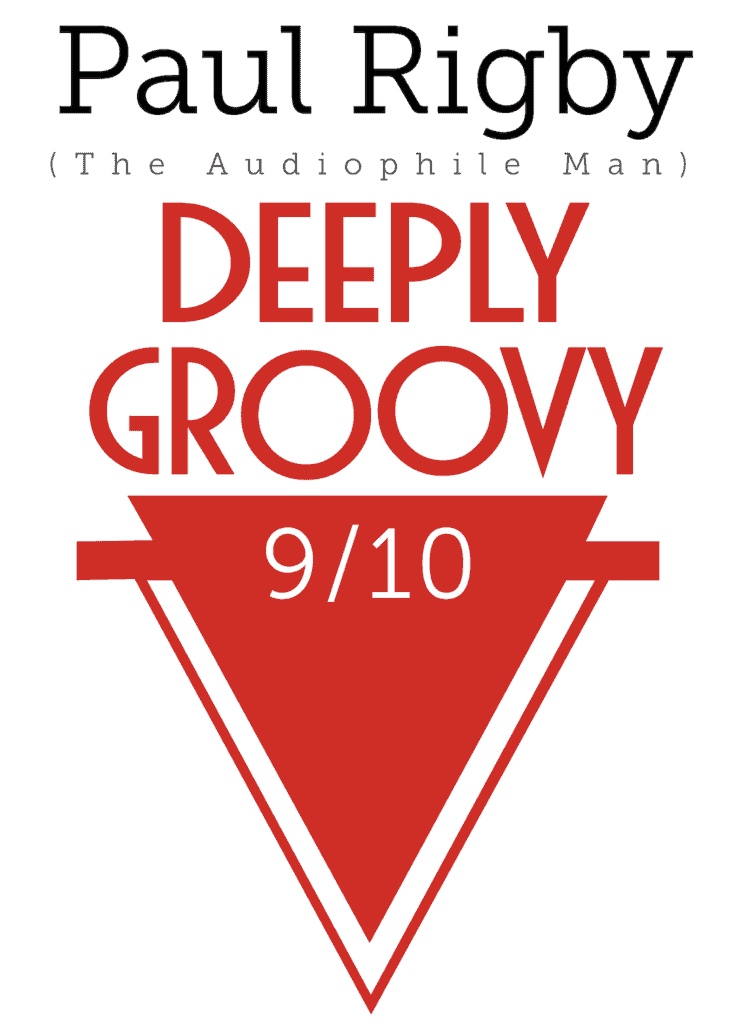 ---