The Article
The Ardent Records Story: Thank You Friends
11th May 2015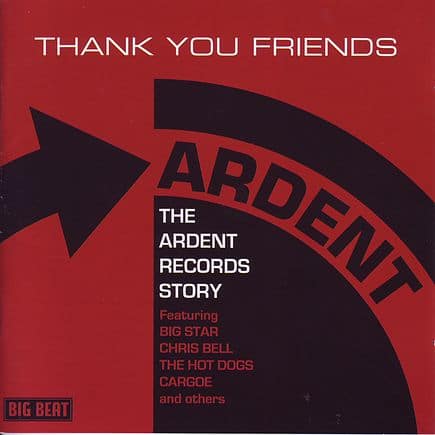 Title: The Ardent Records Story
…or power pop aficionados, Big Star. Well, the label seems intertwined around the band. There were a host of artists who worked at the Ardent studios but this 2CD collection focuses on the decade  (1966-1977) in which the Ardent sound was initially honed, featuring melodic yet edgy sounds that paid homage to the British sound of many of the so-called Invasion groups.
John Fry, co-founder of the label and recording engineer commented that , "I remember when the first Beatles single came out on Vee-Jay, John (King, friend and partner) and I twigged onto it right away and wanted to find out more about this stuff coming  from England. So we got a foreign subscription to the New Music Express and discovered that there was this whole new world of groups. From then on we were Anglophiles."
Fry found records from the Rolling Stones, the Kinks and the Who. His next step was to help construct a studio which he fitted out. It was a new building, in fact he saw the walls being erected.
Initially, Ardent hosted a range of local Memphis groups including The Wallabies who appear here with White Doors. The Wallabies were known for wearing pyjamas on stage and pretending that they were from Australia.
From out of town… Jacksonville, Florida to be exact were the Bitter Ind. Featuring Butch Trucks, who would later join The Allman Brothers, their Hands Are Only To See was typical psychedlia of the time with a melodic heart to its lightly sprinkled experimentalism.
Big Star influences and appearances are sprinkled liberally: In The Street, When My Baby's Beside Me and a demo of Big Black Car are just a few of the included tracks. Lead singer, Alex Chilton, also appears on his own with songs such as the country rock-eque Free Again and Downs (in demo form). Big Star nome de plume, The Badgers' also appears with the song, Every Shoemaker, as well as pre-Big Star incarnation, Icewater's All I See Is You.
A top quality compilation that is a real treasure trove for all fans of Big Star.