The Article
Amy Speace is That Kind Of Girl
12th April 2016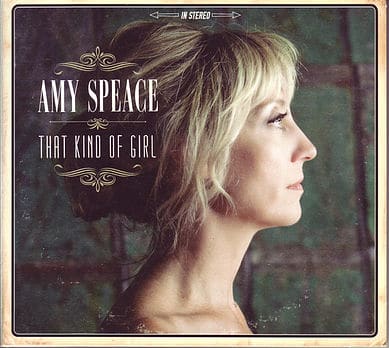 Title: That Kind Of Girl
This is an interesting album, not least because it was created using something called PledgeMusic which is, and I quote, "An online Direct-to-Fan music platform, launched in August 2009, that facilitates musicians reaching out to their fanbase (termed Pledgers) to pre-sell, market, and distribute music projects including recordings, music videos, and concerts." Generating cash to make a new record, in other words. Lots of well known people are doing this sort of thing including indie group, Ash, rocker The Rifles and old punk rocker and now BBC 6 Music DJ, Tom Robinson.
Produced and mixed in Nashville and featuring 12 tracks written or co-written by Speace, this country album is almost a compilation of voices with Speace acting as a sort of spokes-person or union shop steward because her song co-writers number an incredible six.
Her vocal style is very appealing. Easy on the ear, smooth and, most importantly, a blank canvas: a boon for song-writers. That's not being derisory but her neutral delivery prevents this artist from totally dominating the song itself. To give you an example, any song sung by the likes of Dolly Parton or Johnny Cash is a Parton/Cash song. The song is never strong enough and melts before the force of their personalities. This is why both artists are supreme interpreters of a song. Peace doesn't really interpret the songs on this album, she allows the song to stand on its own merits. That is, she doesn't mould or shape the song, she presents it to the ear on a silver platter and asks the listener, "Well, here it is, what do you think?" In this way, the song-writer is suddenly in the spotlight. Hence, Speace needs strong material to enable this partnership between song and voice to work.
As you might expect, this results in an album of ups and downs but benefits when Speace works with others. For example, her own 'Nothing Good Can Come From This' is derivative. She has constructed this piece from half a dozen other songs lying in her subconscious. It's sounds like too many other songs out there. 'That Kind Of Girl' and 'One Man's Love', both co-written, shine in terms of sensitivity and emotion.
A worthy project and one that bears careful examination.