The Article
Julie London's Lonely Girl
4th August 2015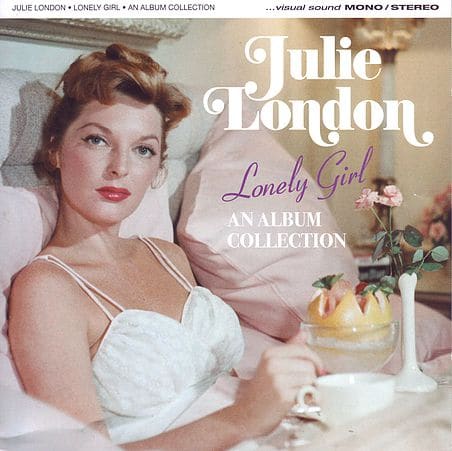 Title: Lonely Girl
London wasn't always liked by the critics who sometimes saw her vocal performances as being less than serious or not quite 'worthy' to be categorised next to more serious vocalists (Judy Garland was often placed in the same category, so what do they know, eh?) For music fans, though, London was adored for her sultry delivery. She may have lacked the range of a Vaughan or a Fitzgerald but she managed her voice to maximum advantage.
This 2CD set offers a treasure trove of LPs and additional tracks. The set begins with Debut Recordings which are basically four tracks taken from the 1955 EP called, simply, Julie London on Bethlehemincluding Sometimes I Feel Like a Motherless Child and A Foggy Day.
The core of this collection is three albums. The first, Lonely Girl (1956), was originally released on Liberty and featured the Spanish-style single guitar of Al Viola. The match went against the style grain of the times but the result was a top quality album of late night standards with that unique London stamp.
The same year saw the release of the bigger and brasher Calendar Girl which exhibited the famous multi-image sleeve art that has been the target for vinyl collectors to this day. Art to one side, the music stands  on its own with a selection of (future husband) Bobby Troup ditties that sit easily with songs from more well known composers such as Al Dubin, Johnny Burke and Dory Langdon. A concept album in which London loses and finds love through each month of the year via a fun and sometimes bittersweet journey.
About The Blues (1957) is a superb orchestral session with excellent downbeat blues outings including Troup's own Meaning of the Blues (Miles Davis would later record it).
The collection ends with a varied selection of tracks scattered around her discography including  For You and Midnight Sun. A great introduction to an iconic singer.