The Article
Freddie King's Electric King, live over three concerts from 1969-1975
31st May 2016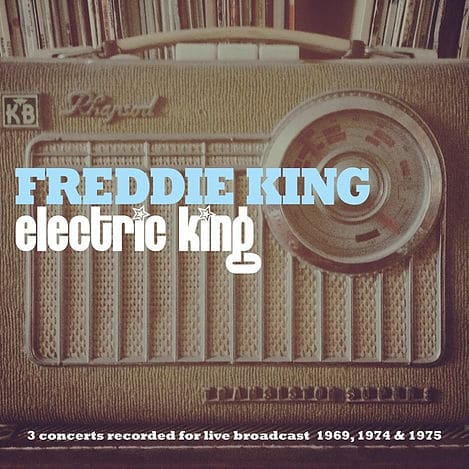 Title: Electric King
Think Freddie King and think finger picks and a thumb because that core technique is what made this particular King a standout figure in the 60s, as a blues guitarist. People like B.B. King, in contrast, were using the single-string approach to plucking their guitar. Freddie achieved a great deal of success during this time: had a knack for sourcing hooks and fans of the time lapped them up, as did other contemporary musicians. He wasn't only noticed for his guitar style, though, he was one of the first bluesmen to use a racially integrated group on-stage, behind him.
This value for money 2CD package features three live concerts: Chicago in 1969, The Bottom Line in New York in 1974 plus Dallas 1975.
The Chicago set tallies with his signing to the Atlantic/Cotillion label and the release of the album Freddie King Is a Blues Master. The first track off that album is the fourth on this CD, Play it Cool, a song that King himself, on this live set, encourages each and every member of audience to listen to and if they like it, to go buy it: every bit the businessman was Freddie. He doesn't just talk a good game, though, it's a top class performance, with lyrics that reflect the social mores of the time. The following track from this set, Sen-Say-Shun, is a bobby dazzler of a high tempo blues outing with tremendous energy and vivacity.
In 1974, King signed a contract with RSO Records – which was also Eric Clapton's record label at the time – where King released the Burglar LP, which was produced and recorded with Clapton. Yet, only Let The Good Times Roll is taken from that album for the New York set. Similarly, Have You Ever Loved a Woman was the only track taken from his 1975 Larger Than Life LP performed at the Dallas concert which proves that King carefully constructed his live gigs to entertain and to please his audience. He didn't believe in using his audience as a test vehicle for his recording career which many artists did and still do now, of course.
King is on raucous and energetic form on this set, full of life and performing to the max. Breathless stuff.