The Article
WOLFING ORSCHAKOWSKI's Zippo Zetterlink In The Poor Sun
4th December 2015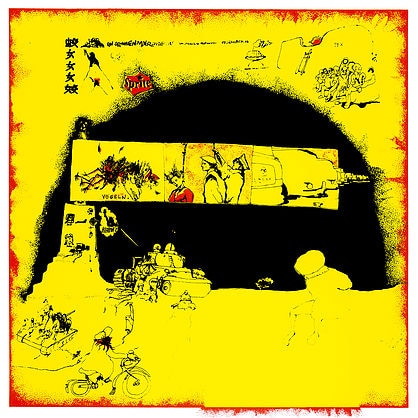 Title: Zippo Zetterlink In The Poor Sun
A real gift to those of you into Krautrock and created way back in 1971. Orschakowski was a true artist in that he produced music but he also painted and more.
This release was only ever sold as a private pressing from Hamburg in Germany. The man himself produced it which means that rare original copies are horribly expensive. If, as I assume, the creation of this LP was wrought from a vinyl dub then this is a remarkably good pressing/master. The sound quality is open and airy. More so because the album has, in effect, been produced 'live'.
With live recordings from the Blow Up club in Munich, 1969, a festival in the Hamburg Melle Park in summer 1971 and some studio jams, you can hear that Orschakowski has placed a microphone or two in a room and then the band has given it all they had.
In terms of studio positioning and creating a soundstage, well, there isn't one. The drums are…here and the guitar? Well that's…over there, somewhere. What the performance lacks in finesse, it more than makes up for in terms of sheer energy, grit and passion. This is a total freak out jam. A complete acid, psyche happening. For krautrock fans, it's a must buy because it is infused with the soul of the entire genre. Bizarrely brilliant.
This release also includes a cracking CD compilation exhibiting another of Orschakowski's projects. This one is called WoOZ! Featuring 10 tracks, it offers further acid psych and is featured in a fold out poster, liner sheet-type cover plus plastic outer.
Also look out for another krautrock rarity reissued, Hardy Kukuk's Atemot from 1981, which takes a Tangerine Dream template and gives it an 80s twist.