The Article
VINYL REVIEWS: 27 FEBRUARY 2023
27th February 2023
I have reviews of a dozen vinyl releases here. So I'll give you a quick run down of the creative work itself of course but – in by popular request – also comments of the packaging, the master and the pressing
Gazing to my right here, I appear to have collected a fair few releases from the UK audiophile outfit Demon (https://www.demonmusicgroup.co.uk) so let's address those first and then we'll look at other labels.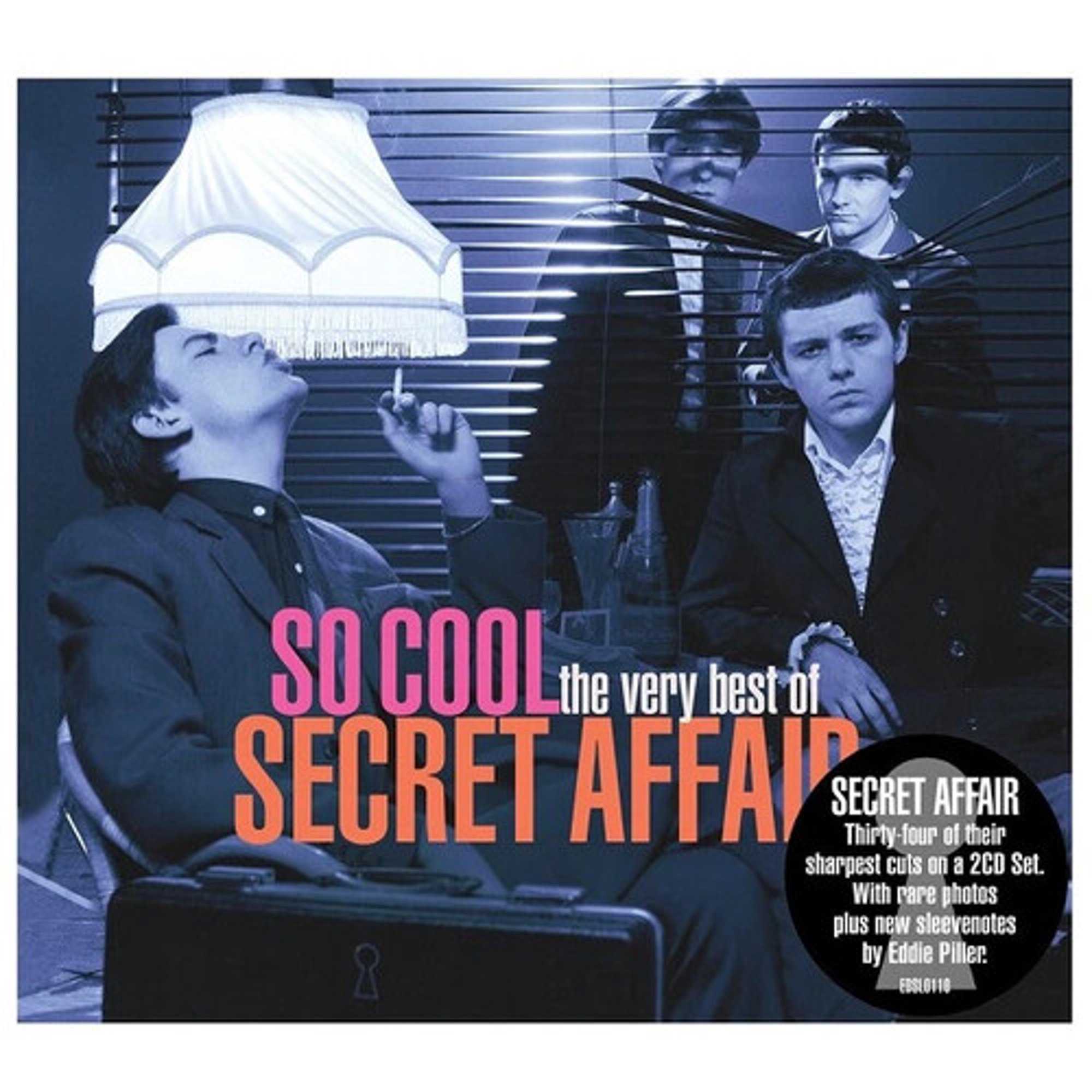 SECRET AFFAIR
Title: So Cool: The Very Best of…
The 4-piece neo-mod band Secret Affair formed in 1978 and apparently took their cue from The Jam. That can be heard within their debut single, Time for Action but there's also something else there. Something arguably more powerful. A more melodic pop. A softer undertone. 
There isn't that angular, harsh effect that The Jam and other punk-crossover mod bands offered. You couldn't cut yourself on the lyrics of Secret Affair. Why? Because Secret Affair loved songs. They were not revolutionaries or storm troopers in thin ties. This band made love to the melody. 
If anything, they offered classic early 70s hits blended with 80s indie/pop. Just listen to the sublime, My World as a prime example of that. 
This collection features 14 top-draw tracks and a photo-heavy inner sleeve. Mastering is very good. There's some welcome air and space around the soundstage which allows the midrange room to manoeuvre with welcome reverb surrounding the percussion. 
BUY HERE:
USA – https://amzn.to/3mdHJ6k 
EUROPE – https://amzn.to/3ZbeyiU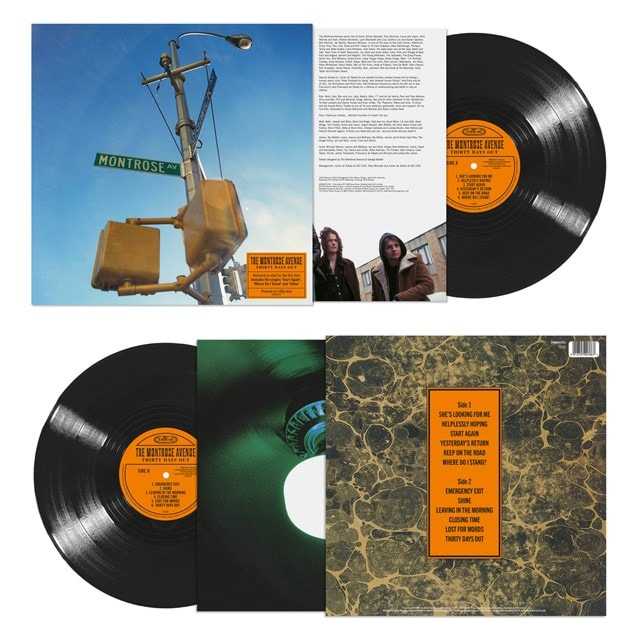 MONTROSE AVENUE
Title: Thirty Days Out
This is the first time (so I hear) that this 1998 debut has appeared on vinyl. Which just goes to show how important vinyl is as a format these days. That a band debut from 25 years ago should even bother. 
The disc itself? What we have here is a happy, happy indie pop outing. The sun is shining, there's lots of harmonies, there's coke can rings being pulled and laughter when spray hits the eyes, there's lots of slow motion falling into flower-filled woodlands, there's the appearance of rather beautiful if anonymous girls in wide brimmed hats and flouncy dresses, there's arms draped over red Corvettes while the driver dips his shades to take a cheeky look at the same lovelies.
There's camera lens flares.
There's sun glare from slow-running streams.
There's the final pan towards the warm horizon. 
That's Thirty Days Out. 
Mastering? There's a mite too much pinch around the upper mids which does add artificial punch to the bass but does give the overall album a harsh presentation. Which oddly contrasts with the tone of the album as a whole. 
BUY HERE:
USA – https://amzn.to/3EFZLEv 
EUROPE – https://amzn.to/3Z5pxu6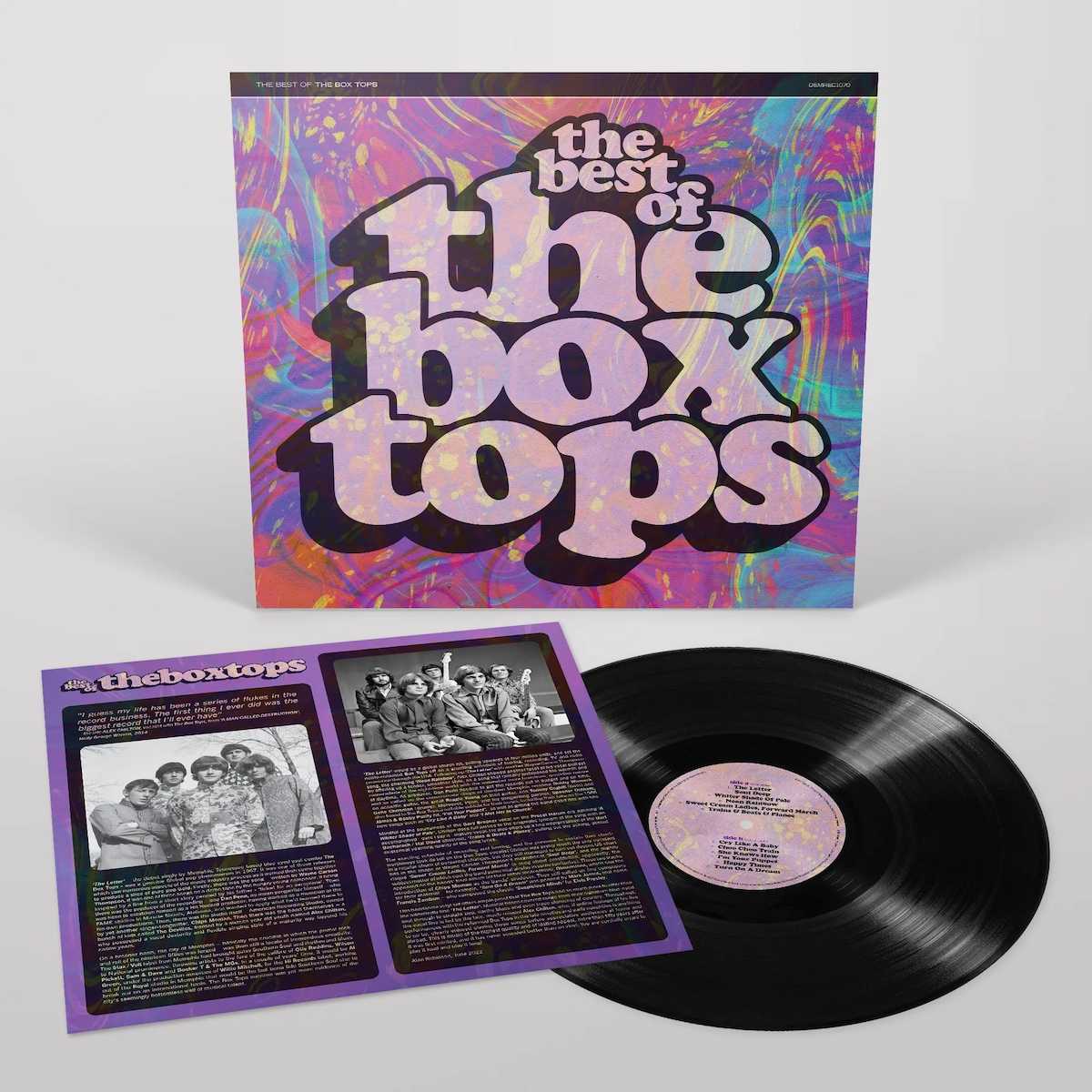 THE BOX TOPS
Title: The Best Of…
An appearance from late 60s outfit. Never heard of them? You have, really. Try searching for The Letter on YouTube and I'm sure you'll have one of those, "Oh that! I know this one…" moments.
The band mined the blue-eyed soul trench but did it very well. In fact, so well that lead singer Alex Chilton would head off into the future for a stellar career with the power pop specialists, Big Star.
Within this group, Chilton offers a big, powerful, deep, raucous vocal that belies his youth of the time. 
Some say that he was the US version of Steve Winwood but here at least, he's much more gritty and feisty. This is a 12-track overview of the band's career with notes from the respected music industry man, Alan Robinson printed on the inner.
Mastering? There's a slight sepia tinge here which might reflect the original mastering desk used back then but in broad terms this one is nicely balanced and broadly neutral in mastering terms with surprisingly open and insightful detail on offer.
BUY HERE:
USA – https://amzn.to/41tsohW 
EUROPE – https://amzn.to/3Y5pzAH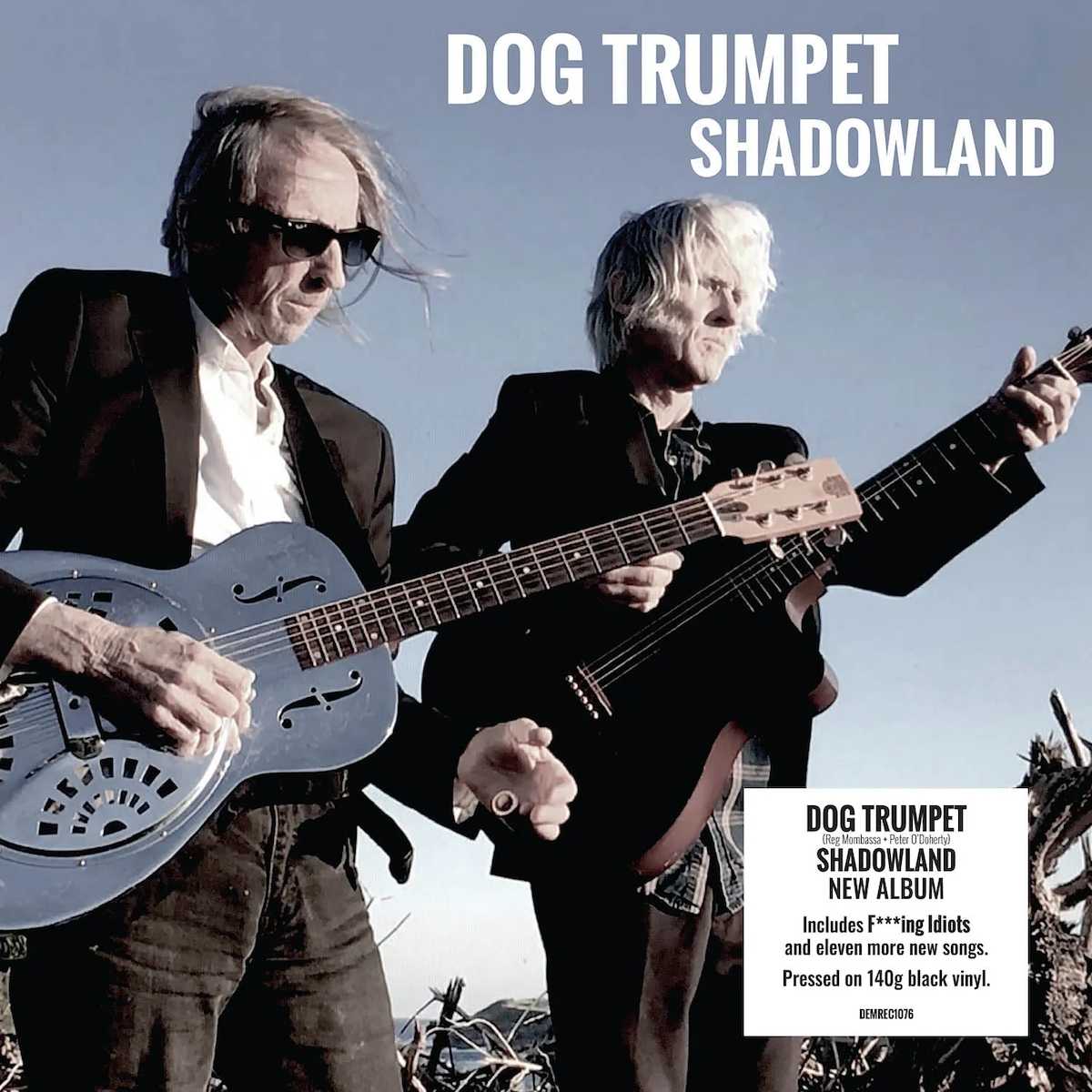 DOG TRUMPET
Title: Shadowland
A new album from the Aussie singr-songwriters who have apparently trademarked the word 'quirky'. Don't let that label fool you though. There is real power within these songs. Check out the lyrics, printed on the inner, for proof of that. 
Their work is relevant but also pointed. 
Take the title track which focuses on the stripping away of our privacy in today's computer world of social media and cameras pointing at us everywhere we turn – even in the sky (do you hear the buzzing of the drone?) 
Pointing an accusing finger at Radiohead they declare, "It's not OK Computer." No More Travelling examines the festival traveller's freedom, chopped at the knees. 
While Nina Simone looks towards better times. Memories. Nostalgia. It's the most popular state of being right now. The fastest growing industry in the world. 
This is an album that hits the zeitgeist. And it's been a long time since I have written that particular sentence. 
Mastering is good. There's no nasties, nothing egregious. The levels have been pushed towards the edge but never gets close enough to be an issue. On the whole? This one offers detail without causing grief to the ears and an impressively broad soundstage to boot.
BUY HERE:
USA – https://amzn.to/3KBHVGx 
EUROPE – https://amzn.to/3Y6qWiL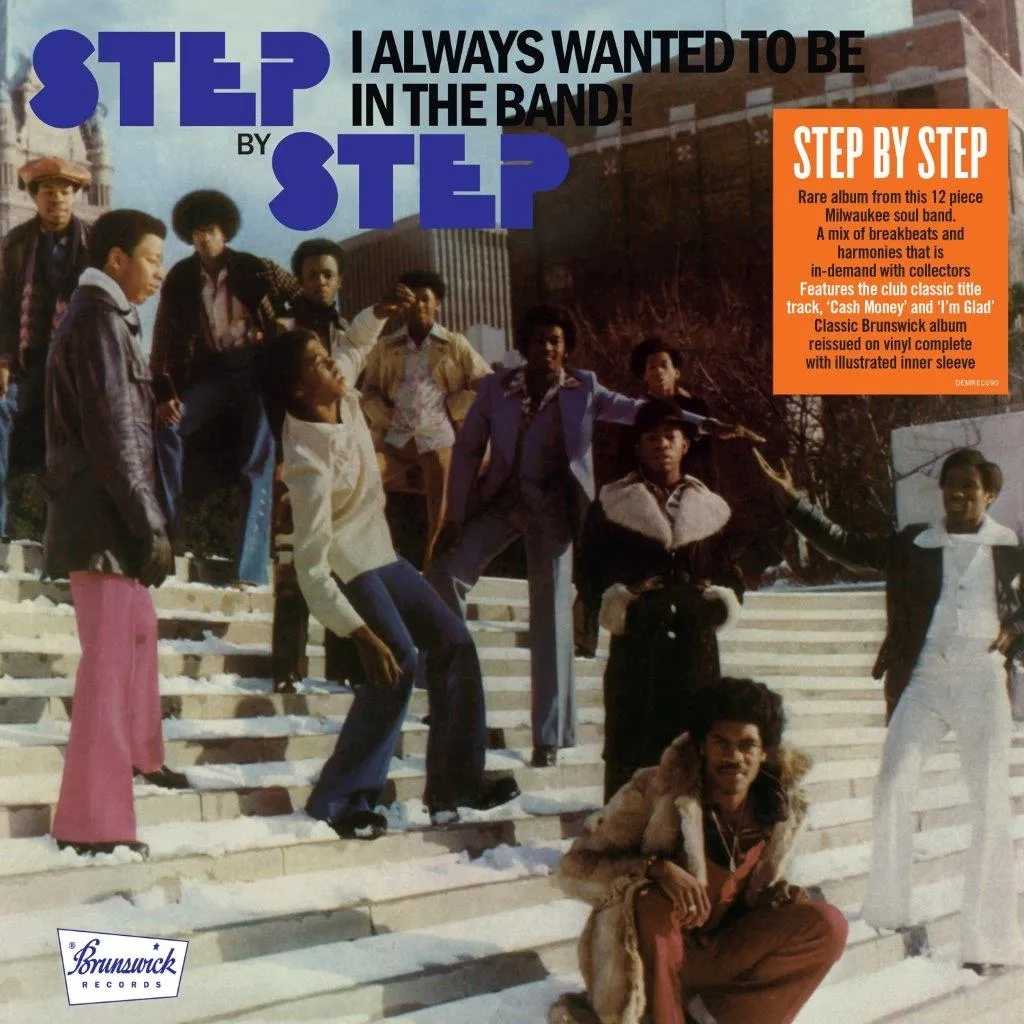 STEP BY STEP
Title: I Always Wanted To Be In The Band!
Originally from the Brunswick label and pressed on mottled purple vinyl, this release features the Milwaukee soul outfit that really does reflect the title track because the group consisted of Jerome and Dewitt Gee plus a bunch of friends from the local neighbourhood. Released in 1977 this is a real rarity. You pop over to Discogs, for example. Original issues of this album will generally set you back three figures. But the music is worth it as a classic selection of modern soul.
Mastering? Compression around the mids does produce edge in this area. Although there's plenty of space here too. The stereo image pushes way back into the distance. It's a pity that effect is lessened because of the harsh mids. Oh and I had some minor dishing on my pressing but that might be isolated to my copy.   
BUY HERE:
USA – https://amzn.to/3mbcKaZ 
EUROPE – https://amzn.to/3krNrRw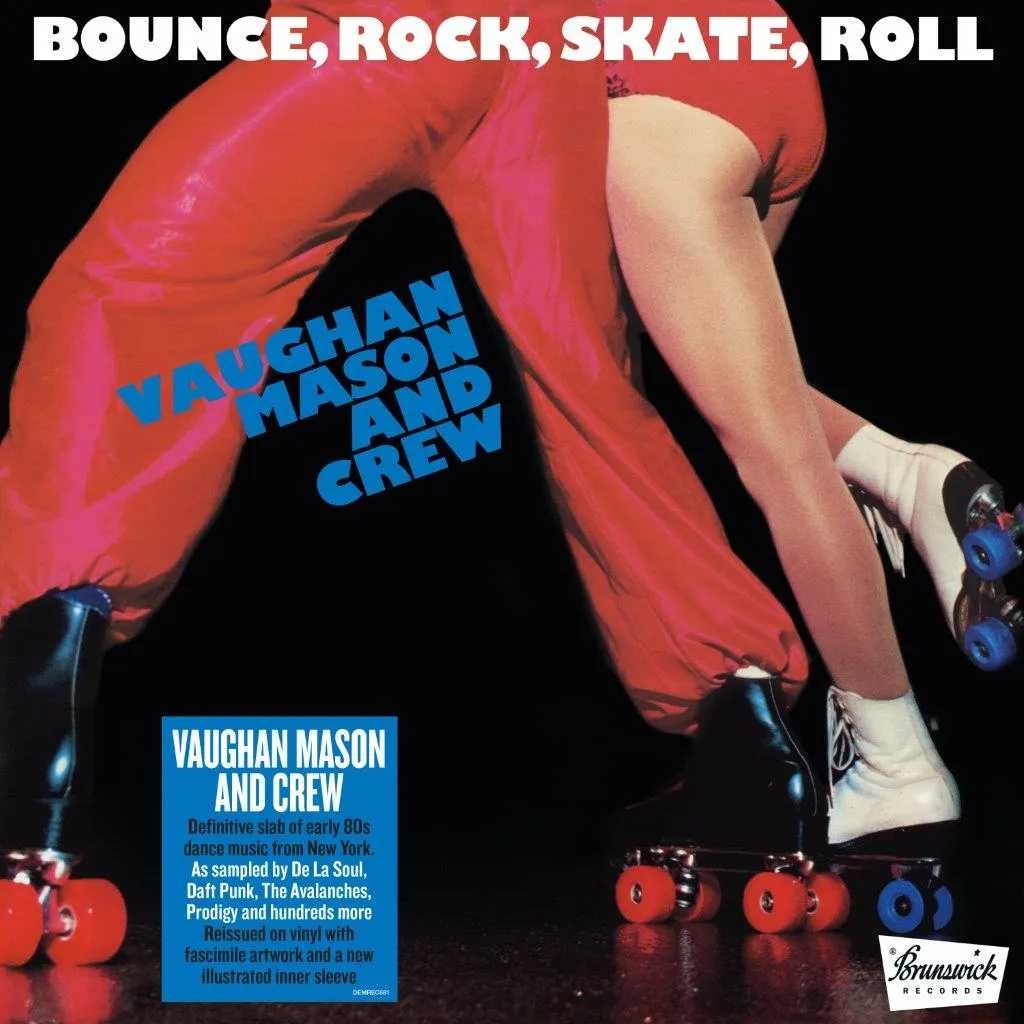 VAUGHAN MASON AND CREW
Title: Bounce, Rock, Skate, Roll
This is another Brunswick original that plugs right into New York's disco/dance scene and has, as the sticker on the front sleeve tells us, been sampled by the likes of De La Soul, Daft Punk, Prodigy and probably the old lady who lives next door. 
As an album from 1980, presented in a marbleised brown colour (ish)? Not as a DJ tool but as a piece of creative art? It's a little lacking. It feels like a big wrapper for the title track which spans two tracks of the B-side with a sound-a-like on the A-side. So that's half the album there and then while the rest of the album sounds like off cuts to that title single. Even so. For those looking for rare cuts and who love to excavate the corners of soul, disco and R&B, give this one a listen.
Mastering? Lots of compression around the mids produces a harsh output on a quality HiFi but that would have been just the ticket if this one was pushed out on the radio, back in the day. 
BUY HERE:
USA – https://amzn.to/3XYPSIU 
EUROPE – https://amzn.to/3ICiy4y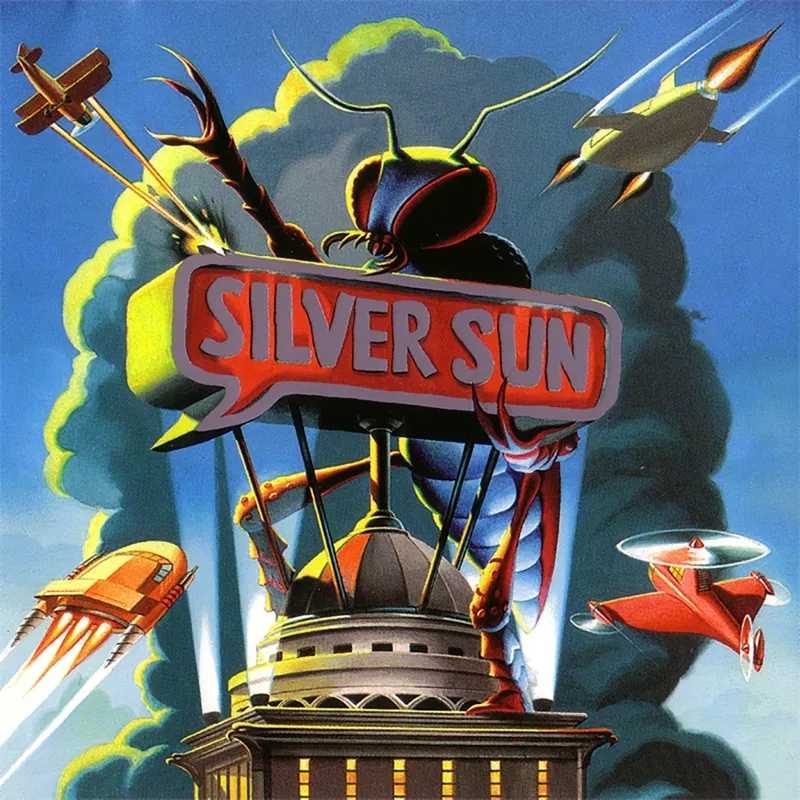 SILVER SUN
Title: Silver Sun/Neo Wave 
Two vinyl releases from the UK power pop outfit, both featuring lyrics printed on the inners, including the 1997 debut and the 1998 follow up. 
Think The Wannadies and then push the 'focus' and 'energy' and 'edgy' EQ sliders up and then you have Silver Sun. So you get lots of harmonies and pop hooks from the pen of the late James Broad but also some guitar crunch in there to keep things honest and maybe a single drop of Elliott Smith. Just a drop, mind. That's the debut.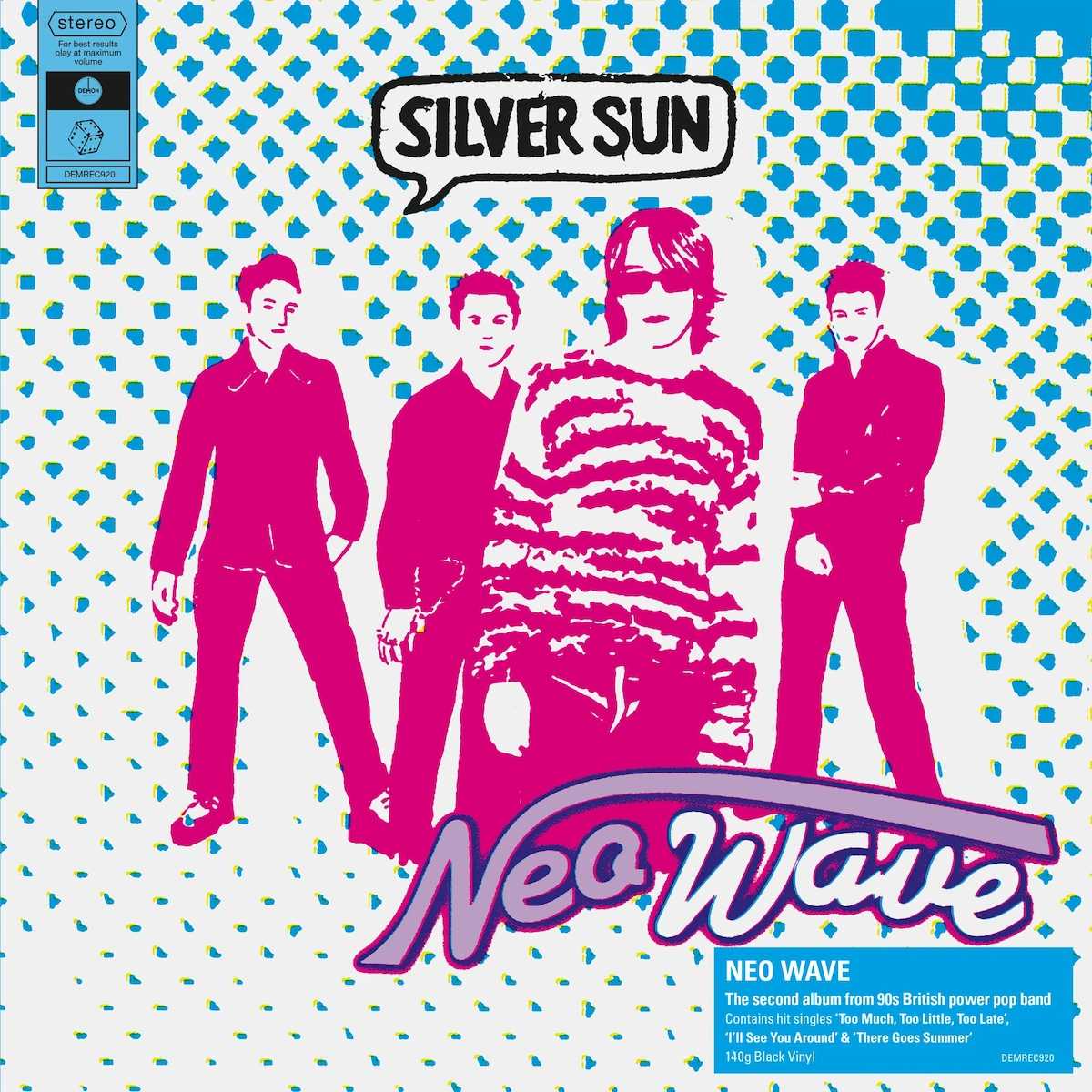 As for Neo Wave? It's a bit 'What, just more of the same?' although within that now familiar presentation I did (quite) like Scared and Pixie, Pixie but the formula was already wearing thin.
Mastering? For both? If I was being greedy, I would have liked to hear a tad more space in and around the soundstage but even so, as it is we have a nicely balanced master here. Structured around the stereo image, there's plenty of information that easily accessed by the ear. Clarity is pretty good. 
SILVER SUN – BUY HERE:
USA – https://amzn.to/3SuM5Sw 
EUROPE – https://amzn.to/3IyZF2K 
NEO WAVE – BUY HERE:
USA – https://amzn.to/3IUt5tk 
EUROPE – https://amzn.to/3IUagqj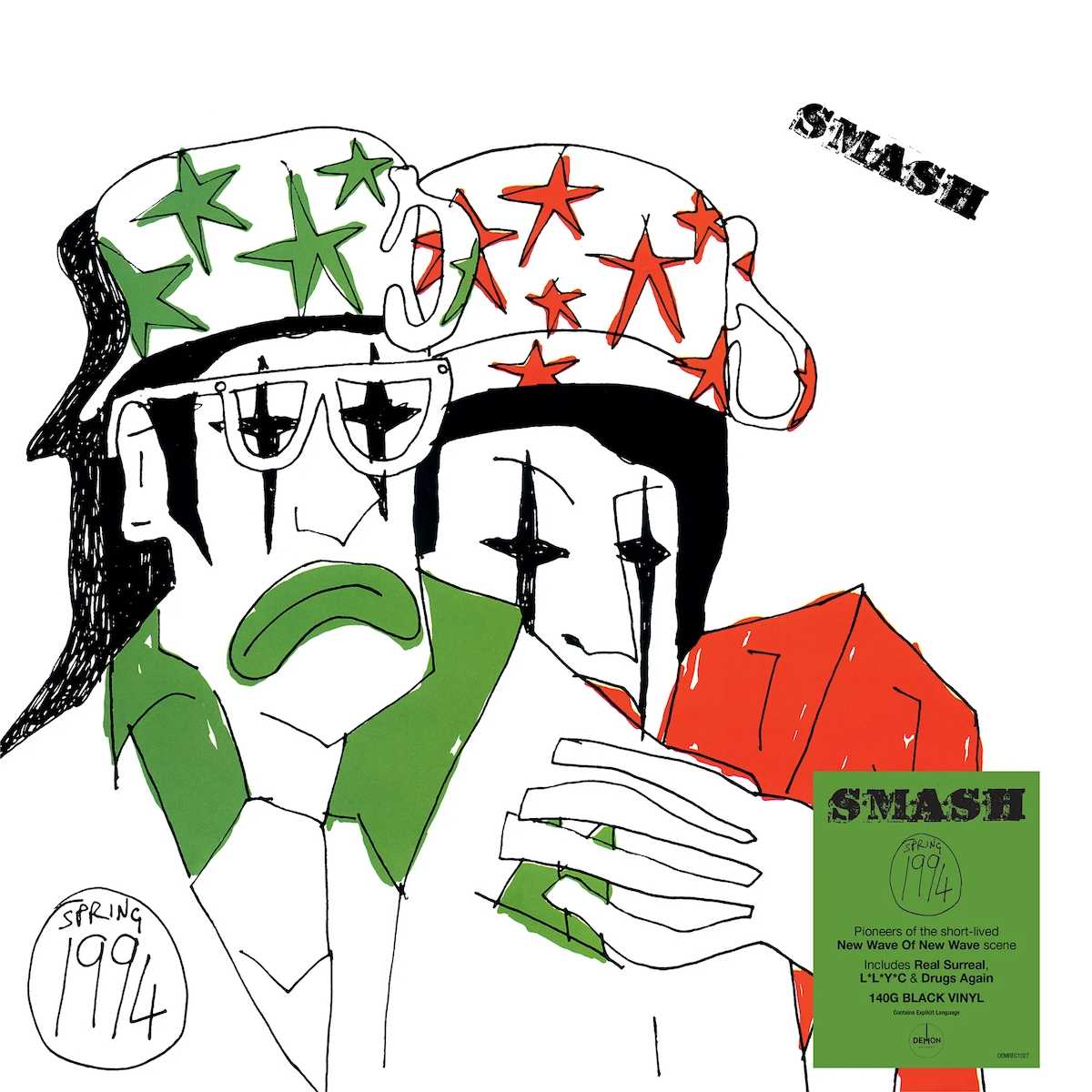 S*M*A*S*H
Title: Self Abused/Spring 1994
The problem for any journalist reviewing this band is the asterisks. It takes a hour and a half to type in their name. The music is of a faster pace, however. Ultimately, S*M*A*S*H were in the nostalgia circuit for late 70s and early 80s punk although the music press of the time, desperate to label everything that fell in their sphere of influence, called them The New Wave of the New Wave. Whatever the hell that meant. The label might have been complete rot but still, that wasn't the fault of S*M*A*S*H, the 3-piece band from the balmy beaches, turquoise surf and baking heat of…Welwyn Garden City. I really must reset Google Maps. 
In 1993, the band released Spring 1994, a 5-track EP (running at 45rpm). The Self-Abused (1994) album didn't fare well in sales terms although the press loved them while the group itself faded into history. Possibly because, despite the support of a solid fanbase, they were drowned by the oncoming rush of Britpop.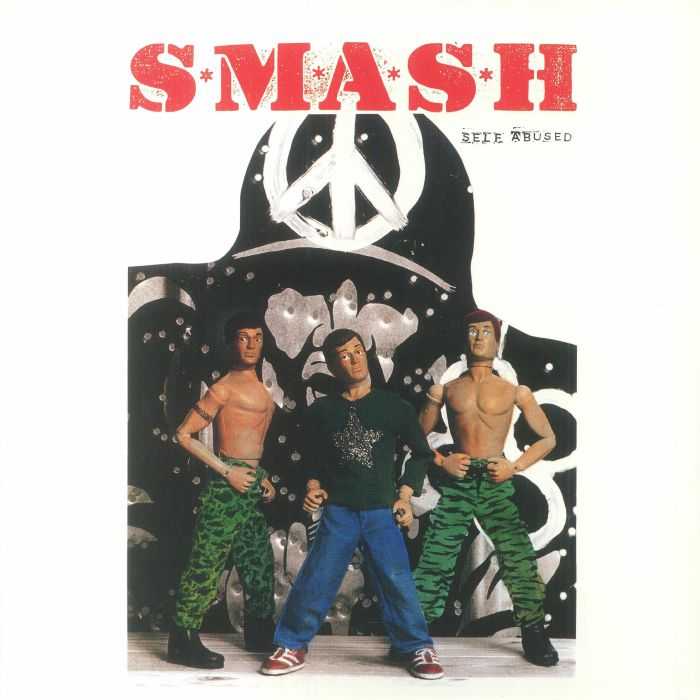 And for all the talk about early punk? Despite the guitar noise, the frantic percussion and energy – and there's lots of that – this is not a screaming, spittle-fest. It's not destroy-era punk. It's not anarchy in…anywhere. This is more indie rock with punk overtones. The lead vocal is far too coherent. The lead singer sounds way too sensible and level headed. There is too much, well, control here. So honest to goodness punk? No. Not at all. But quality indie rock? Yes. Absolutely. So buy it on those terms and you'll be fine.  
Oh and the album comes with a free 7" and a very nice lyric insert. You will also find an insert within the EP sleeve, which also features a reprint of an essay by Germain Greer. You read the right.
Mastering, on the EP? There's compression, unsurprisingly. Especially around the EP as the levels are whacked up to milk as much energy as possible. The mastering improves across the album although it is a little dull and claustrophobic but that may very well reflect the time and the place of the recording. Last thing? Grab some soft-plastic inners for yourself to replace the paper inners supplied, for long-term storage. 
SELF ABUSED – BUY HERE:
USA – https://amzn.to/3xW0r4T 
EUROPE – https://amzn.to/3IXFZqA 
SPRING 1994 – BUY HERE
USA – https://amzn.to/3KFYMrR 
EUROPE – https://amzn.to/3KGFEcZ 
OTHER LABELS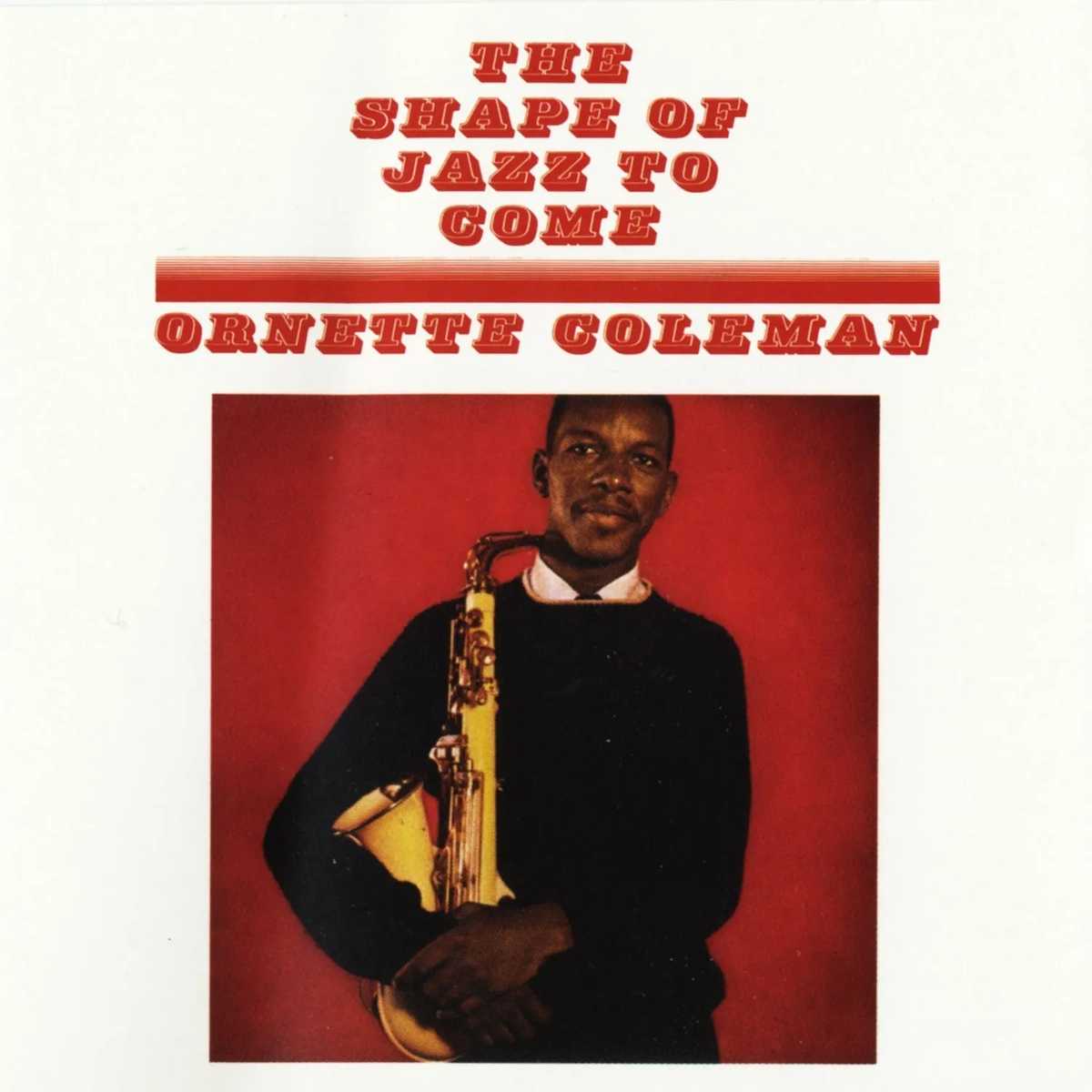 ORNETTE COLEMAN
Title: The Shape of Jazz to Come 
Released via the German audiophile label, Speakers Corner (https://www.speakerscornerrecords.com) we're talking about the more avant side of jazz via a young Coleman from this 1959 release. Coleman took the notion of melody, dropped it on the ground, stepped on it with his size 10s, then picked up the pieces and threw them in a bucket. Then he played the bucket. So Coleman and cohort Don Cherry cheerfully exclaim, "Seeya around buddy." Then they both wander off down musical highways, on their own without a chord to restrain them. While Charlie Haden on bass and Billy Higgins on percussion loosely potter about. 
These days, the LP is seen as revolutionary. An unpredictable ground breaker. Back then? Oh there was wailing and gnashing of teeth. Check out the emotive Lonely Woman as a enter point for this one.  
Mastering? It's been a while since I've heard something so darned analogue for some time. There's no edge, not even a hint. No compression. No tightening of the mids. This music just flows. Well, as avant jazz can flow. 'Darts about a bit' might be more apt. This is old time record making, and in a good way.
BUY HERE:
USA – https://amzn.to/3mdwNVZ 
EUROPE – https://amzn.to/3IWxYSE 
HERMANOS GUTIERREZ
Title: El Bueno Y El Malo
If you had told me that this was a new release from Ry Cooder under a pseudonym, I would have believed you. 
Of course, there are stylistic fingerprints here which point at the Swiss/Ecuadorian guitar-playing brothers: Alejandro and Estevan Gutiérrez (https://hermanosgutierrez.bandcamp.com/album/el-bueno-y-el-malo). And then there's the title means The Good & The Bad which hints at Ennio Morricone and yes, there are western flavours here. 
An American West full of baked, nutrient-free soil, brown clouds kicked up by hooves, the cracked and furrowed faces of dirt farmers, the harsh and the plain unfair nature of the territory. It's here, in this music. Which then romanticises the whole thing and makes you want to be there. 
This is instrumental electric guitar music, swimming in reverb, played with skill and precision at a slow pace. You want my advice? Buy it. 
Includes a half-height credits insert.
Mastering? Decent while not award winning. Doesn't have the same analogue qualities or finesse you'll hear in the Coleman release above and there's a touch of compression here around the treble and upper edges of the mids, no doubt to bring out the detail (unnecessary) but there's nothing to panic about either. 
BUY HERE:
USA – https://amzn.to/3Iz6dOH 
EUROPE – https://amzn.to/3Ya3Ebv