The Article
Venom: A Classic From In Nomine Satanas
27th May 2019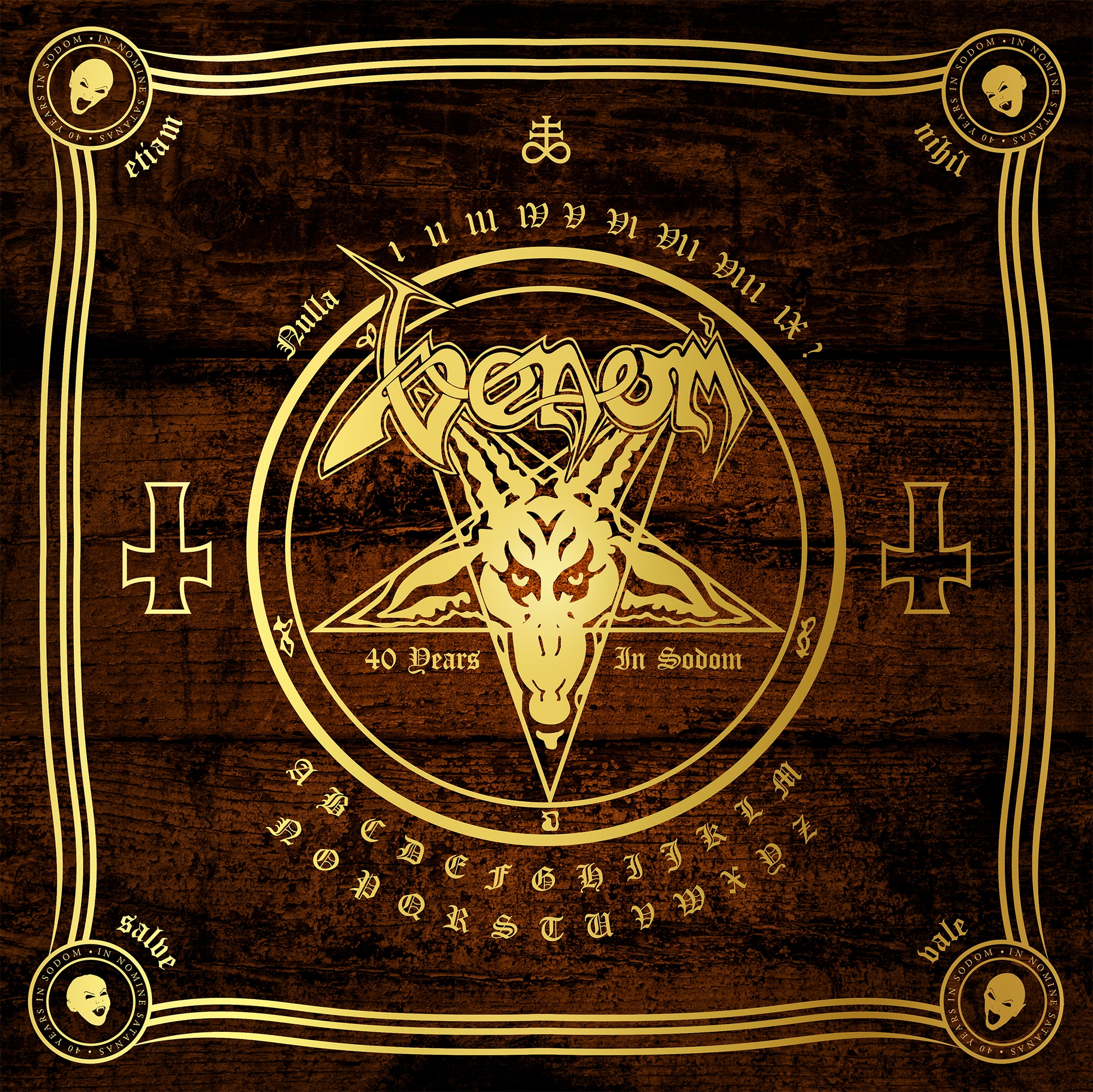 Title: Welcome to Hell
Label: BMG
The uniquely British heavy rock phenomenon, the New Wave of British Heavy Metal (NWOBHM) allowed heavy rock to evolve and move forwards by adopting elements from punk rock, which was active at the time. This particular album and group might not have been viewed by some as being within the very core of the scene but they remained inextricably linked to that movement. New Wave of British Heavy Metal got under way around 1979, the year Venom was formed. In Newcastle-upon-Tyne, to be exact.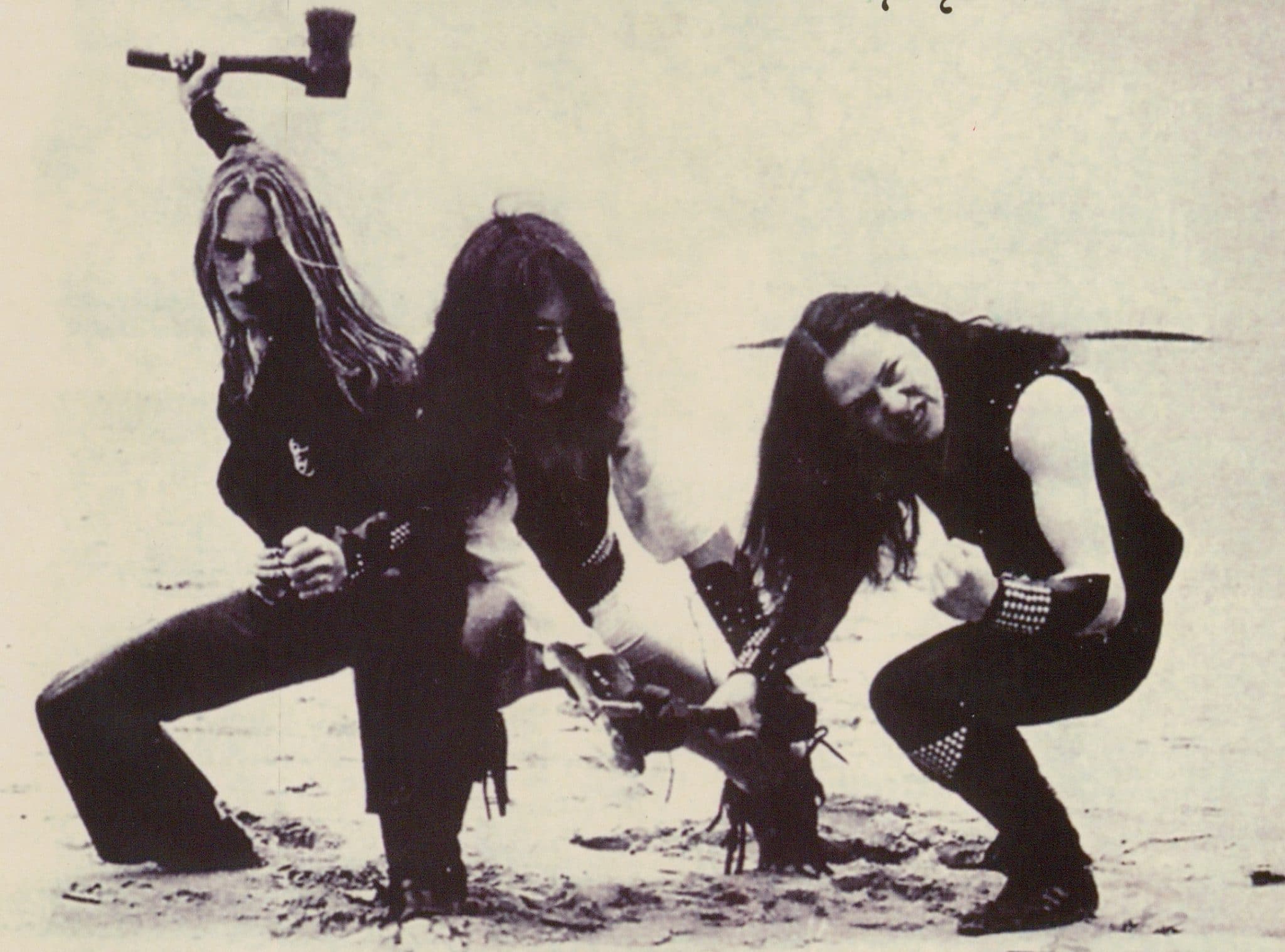 Lead singer, Cronos was quoted as believing the time had come "People credit us with starting a movement and all but the truth is I think it was inevitable. Punk had died. Metal was lame. There could only be one new way to do this — for metal bands to get some f*****g balls again."
In fact, the first album from Venom, Welcome to Hell (1981) is considered a major influence on thrash metal and extreme metal which would follow soon after NWOBHM died a death. Metallica, Behemoth, Celtic Frost and Mayhem would all convey their respect in terms of influence.
Creating Welcome to Hell was, apparently a bit of a surprise, even to the band, "…because I worked at the studio, I convinced the engineer…and studio boss to work for free," said Cronos. "So I was able to scam Venom into the studio for free to get some demos done. Now I'm then playin' them for the record company and they were like, 'No. It's lousy.'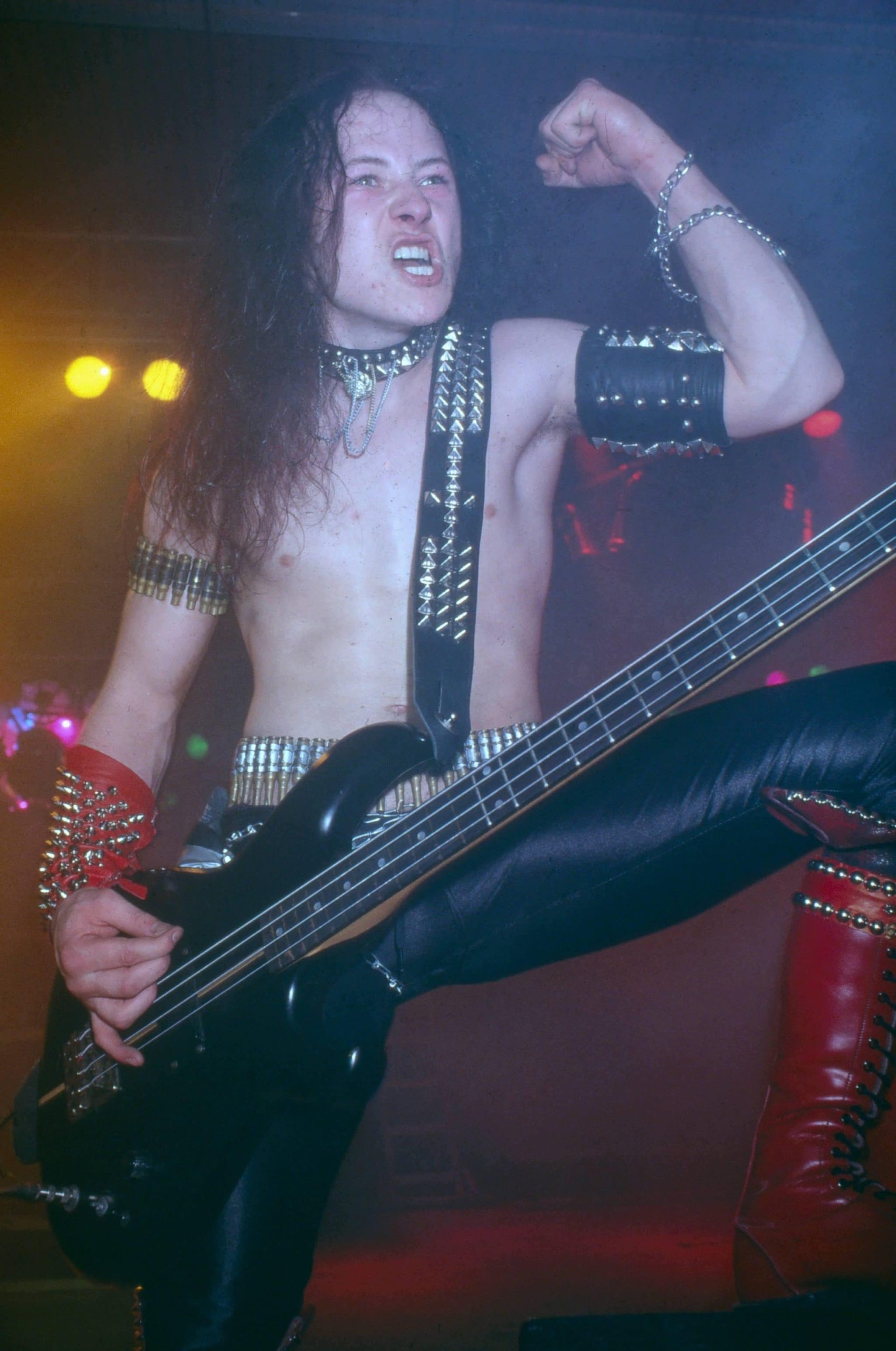 "So eventually the record company said, 'Look. There's three days spare. Go in and see what you can do.' So we had three days and we recorded all of Welcome to Hell….demos, as far as we were concerned. Next week we got the record company saying, 'We will release this as it is now as an album or forget it.' We were like, 'It's demos! We've got to do it properly. Give at least a week or something.'" 
It was not to be.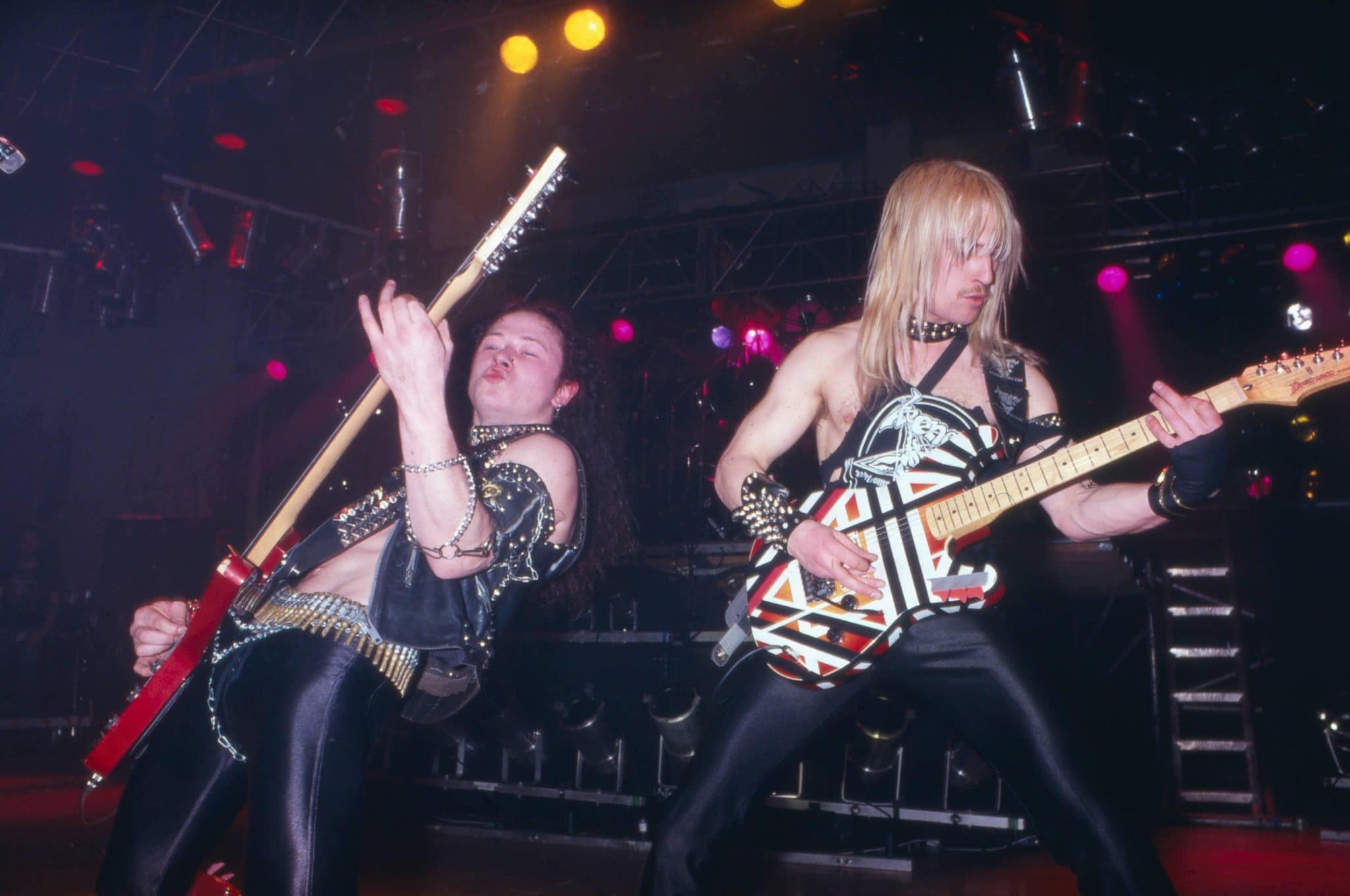 A succinct album history, I'm sure you'll agree. Nevertheless, the rather obstreperous label executive actually did Venom an unwitting favour because the resultant raw sound, with stripped production values and now understandably less-than-considered performances was what made the final LP so revolutionary. 'It's so bad its good', as it where. And doing so, the band almost accidentally opened a brand new door into a host of new heavy metal sub-genres: black metal, thrash et al.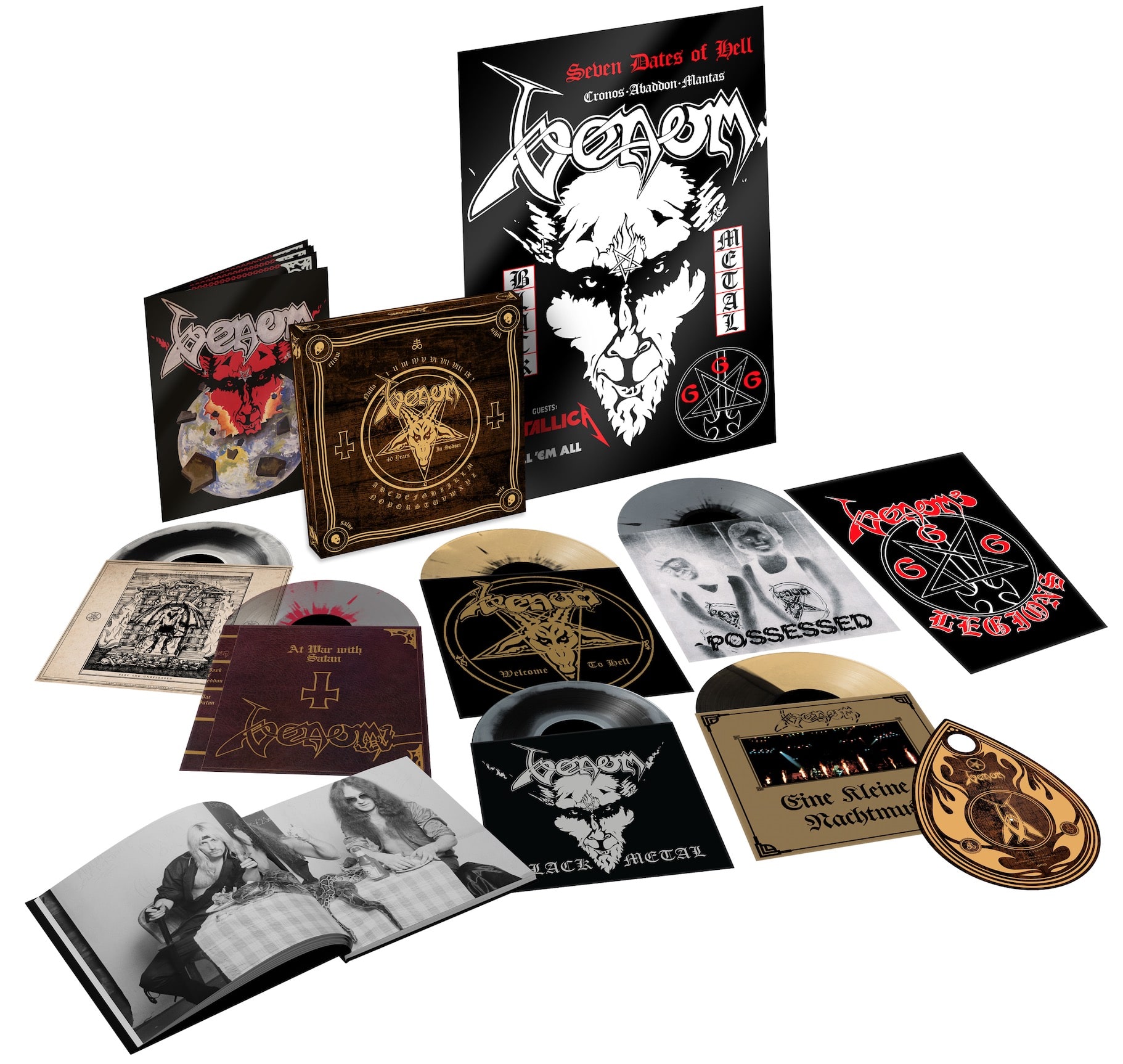 Now you can find this important album within a large box set called In Nomine Satanas that features the original recordings, on the Neat label, from their 1981 debut Welcome to Hell to Eine Kleine Nachtmusik and the live recording of their appearance at the Hammersmith Odeon in 1985. The box is meaty, weighty and feels like you've just grabbed yourself a bunch of value for your money. There's not a lot of air inside, unlike some box sets I could name.
Here's that vinyl list in full:
WELCOME TO HELL
Remastered from original tapes on splatter vinyl. Comes with reproductions of original poster and insert with an embossed cover.
BLACK METAL
Remastered from original tapes on swirl vinyl. Comes with reproductions of original poster and insert with an embossed cover.
AT WAR WITH SATAN
Remastered from original tapes on splatter vinyl. Comes with reproduction 6-page roll fold booklet and leather book effect cover.
POSSESSED
Remastered from original tapes on splatter vinyl. Comes with reproductions of original poster, and insert.
EINE KLEINE NACHTMUSIK
Pressed on half and half vinyl. Comes with reproductions of original gatefold and inserts.
BLOODLUST
Planchette shaped 7" picture disc single
SONS OF SATAN
New album of previously unreleased demos. Pressed on splatter vinyl. Gatefold cover
There's also a book, a Seven Dates Of Hell tour poster, reproduction Seven Dates Of Hell tour programme and Venom's legions back patch. The first 300 orders from the official store receive a signed art card. 
As for the mastering of Welcome to Hell? For music that produces so much noise, it's remarkable how little has been produced in audiophile mastering and pressing terms. The demo approach has achieved its own level of sonic purity because there's no obvious EQ added to the mix. This is a very neutral mastering performance, although imagery is intriguing. For example, the general cut of the album itself is almost wholly staged around the stereo image, giving a mono cut feel to it. We already know that this album was basically a collection of demos. Who knows, the entire album may have been taped onto one track, for all we know (can anyone out there enlighten me?) I'd love to know the precise recording history behind this one.
The next LPs, Black Metal and At War With Satan do move the soundstage left and right to a degree. They're still a bit on the shy side but a more expansive vocal performance is a notable result of this broadening effect. Maybe the original idea on Welcome to Hell was to produce a claustrophobic, intrusive and tense presentation. Apart from that, there's no nasty frequency excursions here. Everything is where it should be so listening pleasure is not strained at all and detail is plentiful.
A great album and a magnificent box set. As the band themselves might have it, either go grab it or go to hell.
[Don't forget to check out my Facebook Group, The Audiophile Man: Hi-Fi & Music here: www.facebook.com/groups/theaudiophileman for exclusive postings, exclusive editorial and more!]