The Article
UNDERTAKERS CIRCUS' jazz-rock outfit from Lillestrøm
28th July 2016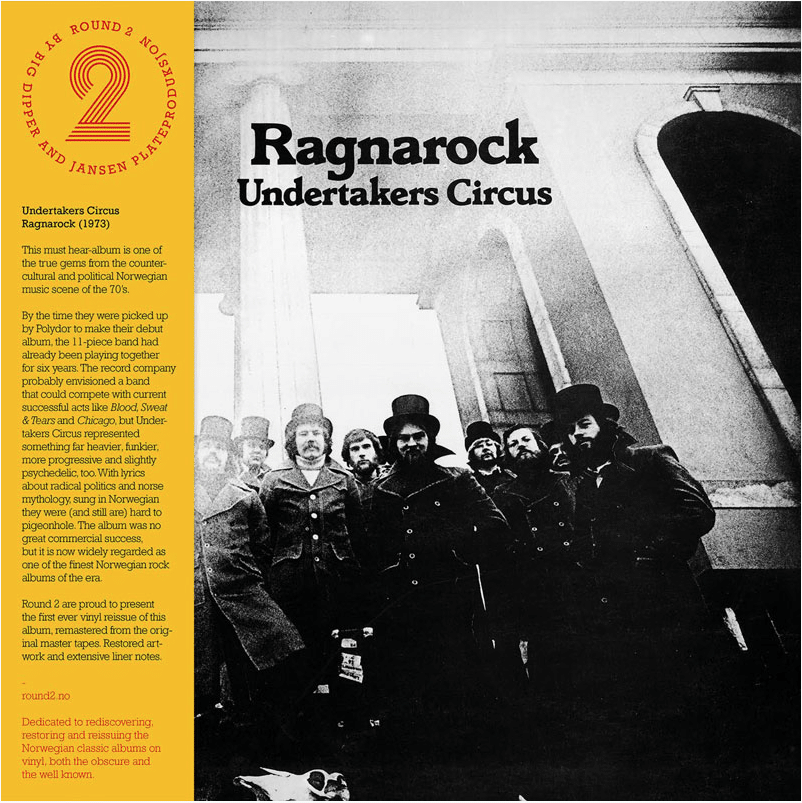 Title: Ragnarok
A jazz-rock outfit from Lillestrøm, Norway that exuded energy and pizazz. How much energy? Well, early on during the review period of this LP, my wife calmly popped into my listening room, merely to ask me if I wanted a cup of tea and, upon hearing the first track of this album, the high energy title track, in fact, suddenly sprang into life, giving me her impression of a 60s go-go girl. I wondered, for a second, who on earth this creature was that I had married (and was jolly glad I did, I can tell you, such were the moves that Undertakers Circus prompted from her) and had to cease and desist from playing the darned thing until I could banish her from the room so that I could get a bit of work done.
There are fans of the band who have compared them to Blood, Sweat & Tears and The Moody Blues and the band does throttle back after a while to prompt comparisons with the latter, this is true. The band were more than that, though, they had a social agenda, addressing everything from anti-drugs to radical politics and often doing it with highly attractive vocal harmonies.
Like Folque (reviewed elsewhere) this was a large band (what is it about Norwegian bands?) including Thor S. Greni (vocals), Per Kristian Lindstad (guitar), Frank Myrseth (guitar), Stein Gudmundsen (vocals, congas), Erik Thoen (bass), Frode Kildal (drums), Øystein Bjørk (trumpet), Johnny Torp (trombone), Kjell Kristoffersen (trumpet), Ivar Hovden (tenor sax) and Wiggo Nilsen (trombone).
In terms of sound quality, this album has been remastered from original tapes and enjoys excellent instrumental separation that provides the soundstage with lots of air, allowing each of the many band members space to show what they can, allowing oodles of detail to reach the ear.